Winter Storm Warnings Issued for Washington, Oregon, Kansas, Illinois and Michigan, as Heavy Snow Impacts Northwest and Midwest
Winter storm warnings are in effect for the north west of the U.S. and some of the midwest, with heavy snow, freezing rain and gusty winds.
The National Weather Service (NWS) Weather Prediction Center, issued a warning today which will be in effect until Sunday with further winter storm warnings issued by the local weather stations. According to the short forecast, heavy snow and rain or freezing rain will impact parts of the Great Lakes and the Upper and Middle Mississippi Valley, with heavy snow possible in higher elevations of the north west. The heaviest rain/freezing rain is forecast over parts of Great Lakes Saturday into Sunday.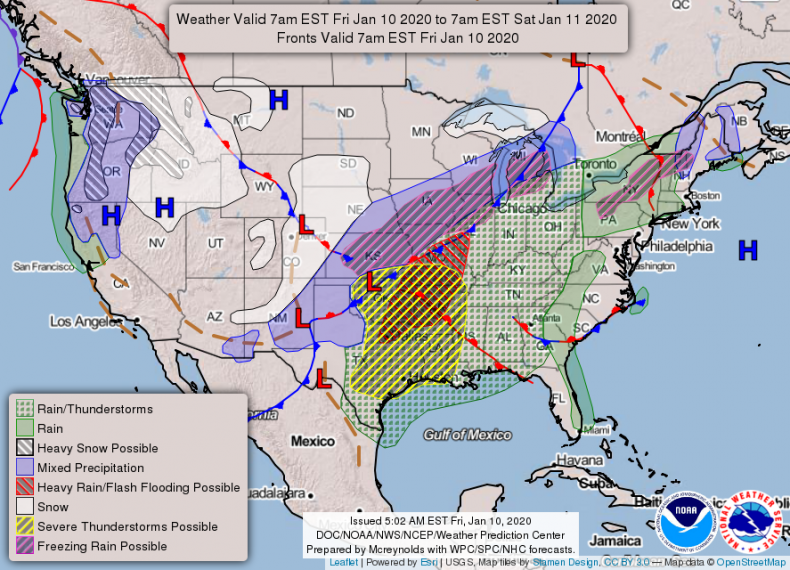 The NWS also forecasts that the Pacific northwest will have another low pressure system approach today, amplifying precipitation, while higher elevations of the
Cascades, Northern Great Basin and the Northern Rockies will be hit with heavy
snow. The weather service predicts that snow accumulations might reach or exceed two feet in the highest peaks of the Cascades, around one foot elsewhere.
In Washington and Oregon, the heaviest period of snow is expected this afternoon through to tomorrow morning (PST) with hourly rates of at one to two inches per hour. According to NWS Portland, Oregon, additional heavy snow accumulations appear increasingly likely from Sunday through much of next week.
NWS advises that travel across the mountains could be very difficult to nearly impossible at times, and travelers should expect periods of near blizzard conditions from this morning through most of tomorrow in open areas. Due to the strong winds, downed trees and power lines, as well as local power outages and road closures, are possible. If you must travel, keep an extra flashlight, food, and water in your vehicle in case of an emergency and call 5-1-1 for the latest road conditions.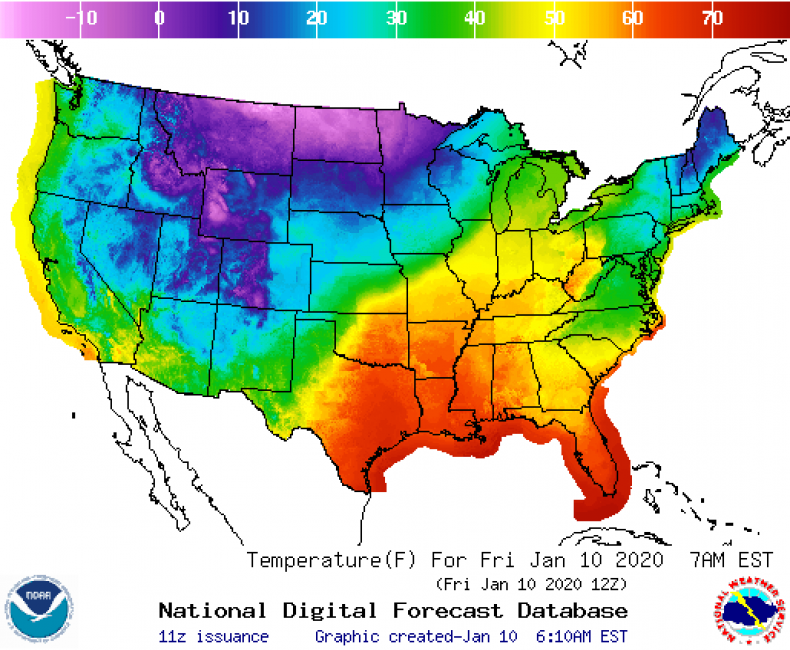 A deep trough, which is over the Rockies, will move eastward to the Lower Great Lakes by Sunday, bringing one to three inches of heavy rain to the area and the Southern Plains, according to NWS. "Due to the slow progression of this system, storm motion will be slow," the forecast says. There is also a moderate risk of excessive rainfall forecast over parts of Eastern Oklahoma and neighboring states, producing numerous incidents of flash flooding.
Kansas, Michigan, Iowa and Wisconsin will see both heavy snow and flash flooding, according to the NWS national forecast, pictured above.
Temperatures are expected to be 10 to 25 degrees Fahrenheit (F) warmer than typical early January readings over the central U.S. and into the Great Lakes, according to NWS, with numerous records expected to be broken from the Ohio and Tennessee Valleys into the northeast. The western half of the country will be much colder than usual due to a cold front and a secondary cold front which will reinforce the "frigid airmass." Today, high temperatures in the single digits are forecast for the northcentral U.S.
For the latest weather warnings, visit the NWS website.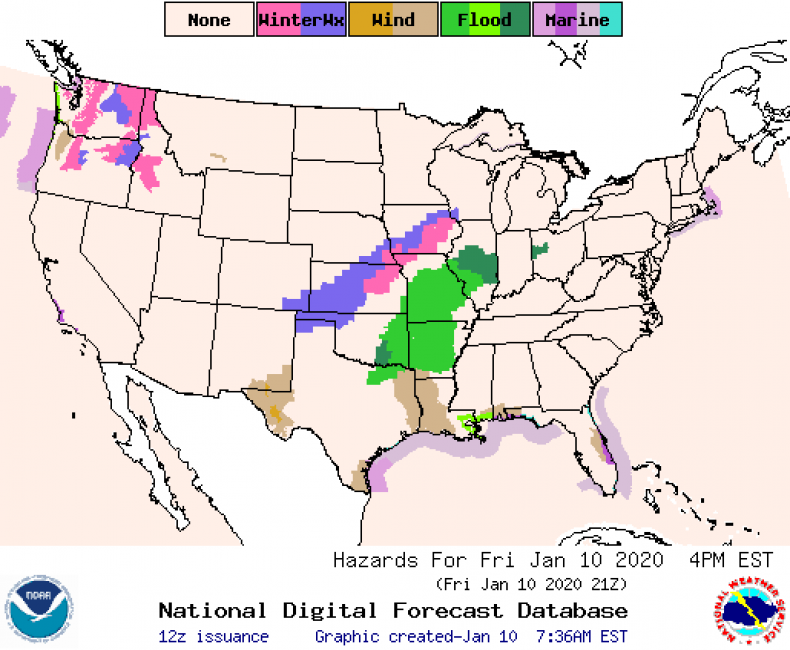 Winter Storm Warnings Issued for Washington, Oregon, Kansas, Illinois and Michigan, as Heavy Snow Impacts Northwest and Midwest | U.S.