Winter Storm Warnings for 19 States as Izzy to Bring Up to 20 Inches of Snow
Winter storm warnings for Sunday have been issued for 19 states, with up to 20 inches of snow forecast in places and travel expected to be near impossible in some areas.
National Weather Service (NWS) issued a series of ongoing warnings early Sunday morning ahead of expected heavy snow, ice accumulations and gusty winds during Storm Izzy.
States where winter storm warnings have been issued at the time of publication were: New York, Ohio, Vermont, Virginia, Kentucky, Maine, Massachusetts, Arkansas, New Jersey, Pennsylvania, Georgia, North Carolina, South Carolina, Tennessee, West Virginia, Maryland, Louisiana, Alabama, Mississippi and the District of Columbia.
Total snow accumulations of up to 20 inches are expected in the Chautauqua Ridge and Boston Hills areas of New York, and in parts of the Blue Ridge Escarpment mountain range in South Carolina and Georgia.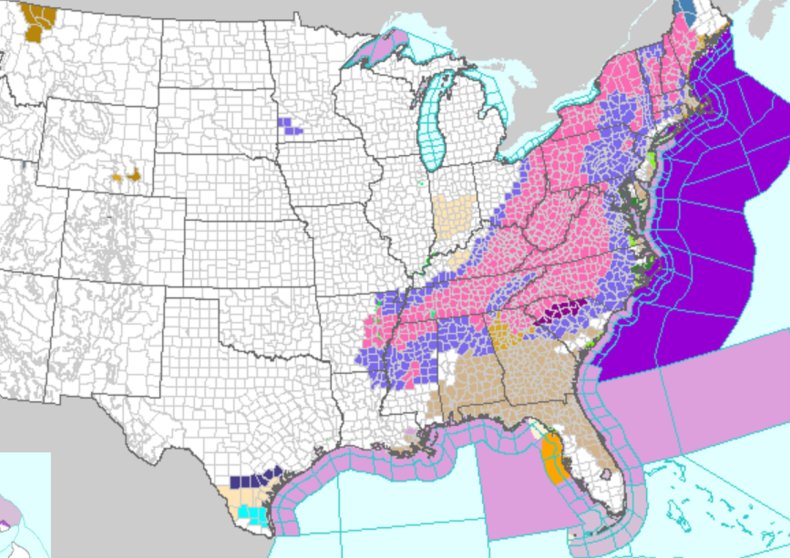 "A major Winter Storm will impact the eastern U.S. on Sunday into Monday," the NWS said on its website.
"The highest snowfall totals are expected along the spine of the Appalachians as well as across the lower Great Lakes. The most significant icing is expected over the Carolinas this morning. Significant impacts to travel across these regions are expected."
The winter storm warning issued by National Weather Service Binghamton, New York, at 4.20 a.m ET on Sunday noted that the warning will remain in effect from 5 p.m. ET until 5 p.m. ET on Monday.
"Travel could be very difficult. Areas of blowing snow could significantly reduce visibility. The hazardous conditions could impact the morning or evening commute," the warning said.
"If you must travel, keep an extra flashlight, food, and water in your vehicle in case of an emergency," the notice advised, asking travelers to check the latest road conditions in their state by calling 511.
An earlier warning issued by National Weather Service Buffalo, New York at 3.36 a.m. ET warned that heavy snow was expected.
"Winds gusting as high as 45 mph will produce significant blowing and drifting snow Monday afternoon and Monday night. For the Wind Chill Advisory,
very cold wind chills. Wind chills as low as 15 below zero early this morning," the warning said.
Conditions on the ground will vary from state to state and the NWS offices are continuing to issue winter weather messages relevant to their areas and will do so throughout the day.
According to NWS, a winter storm warning means "significant amounts of snow, sleet, and ice are expected or occurring. Strong winds are also possible. This will make travel very hazardous or impossible."
People in areas under winter storm warnings are advised to only travel in emergencies and to prepare for possible power outages.