Winter Storm Watches Issued for Weekend Storm, How Much Snow Will There Really Be?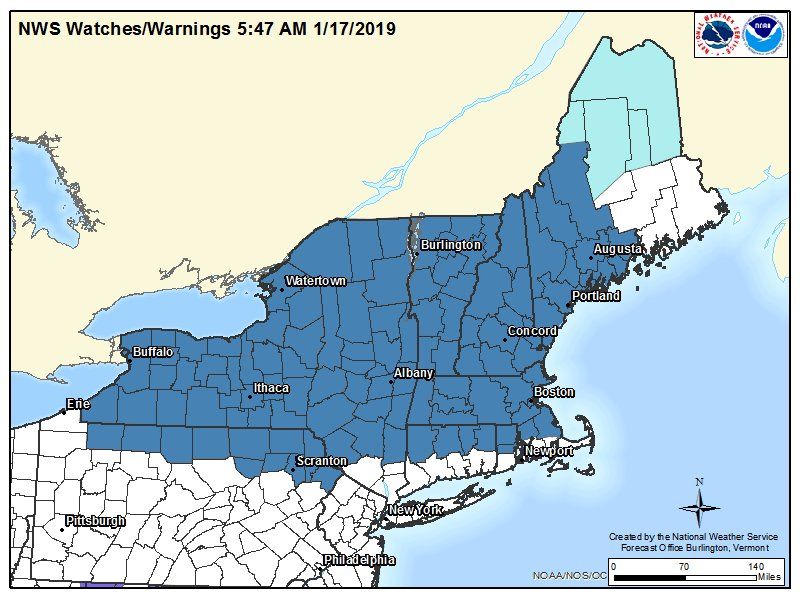 As the weekend approaches, the winter weather that has been on forecasters minds is getting closer and a bit easier to predict. The National Weather Service announced winter storm watches Thursday morning.
The storm watches were issued for a large area of New England, from the Great Lakes east to the Atlantic. The watch included parts of Pennsylvania, New York, New Hampshire, Vermont, Massachusetts, Maine, Rhode Island and Connecticut.
The watch was scheduled to begin Saturday afternoon and continue through the evening and into Sunday day and night. The watch was issued for the possibility of mixed precipitation, including accumulation fo 6 inches or more of snow, and ice as well, according to the National Weather Service.
One of the biggest risks associated with the expected icy weather is the possibility of downed power lines and trees. Poor and potentially dangerous travel conditions are also a threat with such weather. "A Winter Storm Watch means there is potential for significant snow, sleet or ice accumulations that may impact travel," according to the National Weather Service.
Parts of upstate New York and Pennsylvania could see anywhere from a foot of snow to 20 inches, and high wind gusts as well, from Saturday until Sunday. The conditions could be so severe that travel could be impossible, according to the National Weather Service. Other parts of Pennsylvania, mainly Sullivan county in New York and Lackawanna, Pike and Southern Wayne counties in Pennsylvania, could expect anywhere from 8 to 14 inches of snow and ice, along with the strong winds.
In Litchfield County, Connecticut, and Dutchess and eastern Ulster counties in New York, there were upwards of 7 inches of snow expected over Saturday and Sunday. Southern Vermont and western Massachusetts could see upwards of 9 inches, according to the National Weather Service.
The forecasts were still subject to change and could get better or worse over the days leading up to the weekend. The forecasts for the winter storm watches were available online here. Despite the the partial government shutdown, the National Weather Service forecasts were expected to continue uninterrupted. Those in the areas where the storm could hit should keep an eye on local forecasts and pay attention to any warnings from local authorities in their area.
A map of the forecasted snowfall totals was also available from the National Weather Service, and the confidence in the maps and their predictions is only increasing as the weekend approaches.
​