Winter Storm Zoe: How Much Snow Will Fall? Connecticut Forecast Revealed Amid Traffic Delays, School Closures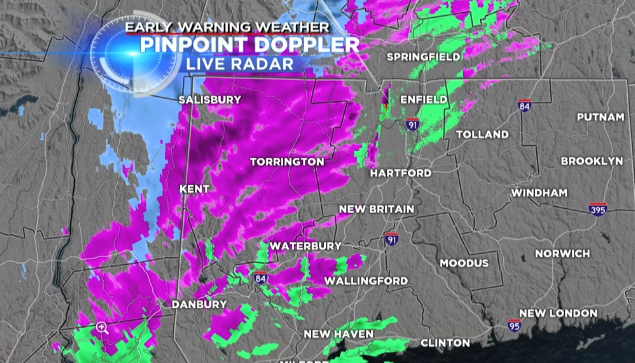 A major bout of snowfall, dubbed Winter Storm Zoe, has resulted in closures and delays across the state of Connecticut. Local tracking suggested that between 5 and 10 inches of snow fell Thursday night and at one point it was coming down at two inches an hour.
According to WFSB Eyewitness News 3, Zoe is the first named storm of the 2018-19 winter season. The station reported numerous car crashes as snow fell in rush hour. One reporter, Mark Zinni, reported that some people were suffering four-hour commutes. "Road conditions, terrible all over the place," he said on Facebook.
Meteorologist Scot Haney, covering the storm today, said a warning was still in effect. He said that "moderate to heavy" precipitation was still expected to keep coming down "in the form of sleet and freezing rain. Torrington and Kent will continue to be hit for the next few hours. And it will push into Northern Connecticut later today—before finally being expected to clear."
There is a flood warning in effect for the coastline of Fairfield County and New Haven County. A number of schools announced they could be closed Friday. WFSB is maintaining a list here.
Bruce DePrest, of the station's forecast center, said on Facebook yesterday evening that Friday commuters could expect a "messy" ride today due to the mixture of snowfall and rain. Luckily, Winter Storm Zoe is predicted to move away from Southern New England in the coming hours, which will result in weather conditions rapidly improving, the station wrote in its analysis.
It stated: "Rain and mixed precipitation will end between 9 a.m. and noon. We will likely see some partial sunshine this afternoon and temperatures will reach the low and middle 40s.
"There will be a strong west to northwesterly breeze as well, which will help to dry the roads out. We will be in much better shape for the evening commute," the forecast added. "Tonight will be partly cloudy, breezy and chilly with lows of 30-35. Overall, the weekend is looking good. That is great news if you have errands to run in preparation for Thanksgiving next week!"
The sun should emerge again by early weekend and Sunday will also be mostly dry.
The snow warnings come after Winter Storm Avery gripped New York, Pennsylvania and New Jersey this week. It caused traffic issues and left some drivers stranded as 6 inches of snow rained down. On Thursday, advisories were extended for New York City and Long Island.