Winter Weather Advisories for Midwest and East Coast: How Many Inches of Snow Forecast?
Winter weather advisories have been issued by the National Weather Service (NWS) for parts of the Ohio Valley, the Great Lakes and Mid-Atlantic.
According to the NWS, there will be a period of "light freezing rain" this morning due to low pressure tracking across the Ohio Valley into the Great Lakes. The precipitation may begin as freezing, even briefly mixed with sleet near the Interstate 64 corridor.
The threat of freezing rain will remain along the Interstate 64 corridor and the southern Shenandoah Valley, according to the weather service. Fortunately, most ice accumulations are only expected to amount to a trace, with perhaps a few hundredths of an inch of ice along the Blue Ridge Parkway.
This being said, travelers and commuters should be aware that the most critical time frame for any icing will be early this morning when temperatures are near 32 F. According to the NWS, after it becomes daylight, freezing temperatures will slowly creep upward.
In southwest and west-central Virginia and southeast West Virginia, the NWS is forecasting wind gusting as high as 45 miles per hour in higher elevations. This advisory remains in effect until 1:00 p.m. EST this afternoon. Residents in these areas need to be aware that some bridges, overpasses and secondary untreated roads could become slippery and hazardous early this morning, and should allow extra time for the morning commute.
The northwest of North Carolina, mainly along the Blue Ridge, will also be affected by wind gusts, according to the NWS.
The state of Illinois will see accumulating snow of an additional one to two inches this morning, potentially up to three inches. According to the NWS, portions of central and west central Illinois will be affected until noon CST today, causing slippery road conditions.
Residents of Henry County, Illinois, need to be prepared for two to four inches of snow, with isolated five-inch totals. The NWS advises that roads could be covered in snow for the morning commute.
Woodson, Allen and Neosho Counties in Missouri will be affected by mixed rain and snow overnight and this morning, with an advisory in effect until 6:00 a.m. CST. The NWS advises there could slushy accumulations up to one or two inches possible, though with some parts of western Missouri might see up to six inches of snow.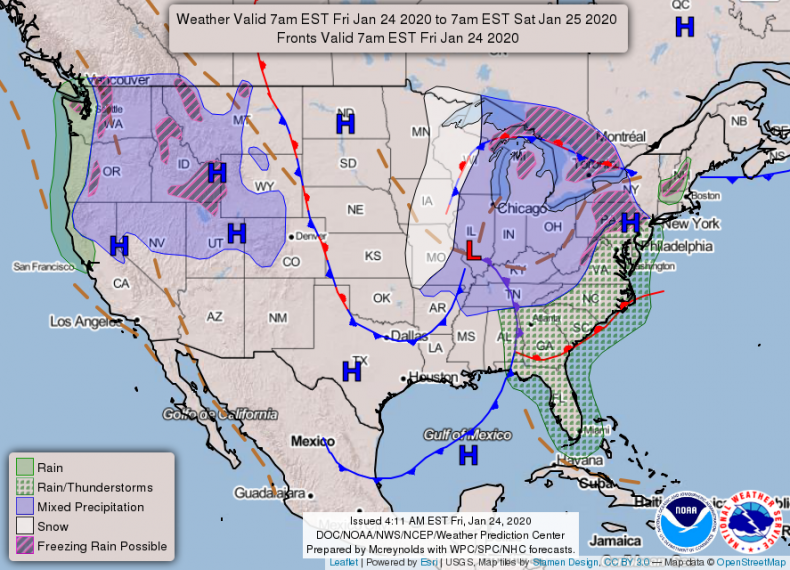 Those planning to journey along the Interstate 44 corridor need to be aware two to three inches of snow, with pockets of four inches, are forecast. These same conditions will also affect portions of east-central and northeast Kansas and parts of Iowa.
In the Southeastern Brooks Range, Arkansas, there is an advisory in effect until 3:00 p.m. local time due to "blowing snow and cold wind chills occurring." According to the NWS, visibility will be half a mile or less at times with wind chills of 45 F occurring. Winds gusting up to 35 mph will cause blowing and drifting snow, with the cold wind chills causing frostbite in as little as 10 minutes to exposed skin. The NWS advises that travelers should be prepared for large snowdrifts and very cold wind chills.
This weekend is also going to see winter weather affect the east of the U.S. The Mid-Atlantic is under advisory for winter weather until 1:00 p.m. EST tomorrow due to freezing rain and ice accumulations of around two tenths of an inch. According to the NWS, residents in Carbon, Monroe, Sussex, Warren and Morris, New Jersey, and Lehigh and Northampton, Pennsylvania, need to be prepared for "difficult travel conditions" and power outages. In Carbon and Monroe, ice could reach four tenths of an inch, with travel considered by NWS "nearly impossible."
For the latest road conditions, dial 5-1-1 in your state.