Winter Weather Advisory Map: Where Cold Weather, Snow, Ice is Expected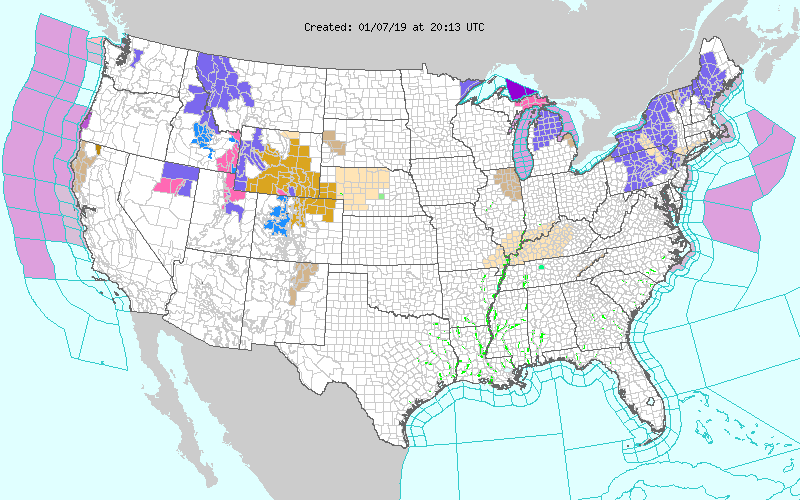 A winter weather advisory was issued this week for parts of the United States from the Great Lakes to the Northeast, the National Weather Service said on Monday. The NWS said wintry precipitation was expected over the next several days for the area.
Significant snow was expected to accumulate from Upstate New York into Vermont, New Hampshire and Maine, which could reach more than 8 inches in some places.
Much of upstate New York could be impacted, including the areas around Syracuse and Oneonta, as well as west around Buffalo and Rochester, and northeast around Saranac Lake and elsewhere. In Pennsylvania, a winter weather advisory was issued in places like Bradford, DuBois, Williamsport, Lock Haven, State College, Harrisburg, Altoona, Gettysburg, and Johnstown. Multiple places in New Jersey were affected by the advisory as well.
A full map of winter weather advisories in the United States can be seen below, via the National Weather Service.
Weather advisories warned of accumulations of ice and snow and severe winds. Such conditions could make traveling dangerous, raising risks of icy roads, downed trees and power outages.
It was not immediately clear whether any schools were set to close as a result of the weather, though districts continued monitoring to see whether closures might be necessary.
The West Coast of the United States was expected to be impacted by inclement weather Tuesday into Wednesday, AccuWeather reported. Northern California was expected to see significant rain, while some rain was also likely in Oregon and Seattle. Heavy rains in areas ravaged by wildfires recently raise the risk for mudslides and other dangerous conditions.
"People should heed all evacuation orders for their area, if given, as there may be only minutes to move to safety," said AccuWeather Senior Meteorologist Alex Sosnowski.