Winter Weather and Flash Flooding To Hit Phoenix, Arizona, Las Vegas and California
A low pressure system which is currently developing over the eastern Pacific will bring an increased risk of flash flooding in Arizona, Nevada and California this weekend.
According to the National Weather Service (NWS), the system will deliver wet snow for higher elevations in the southwest through to the central Rockies over the course of the weekend. Rain and thunderstorms will affect lower elevations in the Four Corners region.
However, localized rainfall totals in excess of an inch are leading to flash flooding concerns in southcentral Arizona, according to NWS. Affected portions of the state include the surrounding areas of Pheonix such as Apache Junction, Cave Creek, Deer Valley, Glendale, Scottsdale, Paradise Valley and the Metro area.
From late tonight through tomorrow evening, desert rain totals will approach one inch and over across high terrain areas north and east of Pheonix. Rain may be heavy and areas with washes, creeks and low elevation areas could be impacted by flash flooding.
A Flash Flood Watch means that flooding of washes, creeks and other drainage areas is possible within the watch area. For residents in this radius, keeping an eye on the weather is recommended. If a flash flood warning is issued, Americans should be prepared to take immediate action.
In Nevada, an urgent winter weather message advisory remains in effect from 8:00 a.m. until 8:00 p.m. local time tomorrow. According to NWS, snow is expected above 6,500 feet, with total accumulations of up to eight inches between 7,000 and 8,500 feet in the Sheep Range and Spring Mountains in Red Rock Canyon.
The weather service warns that travel could be difficult due to snow-covered roads in the Spring Mountains, including Kyle and Lee Canyons. Drivers should expect limited visibility and should use caution.
California will also be affected by winter weather. The San Bernardino County Mountains—including the cities of Big Bear City, Big Bear Lake, Running Springs, and Wrightwood—is forecast to have up to six inches of snow above 7,000 feet. The advisory remains in effect through to midnight tomorrow.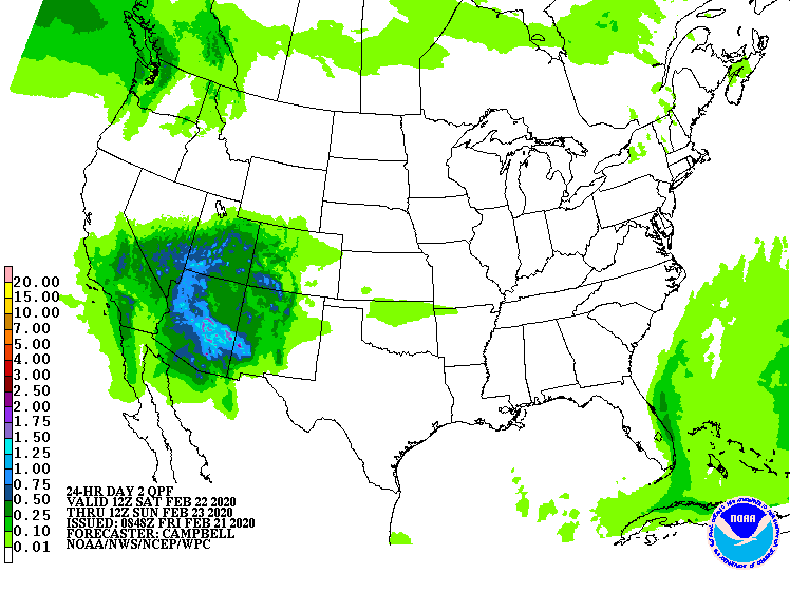 Meanwhile, mountain snow is likely to develop from the Sierra Nevada and the Great Basin to the Wasatch tomorrow, according to NWS. It will then reach the Colorado Rockies by tomorrow night and continue into the day on Sunday. Rain will also develop quickly over the central Plains Sunday morning as the low pressure system consolidates over the central High Plains.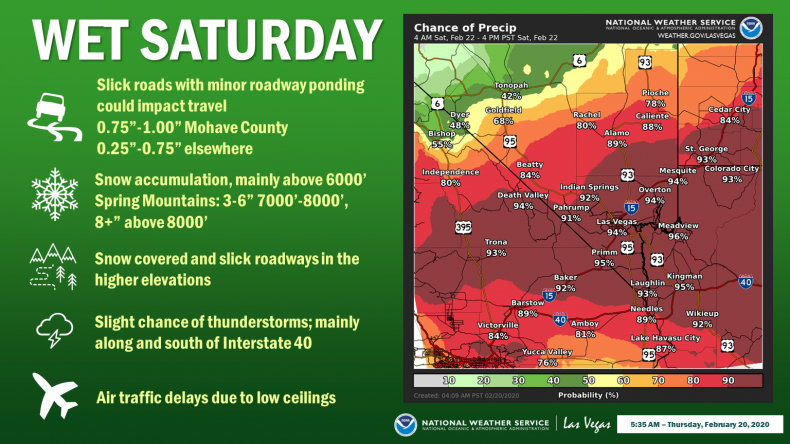 For the latest road conditions in Arizona, California and Nevada, travelers can dial 5-1-1 or check the local department of transport website for traffic updates.