Winton's Children: Saved From the Holocaust by 'Britain's Schindler'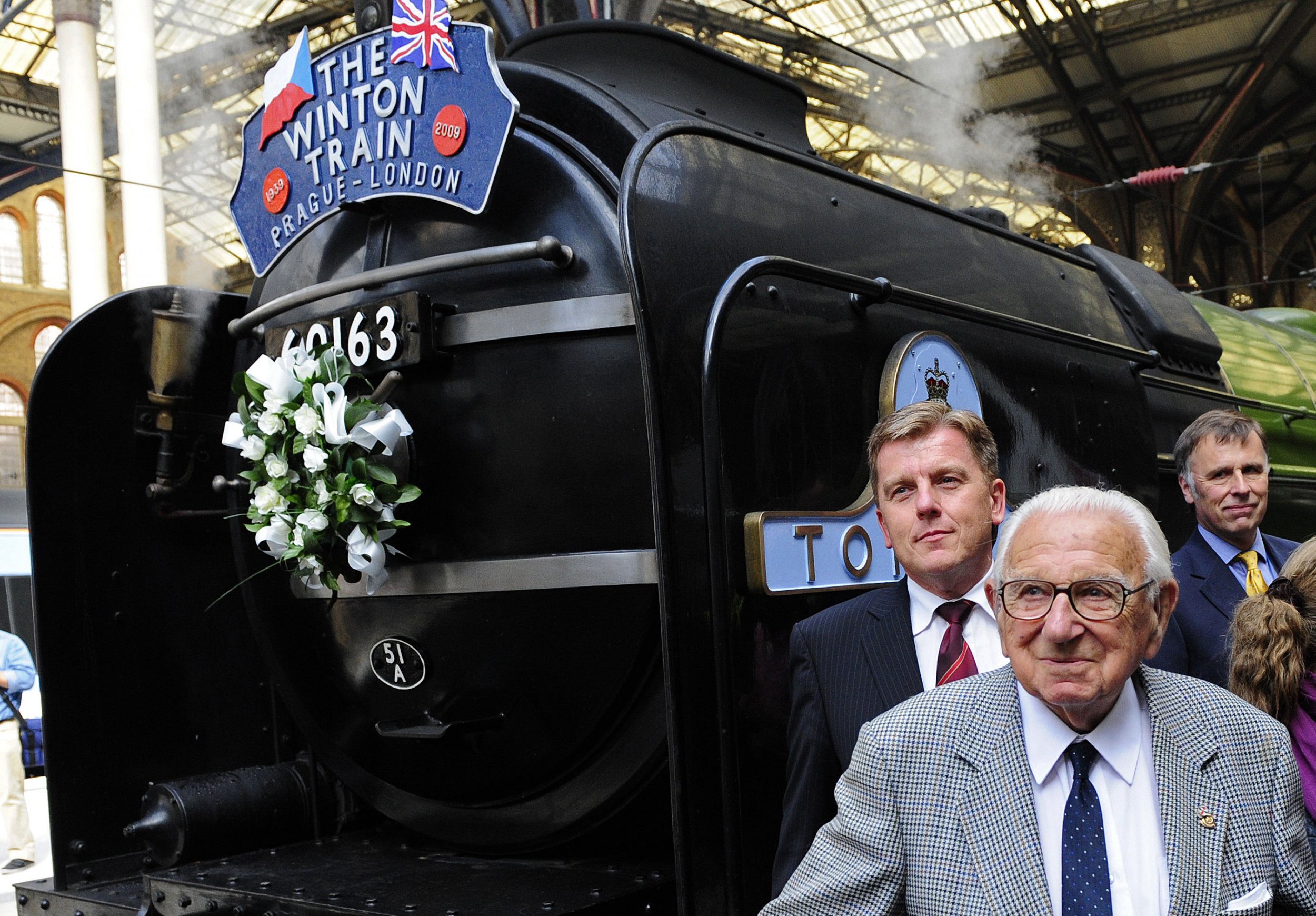 What made Nicholas Winton, a young British stockbroker, in 1938 postpone his plans for a frivolous skiing trip in the Alps to mount a daring rescue of hundreds of Jewish children from their fate of being sent to concentrations camps to endure forced labor, starvation, even death?
What is remarkable to me is that I would not be alive if it were not for my father's mystery savior, as I am the son of one of those fortunate 669 children who were dispatched by Winton on those trains to their safety in Britain.
Until recently, I did not know much about my father's story. I do know that my father, Peter Miles (born Meisl), aged just 13, was on the last train out of Prague.
His unfortunate older brother, however, being two years over the age limit of 15, was left behind and ended up in two concentration camps, Therezin or Theresienstadt in the Czech Republic followed by Auschwitz in Poland. Amazingly, he somehow managed to survive the Holocaust.
Though not without scars from witnessing the abuses and deaths of so many, my uncle was lucky compared to the majority of concentration camp inmates. It is estimated that 1.5 million died of gassing, disease and starvation at Auschwitz, most of them Jews, Russian POWs and gypsies (Roma). The mentally and physically disabled as well as religious groups like the Jehovah's Witnesses suffered the same fate.
My grandfather, Otto, was one of the unfortunates. He was transported to Auschwitz with the rest of the family in 1944 and on arrival was immediately consigned to the gas chambers. He was 60 years old.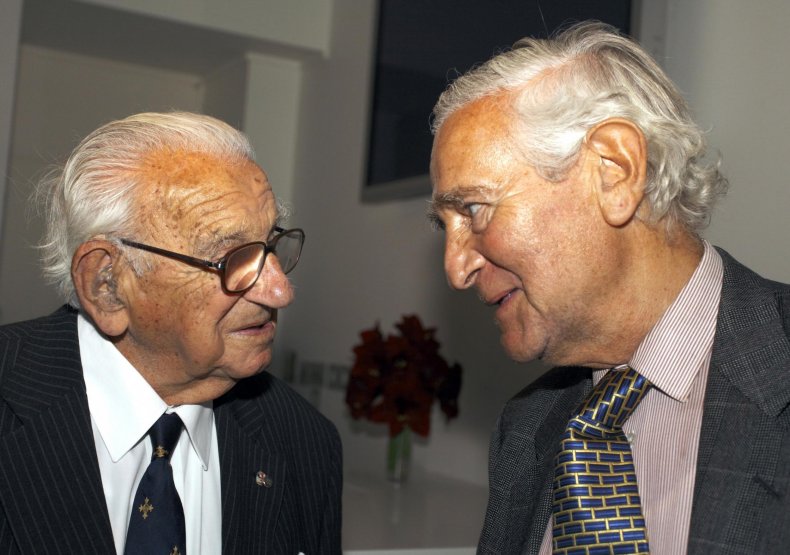 Few of the nine million Jews living in 21 countries of Europe were aware of the fate awaiting them in 1933 as the Nazis swept to power in Germany. Soon, their countries would be invaded and occupied by Germans. Jews living in those occupied nations endured being ostracized by an apartheid regime, segregated, forbidden from using public transport and forced to wear the yellow star of David.
The persecution of minorities intensified in 1938 during Kristallnacht, when the sound of broken glass reverberated through the streets of thousands of towns, giving rise to the haunting name, "Night of Broken Glass."
Nazi and SA Stormtroopers rioted and burned down 267 synagogues throughout Germany, Austria and the Sudetenland, looting some 7,500 Jewish shops and desecrating Jewish cemeteries. By the end of the night, 30,000 Jews found themselves interned in concentration camps.
This was a warning of worse to come, as Hitler implemented his Final Solution: "The annihilation of all Jews." By 1945, two out of every three European Jews had been killed by the Nazis, 1.5 million of them children. The trains Nicholas Winton used to send Jewish children to Britain saved a few hundred from murder.
I have visited both Theresienstadt and Auschwitz, two of the gruesome instruments of bringing about Hitler's vision of an ethnically pure Europe populated only by members of the Aryan race.
Of the Jewish children sent to Theresienstadt, more than half its inmates, some 33,000, died from hunger, from typhoid or at the hands of their sadistic captors.
Theresienstadt was also used as a transit camp for European Jews en route to the main extermination camp of Auschwitz, designated by Heinrich Himmler as the "Final solution of the Jewish question in Europe."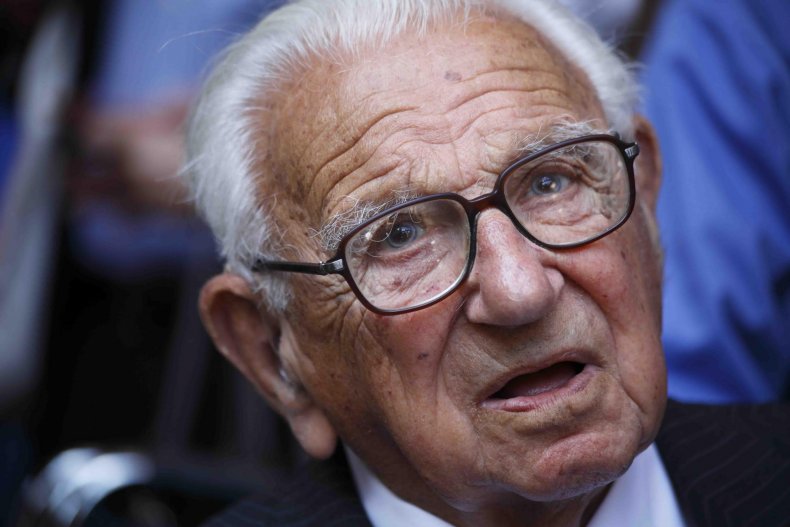 At both camps, the misleading German words; "Arbeit Macht Frei"—or "Work makes free"—welcomed new arrivals. The message offered a false message of hope and misled the Red Cross, on their rare visits, that all was well.
What always shocked me about the camps was the clinical German efficiency and inhumanity displayed by citizens of one of the most progressive, educated countries in the world. An advanced European nation had turned to barbarism!
Jewish people who had happily been part of the fabric of their society for centuries—their neighbors, their doctors, their husbands, their greengrocers—suddenly found themselves used as slave labor or incinerated in the gas chambers.
Their human hair was exploited for textiles, their clothing, glasses, crutches, even false legs were all used to bolster the Nazi war effort. Yet, somehow prompted by the success of the Turkish genocide of 1.5 million Armenians, Hitler felt capable of a much greater genocide. And he succeeded with virtually no opposition from his countrymen. As he stated in his Armenian Genocide address of 22 August 1939:
I have placed my death-head formation in readiness...with orders to send to death mercilessly and without compassion men, women and children...Who, after all, speaks today of the annihilation of the Armenians?
On visiting Auschwitz, I remember photographing a cobweb on some electrified barbed wire, which to me was like a prison within a prison, where escape was usually in the form of death.
Hitler's campaign of terror was achieved through a combination of propaganda, brainwashing and fear, all under the emblem of the Nazi swastika, a symbol hijacked from the Asian Buddhist, Hindu and Bon religions of peace, harmony and luck.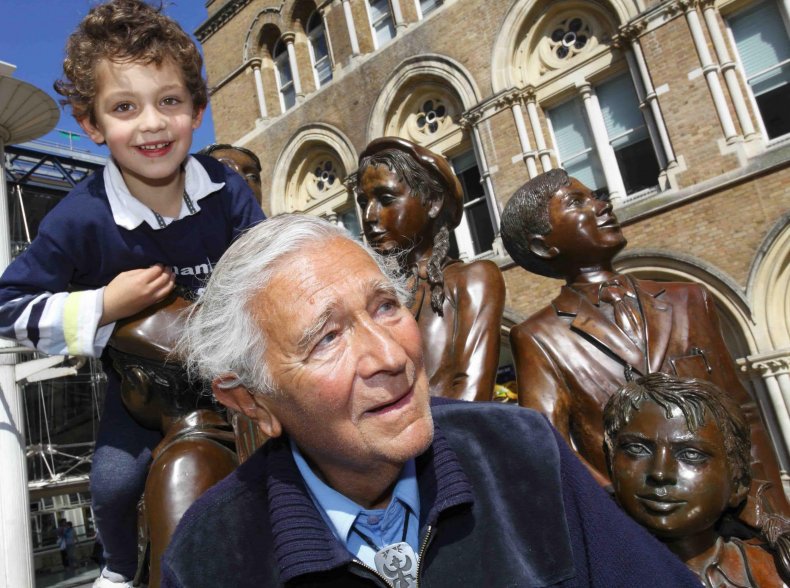 I even have a Buddhist swastika on a locket, blessed for me by the Dalai Lama. The difference is, the Nazis reversed the direction of the swastika from counterclockwise to clockwise, which the Bon believe will bring misfortune.
Clearly this is not an empty prophecy. Under Hitler's stewardship, the swastika came to symbolize evil, destruction and genocide. This is how Hitler explained the symbolism of the Nazi flag in "Mein Kampf":
As National Socialists, we see our program in our flag. In red, we see the social idea of the movement; in white, the nationalistic idea; in the swastika, the mission of the struggle for the victory of the Aryan man .. which as such always has been and always will be anti-Semitic.
My father's brother Harry, to whom I owe my middle name, died recently, though not before my father had recorded memories of some of the family's suffering during the Holocaust for Steven Spielberg's Shoah Foundation.
For 50 long years, my father and the other rescued "children" and their descendants never knew who their secret benefactor was. Like many of the 5,000 descendants of those lucky few, scattered all over the world, we owe a debt of gratitude to a man who became known as "Sir Winton," or "Nicky," as his friends and family continued to call him until his death on July 1, aged 106.
This remarkable and humble man's achievement went unrecognized for half a century until, in 1988, Winton's wife Greta discovered a scrapbook in the attic, containing all the children's photos, letters and, crucially, a complete list of names and addresses of the families that had adopted them. Faced with such detailed evidence, Winton acknowledged his role in organizing the daring rescue mission.
Winton told his wife that in 1938 he had cancelled a skiing holiday because a friend at the British Embassy in Prague had urgently asked for his help in a humanitarian crisis unfolding there: the desperate plight of Czech Jewish children trying to escape the Nazi invasion.
What was needed was trains to transport them to safety in Britain—and Winton traveled to Prague to make the arrangements. The rescue missions came to beknown as the Kindertransports, or "Refugee Children Movement," though the trains carrying Jewish Czech children were later dubbed "Winton's Trains," in honor of their modest savior.
There were obstacles, from the least likely places. The British Home Office would only allow the children be termed political refugees into Britain if they could show they had a £50 ($75, or $1,265 in 2015 dollars) warranty to pay for their eventual return transport and to contribute to the costs of the foster parents prepared to adopt them.
The mammoth feat of organizing the transport, collecting the money and meeting the demands of governments at both ends of the children's journey was achieved without fuss by Winton and his team.
No obstacle proved too difficult to overcome. "I think there is nothing that can't be done if it is fundamentally reasonable," was his comment.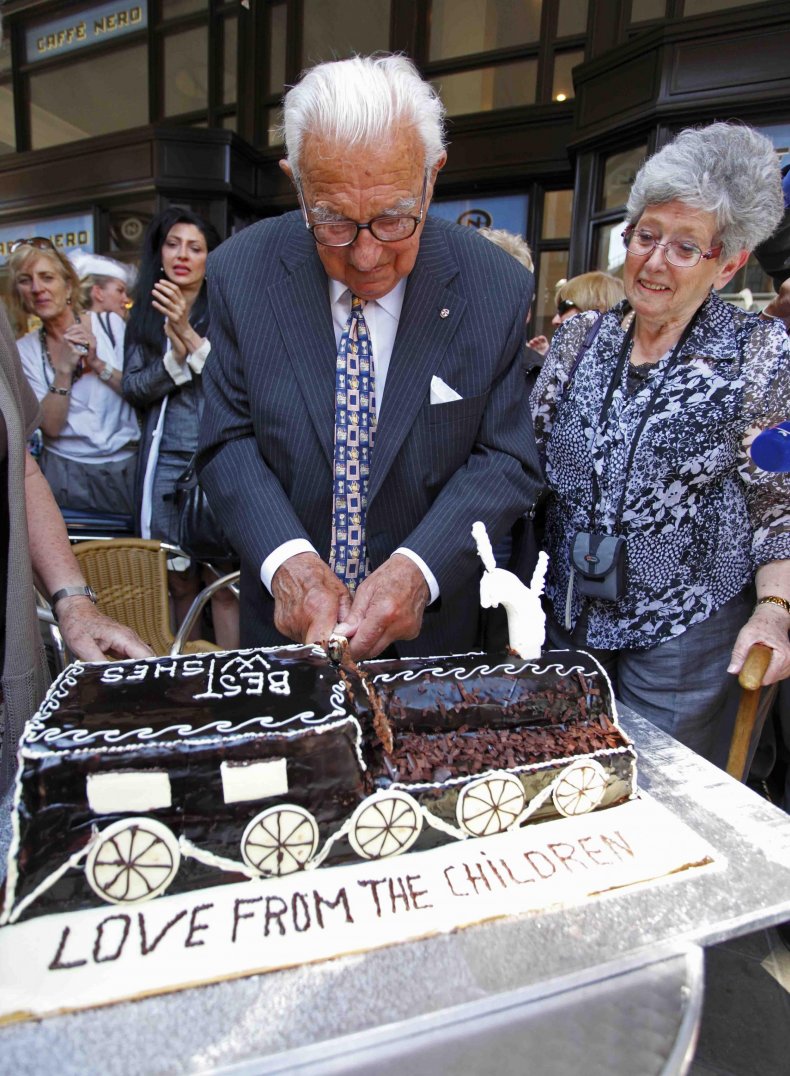 Over the next six months, seven Winton trains carried 669 children to safety in Britain from their fate of almost certain death in the Nazi death camps. Tragically, another train, containing a further 250 children, which left Prague on September 1 1939, the day Hitler ordered the invasion of Poland, triggering Britain's declaration of war with Germany, could not make it as all the German borders had been closed. The train and its precious cargo was obliged to return to Prague where the children were sent to concentration camps and the vast majority killed.
That last lost train weighed on Winton's mind for the rest of his days. "Not a single one of those 250 children was heard of again," he recalled many years later. "We had 250 families waiting at Liverpool Street that day in vain. If the train had been a day earlier, it would have come through."
I always knew my Uncle Harry had gone to Auschwitz, though whenever I saw him, language proved an obstacle because he spoke no English and I speak no Czech. My father, like Winton, has been pretty guarded about telling the story of his life, probably because it is too painful to remember. And I felt so uncomfortable about discussing such a painful subject, how exactly he escaped the Holocaust never came up.
Only recently, intrigued about the Winton train, I asked my father the unimaginable question: how did it feel to be torn from your family and put on a train to an unknown future without their love and guidance?
To my surprise, my father explained, "My parents, in order to get me on the train, misled me into believing I was going on an adventure, a holiday to stay with my Uncle Hans Popper in Folkestone (England). They did not even cry and suppressed their emotions to not alarm me. I had no idea that it was the last time I would see my father alive and that they were destined to the hellhole of Auschwitz."
Many of the other refugee children were also never to see their family again, yet, thanks to Winton, they were welcomed to Britain by kind-hearted strangers.
I think my father always felt guilty because his brother's future was so different from his, due to his luck on being put on the last train out of Prague.
"It was a tragedy, of course," my father said, "but also poignant that, due to the age difference—my brother Harry being 17 and the age limit being 15—I was destined to a new life in England and Harry was to end up working as slave labor in the Nazi death camps. Miraculously, he survived. But 1.3 million didn't."
Harry also endured a further 44 years under communism where his every movement was controlled. Tragically, the two brothers would not be reunited with each other for decades after they had been separated.
As a result, during the postwar restitution of the family's Czech properties, my father allocated his share of houses, estates and a factory to Harry and his family.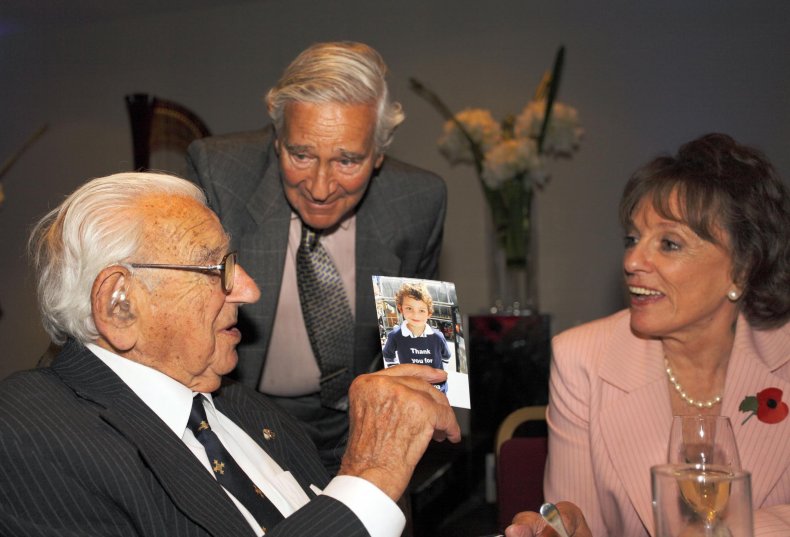 The British broadcaster Esther Rantzen heard about Winton's achievement and featured him in her TV program, "That's Life," whose researchers had tracked down many of the rescued children and their descendants. At the recording of the show, Winton unknowingly found himself in the audience, sitting among them. When Rantzen asked for some of the children who had been saved by Winton's trains to stand up, to Winton's surprise, he found himself surrounded.
I asked my father what the journey was like for the young 13-year-old travelling through the hostile heart of Nazi Germany.
"I recall it was somewhat strange that some of the girls, who had a higher age limit of 20 and had swallowed their family's valuable jewellery in plastic bags, were very impatient for the Dutch border in order to go to the toilet to recover from their uncomfortable diet," he said.
Soon, Nicholas Winton's actions became the subject of a number of films: a BBC documentary, Britain's Secret Schindler Revealed; The Power of Good: Nicholas Winton; and feature films All My Loved Ones and Nicky's Family.
Winton was knighted by Queen Elizabeth in 2003 for his work saving the Jewish children, and the Czech Republic awarded him its highest honor and nominated him for the Nobel Peace Prize.
John Miles is a documentary film-maker and founder of Equilibrium Films.