Wisconsin Coronavirus Cases Rise by Nearly 20 Percent in One County After Lockdown Lifted
Coronavirus cases in Wisconsin's Kenosha County have increased by 18 percent since last week, according to the Kenosha Division of Health Services, with 1,094 cases and 25 deaths as of Friday.
The latest spike in cases comes after the Wisconsin Supreme Court overturned Wisconsin Gov. Tony Evers' extension of his stay-at-home order on May 13.
At least seven workers at bars and restaurants in Kenosha County were confirmed to have tested positive for the virus earlier this week.
"My message for tonight is really to just implore Kenosha County residents that this is not business as usual. We are still very much on the rise," the interim health officer of Kenosha County, Dr. Jen Freiheit, said this week. "We saw several dining and drinking establishments that had seven positive cases. So these are employees of these dining and drinking establishments that are positive. And this is sort of the scenario that public health was afraid of."
Officials raised concerns over the difficulty of tracing the hundreds of others who may have come into contact with these seven workers.
"The virus is still here and we very much want to help control and contain it," Freiheit said.
Officials were also reported to be looking into an outbreak at a senior care facility after six people were reported to have died at The Bay at Sheridan Health and Rehabilitation Center in Kenosha County. Everyone at the center is being tested for the virus, the facility confirmed.
The state's previous stay-at-home order was due to be in effect until May 26. The order was lifted after Republican lawmakers made a complaint to the state's Supreme Court, which later ruled that Evers' administration had overstepped its authority in its lockdown measures.
Hours after the court ruling, various reopened bars and restaurants were reported to be packed with crowds of residents.
Despite lockdown measures being lifted, some restaurants in Kenosha County were reported to be implementing safety measures, such as at The Garage Sports & Burger Bar, which expanded its outdoor seating area.
"We opened up with about half capacity in all our restaurants, have everything six feet apart, wear masks at all times and gloves," the director of operations for The Garage Sports & Burger Bar, Riki Tagliapietra, told WDJT-Milwaukee.
Ruffalo's Special Pizza II in Kenosha County is offering only curbside and take-out services. "We decided that we weren't ready with letting our customers and employees interacting at such a close level," co-owner Michael Covelli told WDJT-Milwaukee.
The family-owned business, which has operated for 30 years, kept its dining room closed in a bid to protect their staff and customers.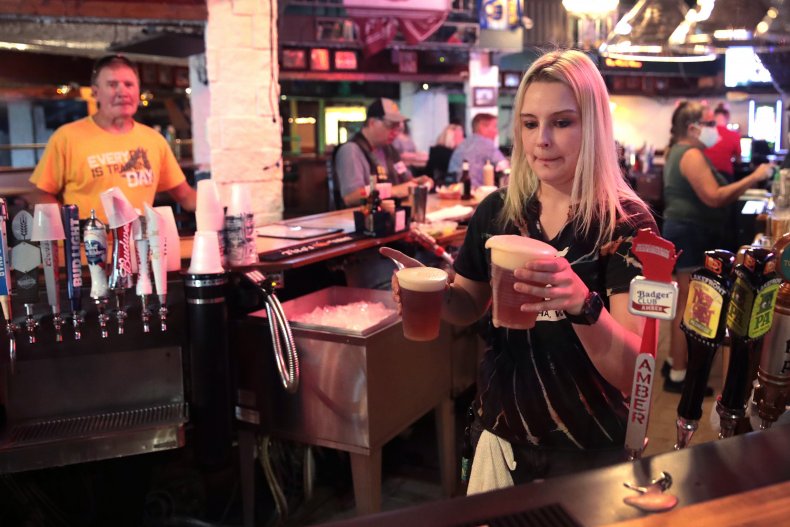 Earlier this week, Wisconsin reported its highest single-day rise in cases and deaths since the outbreak began.
The state recorded 599 new infections on Wednesday, more than double the number reported Tuesday. It also recorded 22 new fatalities on Wednesday, a jump from 22 deaths reported a day earlier. Wisconsin has reported 16,974 confirmed cases and 550 deaths to date, according to the Wisconsin Department of Health Services.
The novel coronavirus, which was first reported in Wuhan, China, has infected over 5.8 million people across the globe, including 1.7 million in the U.S. Over 361,000 have died while more than 2.4 million have reportedly recovered, as of Friday, according to the latest figures from Johns Hopkins University.
The graphics below, provided by Statista, illustrate the spread of COVID-19 in the U.S. and the worst-affected countries.