Wisconsin Democratic Party Chair Blasts GOP's 'Savage And Shameful Attempt to Suppress Votes' Amid Coronavirus Outbreak
Democrats are celebrating a bittersweet victory in Wisconsin's primary election, with liberal challenger Jill Karofsky defeating conservative incumbent Justice Daniel Kelly for a seat on the Wisconsin Supreme Court in a vote that many say never should have happened.
While Democrats have celebrated the shock win, many have also criticized Republicans, and Wisconsin and U.S. Supreme Courts, for standing in the way of efforts to see last Tuesday's election delayed over coronavirus fears.
Wisconsin Gov. Tony Evers, a Democrat, had sought to postpone voting until July 9 and to allow mail and absentee ballots to be sent in until then.
However, his efforts were thwarted with the Wisconsin Supreme Court rejecting the bid, while the U.S. Supreme Court barred an effort to see absentee voting extended until April 13 so residents would have more time to vote from home amid the pandemic.
In a statement published on Twitter on Monday, Democratic Party of Wisconsin Chair Ben Wikler celebrated Karofsky's victory, but admonished Republicans for pushing back against bids to postpone or extend voting for the state's primary election.
"Despite the GOP's savage and shameful attempt to suppress votes and steal Wisconsin's Supreme Court election, Judge Jill Karofsky prevailed. It's a victory for justice and democracy in an election that should never have taken place in person," Wikler said.
Wikler said that while he and his party were "grateful to Judge Jill Karofsky for stepping up to run in a very difficult race against a relentless GOP machine, and congratulate her on the hard-earned win," the "fact that this in-person election took place was a searing loss for Wisconsin."
"Today's results don't tell us how many people were exposed to coronavirus at polling places, how many were infected, or how many will die. Had justice prevailed, those numbers would have been zero. No one should ever have to choose between their health and their vote, yet Republicans chose to prioritize their own political gain over actual human lives. Wisconsin voters will not forget this travesty." Wikler said.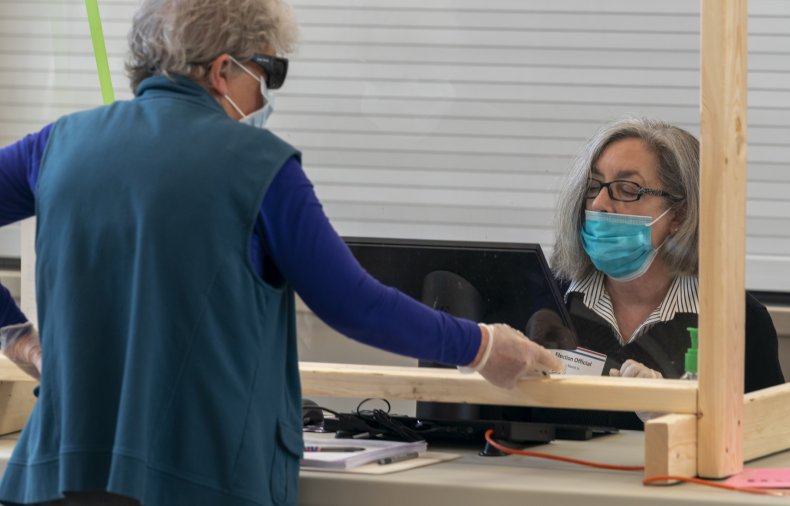 In her victory statement, Karofsky thanked supporters and joined Democrats in condemning the Republican-led legislature for allowing voters to go the polls at a time when they are being told to stay home and practice social distancing.
"Although we were successful in this race, the circumstances under which this election was conducted were simply unacceptable, and raise serious concerns for the future of our democracy," Karofsky said. "Nobody in this state or in this country should have been forced to choose between their safety and participating in an election.
"Too many were unable to have their voices heard because they didn't feel safe leaving their home or their absentee ballots weren't counted. Wisconsinites showed their resiliency by overcoming many of the barriers created by the legislature and the courts to try and silence voters in this state, but nobody should ever be denied their right to vote," Karofsky said.
Wisconsin is expected to be a key state to win in the upcoming presidential election, with President Donald Trump narrowly winning the swing state in 2016.
Former Vice President Joe Biden also saw victory in the state, winning the Wisconsin Democratic presidential primary, which took place a day before Vermont Sen. Bernie Sanders dropped out of the race.