Wisconsin Doctoral Student Apologizes for Claiming to Be a Person of Color, Steps Down From Teaching Post
A University of Wisconsin-Madison doctoral student recently issued an apology and stopped teaching after being accused of claiming to be a person of color.
According to the Milwaukee Journal Sentinel, CV Vitolo-Haddad, who uses they/them as preferred pronouns, issued the apology in a Medium blog post, published on Sunday.
"I want to offer a clear statement about my identity, the wrongs I've done, and a give concrete apology," Vitolo-Haddad wrote. "What I know is that I am Southern Italian/Sicilian. In trying to make sense of my experiences with race, I grossly misstepped [sic]. I went along with however people saw me. I over-identified with unreliable and unproven family history and latched onto anything I remembered growing up."
In the blog post, Vitolo-Haddad went on to state, "When asked if I identify as Black, my answer should have always been "No." There were three separate instances I said otherwise. I should not have adopted any identity outside of what I know."
"I acknowledge that most of the trust I destroyed cannot be rebuilt. I want to provide redress that is appropriate for each individual I've harmed, not a blanket resolution," VItolo-Haddad's blog post added. "I cannot repair harm while in any position of power, and have resigned from my position as co-president of the Teaching Assistant's Association and from my job at the university."
The University of Wisconsin-Madison did not immediately reply to a comment request from Newsweek, but according to the Journal Sentinel, Meredith McGlone, a spokeswoman for the university, confirmed that Vitolo-Haddad is not currently teaching there.
Vitolo-Haddad's blog post comes shortly after an anonymous blog post was published, by "an affiliate of the university."
"I have long suspected CV Vitolo, a PhD student at the University of Wisconsin in Madison, of engaging in the same kind of race-shifting and copious lying," the anonymous post said, while also providing an array of evidence for their speculation.
On Friday, Vitolo-Haddad issued an update to her blog post, stating, "My parents have conflicting stories. This is all very overwhelming, to find so much out like this on the heels of an anonymous article questioning the very foundations of my life."
"I am deeply sorry for how this is playing out. I have no idea what to believe anymore, but I am dedicated to figuring out the truth for myself and those around me," the update added.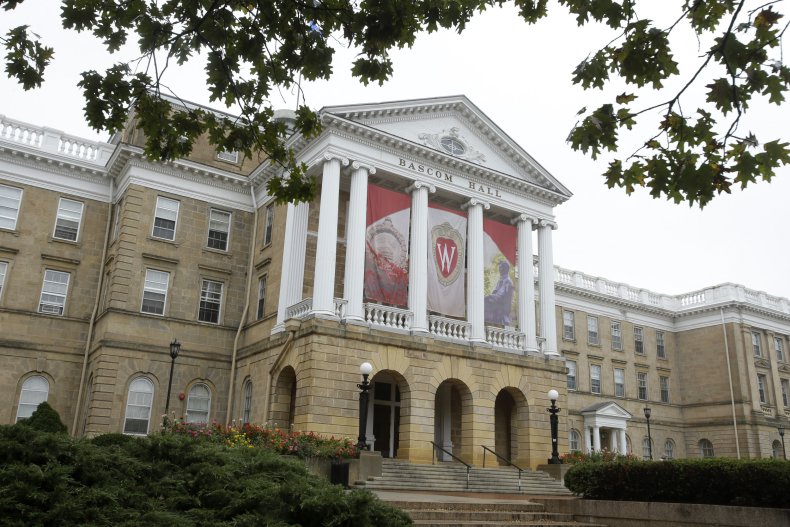 The graduate worker's union at the University of Wisconsin-Madison also issued a statement, posted on its Facebook page.
"We condemn CV Vitolo-Haddad's appropriation of Black and Brown identities in no uncertain terms," the statement said. "They have resigned as co-president, and we have removed their access to our website, social media, and all other internal accounts. We cannot speak for CV, but we as TAA leaders are profoundly sorry for the harm they have caused members of the Madison community."
Vitolo-Haddad declined to comment after Newsweek reached out.
A similar situation recently occurred at Washington University, when Jessica Krug, a professor at the university, admitted that she had been lying for years about being Black. The school announced that she resigned shortly after.