Wisconsin Flooding: Evacuations Ordered, One Person Swept Away As Rain Breaks Records
Record-breaking rain in Wisconsin on Monday night and into Tuesday caused flash flooding, prompted evacuations and turned a search and rescue mission into a recovery mission. The National Weather Service (NWS) issued a flood warning for multiple areas of southern Wisconsin including Western Madison, Mount Vernon and Middleton.
"Due to the extreme nature of this rainfall and the impact it has had this flood warning will extend out through tonight to account for these ongoing flooding issues," the warning said.
Dane County Executive Joe Parisi declared a state of emergency because of the widespread flooding on Tuesday morning and evacuations were ordered for the Wisconsin towns of Black Earth, Cross Plains and Mazomanie. In Black Earth and Mazomanie, emergency management called residents on Monday evening and informed them of the need to leave their homes and instructed them to go to the town hall or the fire department, according to WMTV.
Josh Wescott of the Dane County Emergency Management told WMTV that there have been several calls on Tuesday morning of people stranded in their homes and on the roofs of their cars after encountering severe flooding.
On Monday evening around 9:00 p.m. CDT, the Madison Fire Department received a call about a man who was missing after being stranded in his car in the raging waters. The department told Madison.com in a statement that the car was swept into an embankment with three passengers inside.
"Bystanders assisted the three occupants out of the vehicle," the department explained. "Two were pulled to safety, and the third was ripped from the hands of a bystander by a strong current in the floodwaters."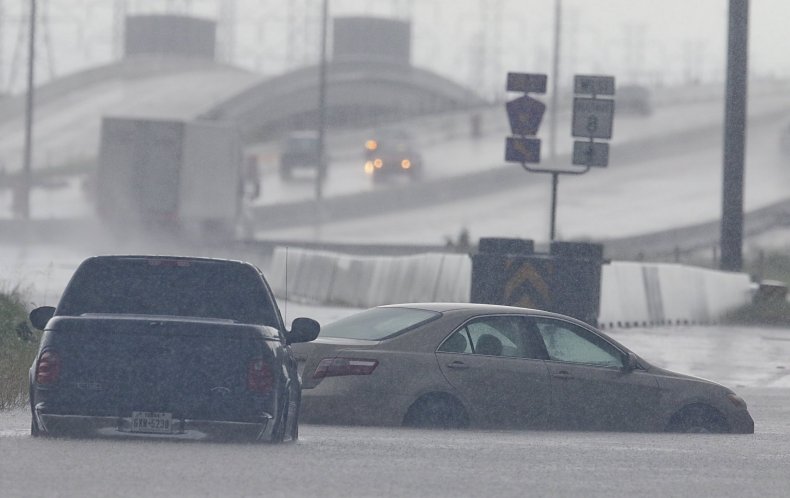 Madison Police Department spokesman Joel DeSpain told Madison.com that the driver of the car, a man in his 70s, was unable to open his door because of the water, which was filling the car. A husband and wife rushed to help the stranded passengers and the wife was able to grab one passenger, a woman in her 50s who was swept under by the current, by the hair and pull her out and to safety.
The driver of the vehicle was able to get out of the car and two men tried to pull him to safety, but DeSpain said, "despite heroic efforts, they were unable to keep him from being sucked under the car." What began as a search and rescue for the man who was swept away, turned into a recovery mission on Tuesday morning and diving crews began searching for his body.
The rain was so heavy that it likely broke a 72-year-old state record for rainfall within a 24-hour period. The NWS received reports of up to 13 inches of rain in some areas, which would surpass the 1946 record of 11.72 inches by 1.28 inches.
Heavy rain knocked out power for an estimated 6,000 Madison Gas and Electric customers on Monday, but as of Tuesday around 11:30 a.m. EDT, only about 600 customers remained without power.