Wisconsin GOP Chair Says Republicans Are 'Trying to Disenfranchise People,' Amid Post-Election Turmoil
The Republican leader in Fond du Lac County, Wisconsin, said members of his party are "trying to disenfranchise people" as part of the GOP's post-election strategy.
Rohn Bishop serves as chairman of the Republican Party in the county, which is northwest of Milwaukee. Although Donald Trump in 2016 became the first Republican to flip the state in decades, Fond du Lac County typically leans conservative and again went to the president this year.
Official sources called the race in Wisconsin for President-elect Joe Biden on November 4 and later called the national race for him on November 7. Trump has yet to concede the election and instead launched several legal challenges throughout the country in an effort to contest the results. One of those legal challenges resulted in a recount of ballots cast in Wisconsin's Dane and Milwaukee counties, which began last Friday and is expected to be completed by December 1.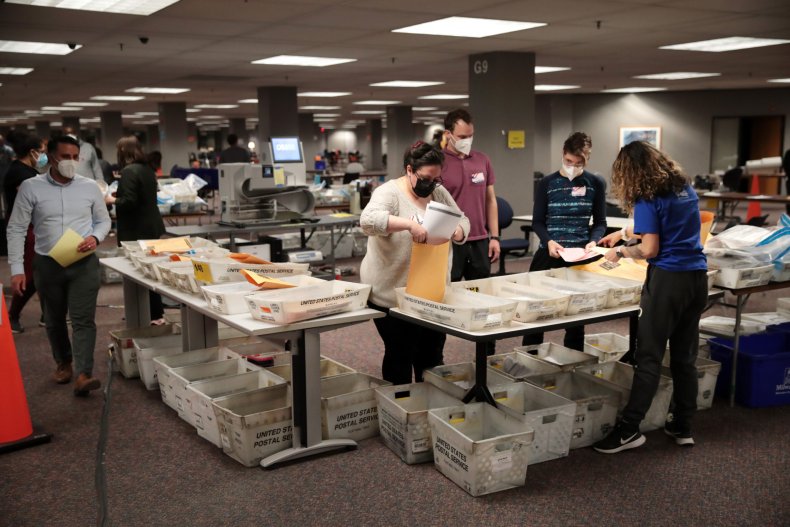 In addition to recount requests, Trump's campaign and the GOP have filed lawsuits attempting to stop ballot counting in some states and to reject ballots received after Election Day in others. Many of the lawsuits allege without evidence that widespread voter fraud took place or that poll watchers were prevented from observing the ballot-counting process, and both of these allegations have been widely debunked.
"The worst part of the GOP strategy is I've spent a decade supporting GOP laws to tighten up our elections. Voter ID, signing the book, etc.," Bishop said Saturday on Twitter. "I've pushed back against Dem claims that we Repubs were trying to disenfranchise people. Now here we are, trying to disenfranchise people."
Bishop's Twitter thread went on to question what the response to this strategy would be if the parties' roles were reversed. In that scenario, conservative media personalities like radio host Rush Limbaugh would be infuriated, Bishop said.
"These voters did nothing wrong. There's no fraud. We're pushing for a drawdown based on a [technicality]! Technicalities that helped voters vote and have been commonly used for early voting for 10 years. BTW, I'm still waiting for all FRAUD I was promised," he tweeted.
A review of Bishop's Twitter feed shows that he realizes that some in his party who would—and do—call him a "RINO" ("Republican in name only") because he disagrees with their positions or their strategies. Bishop told Newsweek on Monday that the term is not an accurate way to describe his politics.
"I hate being called a RINO because I'm not one," Bishop said. "I'm a proud Republican who votes a strait [sic] Republican ticket in every election. I volunteer hundreds of hours and dollars to the Republican cause. I knock on doors, walk in parades, host events, do interviews, etc. for the Republican Party. Usually, the folks calling me a RINO don't lift a finger to help out. They're usually Monday morning quarterbacks.
"I'm concerned if we do try and have a drawdown of ballots instead of a recount looking for fraud, we'll be walking into the Democrats' talking point. I do not want to suppress anyone's right to vote," he said, adding, as a joke, "Even if they vote wrong."
"We all have a right to vote," Bishop continued. "I just want clean and fair elections and feel that [former GOP Wisconsin Governor Scott Walker's] election reforms do just that. I always pushed back on Democrats' claims that we were trying to disenfranchise anyone, and still feel that we are not. But, in this situation, to remove ballots legally cast by voters who did nothing wrong, and clerks who were just following the advice from the Wisconsin Elections Commission, is just wrong."
Newsweek reached out to the Republican National Committee for comment but did not receive a response in time for publication.