After two nights of protests in Wisconsin following the shooting of Jacob Blake by police officers in Kenosha, Governor Tony Evers declared a state of emergency on Tuesday.
Blake's shooting was captured on video which then circulated on social media. In the video, Blake can allegedly be seen attempting to enter his vehicle when a Kenosha police officer grabs the back of Blake's shirt. Blake was shot multiple times in the back in front of his children, who were waiting in Blake's automobile. Protests soon followed, leading to violence in Kenosha on Sunday and Monday night. Buildings and businesses were burned. Police reportedly used nonlethal weapons against the demonstrators.
Governor Evers mobilized 150 members of the Wisconsin National Guard on Monday to assist local law enforcement during the protests. Under Executive Order 86, Evers has increased the number to 250 Guard members. In a statement obtained by Newsweek on Tuesday, Evers said "there remains a line between peaceful assembly and what we saw [Monday] night that put individuals, families, and businesses in danger."
"We cannot forget the reason why these protests began, and what we have seen play out over the last two nights and many nights this year is the pain, anguish, and exhaustion of being Black in our state and country," Evers continued, emphasizing the need to allow individuals to exercise their right to protest peacefully.
"Please do not allow the actions of a few distract us from the work we must do together to demand justice, equity, and accountability," Evers added.
Executive Order 86 announced a state of emergency in Wisconsin, including a directive towards state agencies to continue to "assist as appropriate." National Guard members are expected to be used to provide support to local first responders without impeding "the ability of people to peacefully protest or impede the ability of people to peacefully protest or impede the ability of the media to report on demonstrations."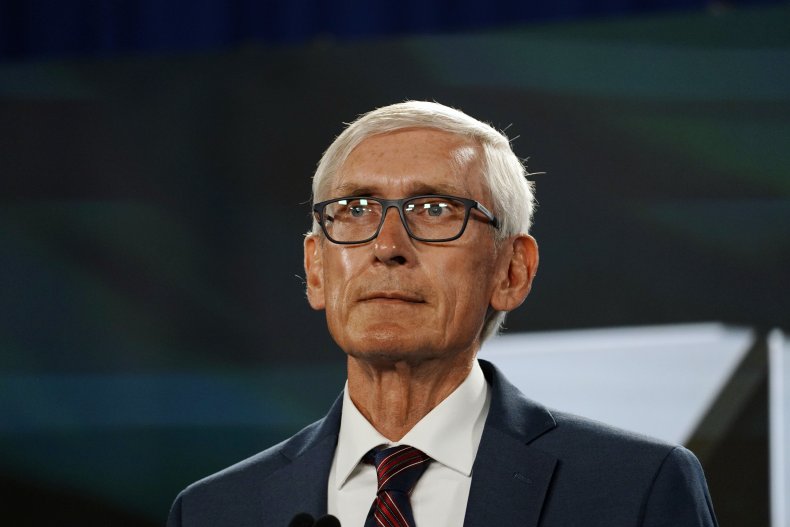 Although Blake survived the shooting, his father told the Chicago Sun-Times on Tuesday that Jacob Blake was paralyzed from the waist down. "What justified all those shots?" Blake's father said. "What justified doing that in front of my grandsons? What are we doing?"
Civil rights attorney Benjamin Crump was hired by Jacob Blake's family for representation. Crump is also representing the families of George Floyd, Breonna Taylor and Ahmaud Arbery.
During a Tuesday news conference, Crump said that Jacob Blake's spine had been severed by the bullets fired into Blake's back. "It's going to take a miracle for Jacob Blake, Jr. to ever walk again," Crump said.
Crump said the Kenosha Police Department used "brutal excessive force" in Blake's shooting.
"Seven times? In the back? At point-blank range?" Crump asked, adding that the culture of nationwide policing must be changed "before we have another unarmed Black person killed unjustifiably."