Wisconsin Governor Expected to Mobilize National Guard During Primaries
Wisconsin Governor Tony Evers announced on Wednesday that the Wisconsin National Guard would be deployed to assist during the state's upcoming primary elections.
National Guard members are expected to work at voting sites around the state. Wisconsin has reported a shortage of over 900 poll workers because of the coronavirus pandemic. Many of the state's regular poll workers are over the age of 60 or have underlying health issues that could make them more likely to contract COVID-19. Evers issued an executive order in July that would allow him to call up the National Guard to temporarily fill the positions.
"The Wisconsin National Guard has played a critical role in our response to the COVID-19 pandemic and this mission is no different," Evers said in a Wednesday statement. "Time and time again the Guard has stepped up to help their neighbors, friends, and communities, as they will be doing on election day by helping to ensure that every Wisconsinite can vote safely without fear for their health."
"The Wisconsin National Guard continues to work in close collaboration with the Wisconsin Elections Commission to anticipate what support needs each county will have," Public Affairs Deputy Director CPT Joe Trovato of the Wisconsin National Guard said in a statement sent to Newsweek on Wednesday. "While serving as poll workers in our state's last few elections is unique, serving our state during times of emergency is one of our core missions in the Wisconsin National Guard."
Members of the Wisconsin National Guard are expected to report for training and assignation on Sunday. They are not expected to wear uniforms and will work at voting sites in the counties where they live. Wisconsin mobilized its National Guard during the state's general election in April which was conducted in person after Evers attempted to delay the election until June.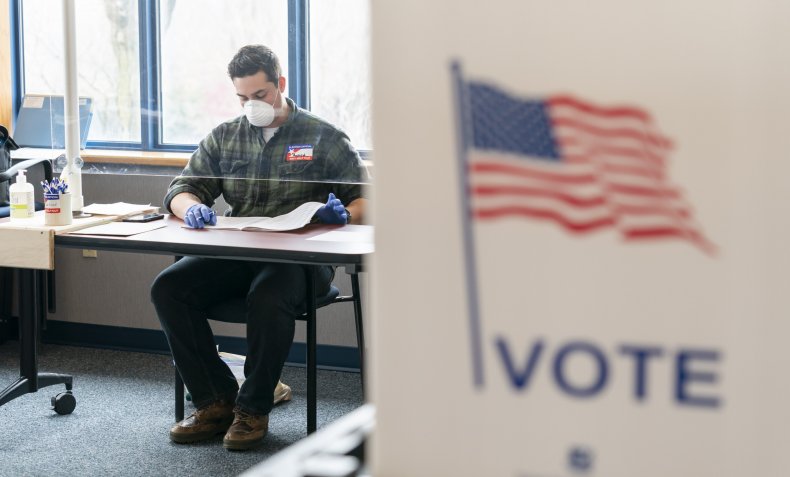 Evers' order to postpone the election was blocked by the U.S. Supreme Court leading to worries that crowded voting sites would exacerbate the spread of the coronavirus.
Since March, more than 1,000 members of the Wisconsin National Guard have been assisting with the state's COVID-19 response. Guard members have staffed medical and warehousing facilities, transported coronavirus test materials and distributed supplies. None of the Wisconsin National Guard members currently responding to the COVID-19 situation are expected to staff voting sites during Tuesday's primary elections.
Positive coronavirus cases in Wisconsin remained at a high level on Wednesday. Data from the Wisconsin Department of Health Services indicate 884 new cases on Wednesday, pulling the state's cumulative total to 56,940 positive cases.
Evers ordered a statewide emergency mask mandate applicable to individuals 5 years old or older in July after the state experienced an increase in positive cases. Masks must be worn indoors and in enclosed places accessible to the public, such as public transportation and outdoor bars and restaurants. Individuals found to be in violation of the order could be issued a $200 fine.
"I know there have been those who have demanded a piecemeal rather than a statewide approach," Evers said during a July news briefing. "Well, we've tried their way and, folks, it's not working. Our statewide efforts to combat this virus have worked before and so that's what we've announced here today."
Some members of the GOP have criticized Evers' order as a distraction from another issues.
"The mandatory face mask order was nothing more than political cover for the real purpose of the governor issuing an illegal emergency declaration," said Republican Wisconsin Senator Steve Nass in a statement, "keeping public and private school buildings from reopening in September."
Evers said Monday he has no "secret plan" to order all schools to engage remote learning. He still expects Wisconsin schools to open in the fall, although the specifics of reopening should be left to local school districts.