Scott Walker Slammed for Tweet Mocking AOC's Expensive Haircut When He Spent Thousands on Flights
Former Wisconsin Governor Scott Walker was met with some criticism on Twitter after he posted a photo appearing to mock New York Representative Alexandria Ocasio-Cortez for allegedly spending $300 on a haircut and color, when Walker himself had been found to spend thousands of dollars in flights from 2015 to 2018.
Walker, a Republican, served as the governor of Wisconsin from 2011 to January 2019. He was a candidate for the GOP presidential nomination during the 2016 election, but suspended his bid in September 2015.
In a tweet published around 10:30 a.m. on Saturday, Walker posted a photograph of himself at a barbershop, with the caption, "Getting my $26 (with tip) haircut."
The tweet appeared to be a dig at Alexandria Ocasio-Cortez, a Democrat who has represented New York's 14th congressional district in the United States House of Representatives since January. An article published on October 9 by conservative D.C.-area newspaper The Washington Times, titled "Self-declared socialist AOC splurges on high-dollar hairdo" reported that Ocasio-Cortez spent about $300 on her hair at a Washington salon.
The article published in the Washington Times, which describes itself as offering "news and valued conservative commentary," pointed out the apparent irony and incongruity of the congresswoman—who has indeed referred to herself as a Democratic socialist and has railed against what she perceives as exorbitant, wasteful spending by the rich—spending hundreds of dollars on her hair.
"[Ocasio-Cortez] could have saved roughly $100 for the same hairstyle at the government-subsidized Capitol Hill barbershop," the article read. "The lawmaker could have saved money on the same services by visiting highly reviewed salons in her own district in the Bronx."
The pricey haircut story received attention from other outlets after it was broken by the Times, including the New York Post and the Washington Post, both of which also reported criticism that the Times had received for reporting the story and framing it as ironic.
CNN host S.E. Cupp mocked the Washington Times piece on Saturday, saying that while male politicians have also been criticized for their expensive trims, the story was nevertheless frivolous.
"It isn't necessarily sexist to criticize AOC for her $300 haircut," Cupp said. "It is dumb, though. As far as personal indictments go, this one's pretty thin. As journalism goes, it's hanging on a razor's edge."
Ocasio-Cortez herself appeared to respond to the story on October 10, when she tweeted a comparison of how Vice President Mike Pence has spent "several thousand haircuts' worth" of taxpayer funds on visits to Trump-owned golf courses. "I wonder if Republicans care about corruption as much as they care about a woman's cut & color," she wrote.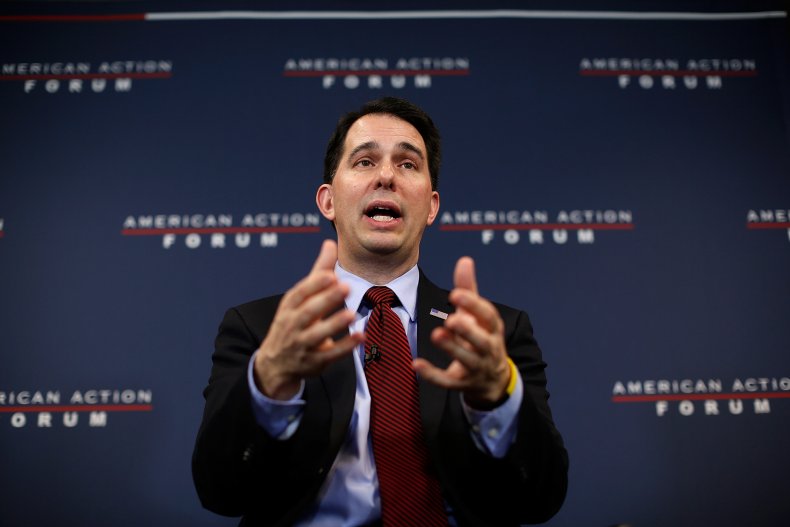 Scott's tweet was almost immediately met with backlash. In the tweet's replies, some users linked to or referenced a story by Urban Milwaukee last year detailing an investigation which found that Walker spent $818,497.06 in public funds on 869 airplane flights from September 2015 to April 2018. One Wisconsin Now, a left-leaning non-profit in the state, conducted the investigation into state records that found this information.
Urban Milwaukee reported that Walker's spending was part of his "over two year long campaign to try to repair and rehabilitate his political image" after ending his presidential campaign.
"Scott Walker has used and abused public funds and violated the public trust," Scot Ross, then-executive director of One Wisconsin Now, said at the time. "He's operated as if the state airplane is his personal vehicle and available for him whenever he wants to for whatever he wants."
Other Twitter users also criticized Scott for mocking Ocasio-Cortez's spending when Scott had spent billions of public dollars to a Taiwanese company, Foxconn, in exchange for jobs for thousands of Wisconsinites. Governor Tony Evers, Walker's successor, said in a CNBC interview that while Foxconn had promised to provide 13,000 jobs in Wisconsin in exchange for $4 billion, the company would only offer 1,500 jobs in the state.
Walker had not replied to any of the comments on his haircut tweet by 2 p.m. Sunday.