Wisconsin Governor Tony Evers Slaps Down Legislature's Repeal of Mask Mandate With New Order
Wisconsin Governor Tony Evers on Thursday slapped down the state's Republican-controlled legislature repeal of his statewide mask mandate by issuing a new order.
"Every step of the way, our statewide strategies to contain this virus and prevent the spread have been met with lawsuits, political rhetoric and obstruction," Evers said in a video posted to Twitter. "Unfortunately, that happened again today, when Republicans in the legislature came in to vote down our state's public health emergency and end requiring face coverings in public places."
"That's why today we will be issuing a new public health emergency order requiring face coverings in public places," Evers added.
Evers' comments come shortly after the Republican legislature voted to repeal Evers' statewide mask mandate, with Wisconsin Republicans arguing that the Democratic governor exceeded his authority by continuing to extend the statewide mandate without legislative approval every 60 days.
In response, Evers has contended that due to the ongoing pandemic and how it has continued to infect residents in the state, he has the authority to issue several emergency health orders and impose mask mandates.
In his video posted to Twitter, Evers also touched on how repealing the statewide mask mandate has been opposed by numerous organizations and residents across the state.
According to state lobbying records from the Wisconsin Ethics Commission, at least 59 organizations expressed opposition for terminating the COVID-19 public health emergency, which included the statewide mask mandate. Organizations that opposed ending Evers' order included the Children's Hospital of Wisconsin, the Medical College of Wisconsin, the Association of Wisconsin School Administrators and the Wisconsin Medical Society.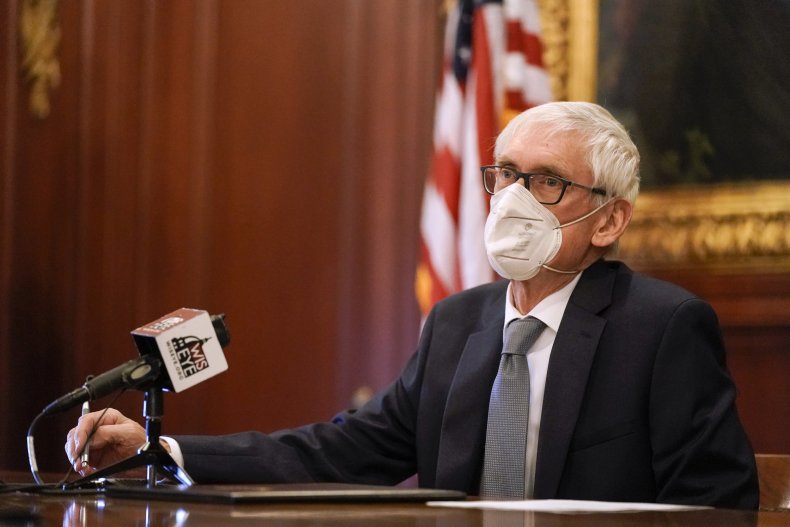 Newsweek was directed to a press release issued by Wisconsin Medical Society CEO Bud Chumbley after reaching out for comment.
"Today's action by the State Legislature ending the statewide mask order sends the wrong message at the wrong time," Chumbley wrote. "Instead, we need all of our policy leaders to unify behind the same message: wear a mask to protect yourself and others, prevent additional deaths and restore our economy."
Medical College of Wisconsin President and CEO John R. Raymond Sr., M.D., made similar comments in an email sent to Newsweek.
"From a public health perspective, the decision to terminate Wisconsin Governor Evers Emergency Order comes at a tenuous time for us, with our national vaccine rollout just beginning to ramp up, and with more contagious COVID-19 variants spreading across the globe," Raymond told Newsweek. "Masks are shown to be one of the most effective tools that we have to slow the spread of COVID-19, and we need consistent messaging and policies that increase mask use and other protective measures so that we can preserve the health and well-being of our people, and the vitality of our community and economy."
Newsweek reached out to the Children's Hospital of Wisconsin and the Association of Wisconsin School Administrators for comment.
In addition to nearly 60 organizations, an October poll from Marquette University found a majority of Wisconsinites saying they support the mask mandate. According to the poll, 72 percent of Wisconsin residents agreed that masks should be required in public, while only 26 percent disagreed. A poll from August found 69 percent supporting the mask mandate.
This poll surveyed 805 registered voters in Wisconsin from September 30 to October 4 and reported a margin of error of plus or minus 4.2 percentage points.
Newsweek reached out to Evers' office for comment but did not receive a response in time for publication.