Wisconsin Health Official Says 'We Are in a Crisis' As State Reports 22 Percent Coronavirus Infection Rate
Health officials in Wisconsin sounded the alarm on Tuesday as the state reported a nearly 22 percent positivity rate of COVID-19 test results reported over the last day in the state.
The Wisconsin Department of Health Services added 2,367 COVID-19 cases on Tuesday with 8,397 tests coming back negative since Monday. The new infections bring the state's total number of cases to 119,995 and total number of deaths to 1,300.
The state health department's chief medical officer, Ryan Westergaard, said during a Tuesday news conference also attended by Wisconsin Governor Tony Evers and the health department's secretary-designee, Andrea Palm, that Wisconsin's infection, hospitalization and death rates are all likely to get worse if citizens' attitudes toward virus restrictions do not improve.
"We are in a crisis right now," Westergaard said. "Turning the corner on this requires that we do things dramatically different than what we're doing. It requires all of society, all of Wisconsin, to do things differently to reduce the transmission."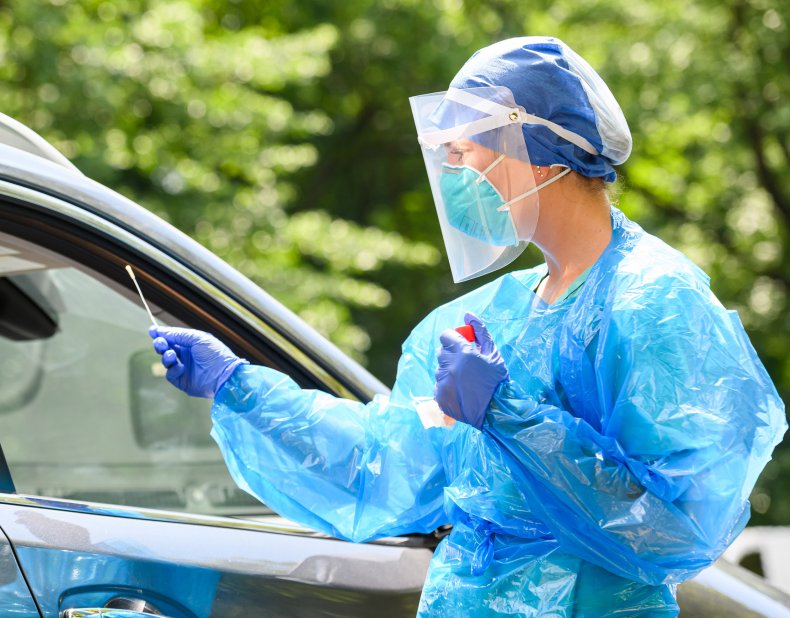 Westergaard added that the U.S. is just starting to enter the time of year during which respiratory diseases thrive. Given the timing of Wisconsin's latest COVID-19 surge, "The likelihood that this is going to get much worse before it gets better is a real one," he said.
Wisconsin's seven-day rolling average of new cases has surpassed 2,200, Palm said. The surge of new cases is "significant," Palm said, adding that the state's health care systems are "feeling the strain."
Wisconsin health officials reported more than 2,000 new infections in a single day for the first time on September 17. The total number of new reported cases has exceeded that mark several times since then, with the state's record single-day increase of 2,817 reported on September 26, according to the state health department's data.
In response to the rising infection rates, Evers declared a new public health emergency in Wisconsin last week and encouraged all residents to practice social distancing, wear face coverings and avoid congregating around people with whom they do not live. He said during Tuesday's news conference that he hoped the virus would not necessitate further economic disruption in the state.
"Right now, it's not slowing down; it's picking up speed," Evers said of the virus' spread. "We have got to put the brakes on this pandemic."
Like Westergaard and Palm, Evers said adherence to social distancing and face covering guidelines was essential to regaining control of the pandemic in Wisconsin. Recently observed resident activities suggests people are not taking the threats posed by the virus seriously, he said.
"Over the last few weeks, we've seen an increase in people carrying on business as usual; hosting parties, hitting the bars and heading to weddings. Folks, it isn't safe," the governor said. "This virus is real and it's devastating our communities and will continue to do so until we all get on the same team."
Newsweek reached out to Evers' office for further comment but did not receive a response in time for publication.