Wisconsin Nazi Salute Prom Picture: High School Students Won't be Punished
A Wisconsin high school will not be punishing students who made what appeared to be a Nazi salute in a junior prom group photograph, because doing so would violate their First Amendment rights.
The picture showing around 60 students from Baraboo High School, some raising their arm in a Nazi salute, went viral after being posted on Twitter earlier in November.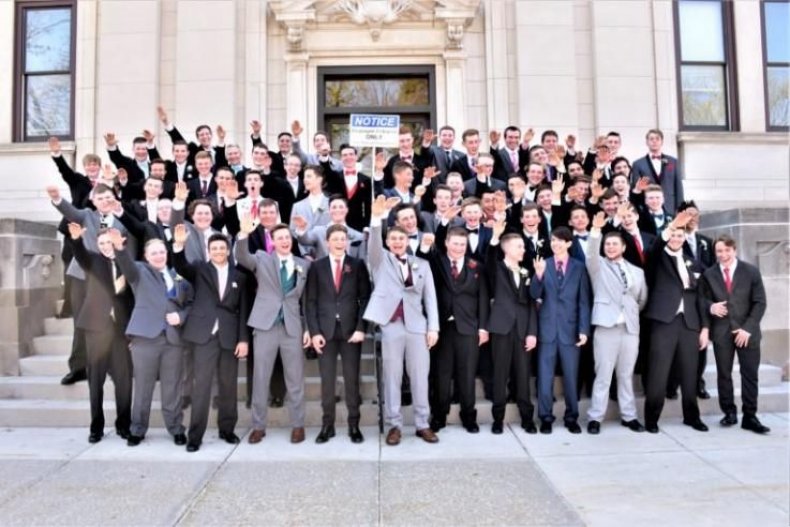 Photographer Peter Gust–who took the picture—has claimed that the students were waving, an account disputed by one student in the picture who did not raise his arm.
The Auschwitz Memorial said the images showed the "danger of hateful ideology rising," and there were calls for the students to be punished for making the gesture.
In a letter to parents Baraboo Superintendent Lori Mueller said the district can't punish the students because they are protected by the First Amendment.
"We cannot know the intentions in the hearts of those who were involved," she wrote Wednesday, in the letter obtained by the Wisconsin State Journal. "Moreover, because of students' First Amendment rights, the district is not in a position to punish the students for their actions."
It said it had completed most of its investigation into the images, but some "key details" remain unclear.
Mueller had described the student's actions as "not reflective of the educational values" of the school district after the picture emerged, and said it would pursue "any and all available and appropriate actions, including legal."
In a November 14 statement it said "We understand the moral responsibility we have to be relentless in our work to create a culture in which racism is not tolerated.... We are so very sorry that the actions of some of our students so understandably and deeply hurt people around the world."
It announced a series of community meetings where parents and other residents would discuss the issue.