Wisconsin Lawmaker Says He Saw White Supremacists Come to Kenosha 'Vandalizing' and to 'Hurt Protesters'
Wisconsin state Representative David Bowen said he saw white supremacists in Kenosha on Tuesday evening "vandalizing" and attacking demonstrators.
Protests and riots have broken out in the city following the shooting of 29-year-old Jacob Blake, a Black resident, on Sunday. Videos of the incident showed a police officer shoot Blake in the back multiple times right outside his vehicle. Blake was reportedly attempting to break up a fight when the police arrived at the scene.
The shooting came in the wake of widespread anti-racism and Black Lives Matter demonstrations across the country, which were spurred by the death of George Floyd, an unarmed black man, in Minneapolis police custody on May 25. Floyd's death, as well as the deaths of numerous other black Americans at the hands of the police in recent years, has become a rallying cry against systemic racism in the justice system. Bowen attended the protests in Kenosha on Tuesday evening and described what he witnessed in a Wednesday interview with CNN.
"What I saw last night was a number of individuals riding around in pickup trucks that clearly were white supremacists," the Wisconsin lawmaker said. "They were armed. They were destroying property. They were vandalizing vehicles, including mine, including other protesters' [vehicles]. They were there to agitate and hurt protesters."
Bowen said he has been asked why he and others will keep protesting, despite the violence. He said he will continue to do so "because we cannot allow anyone to take away our constitutional right to transform this system and advocate for what it needs to change into."
Newsweek reached out to the city of Kenosha and the police for comment, but they did not respond in time for publication.
Kenosha County Supervisor Andy Berg said in an interview with CNN that the far-right group the American Patriots Brigade organized and brought in people from outside the city. "We didn't ask them to come here. We don't need them here," Berg said.
"A lot of the destruction happening is not from people of Kenosha. It's people coming in," he said.
On Tuesday evening in the city, as the demonstrations continued, a shooter killed two people. The attack was captured on video, and a man was heard saying, "I just killed somebody." On Wednesday, Kenosha police arrested a white 17-year-old Illinois resident who was charged with first-degree intentional homicide.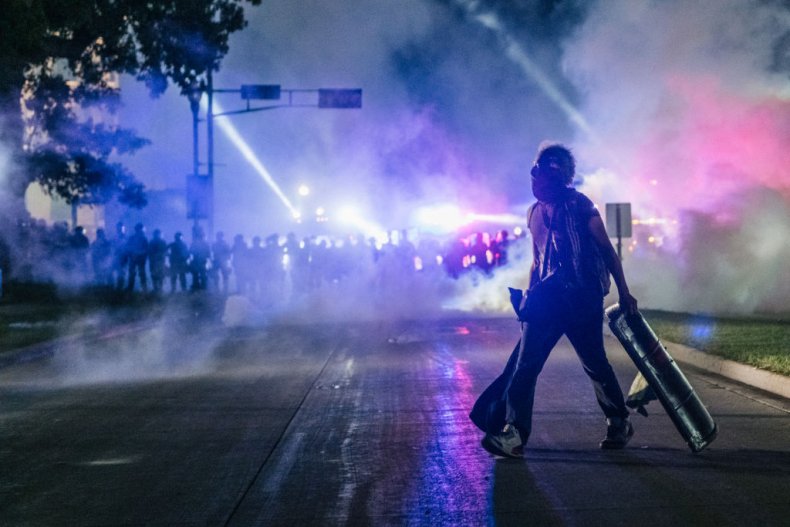 On Wednesday, Wisconsin Governor Tony Evers, a Democrat, authorized 500 members of the Wisconsin National Guard to work with police in an effort to curb the violence. The Kenosha Common Council on Tuesday approved a resolution to declare a state of emergency, and a curfew has been implemented from 8 p.m. until 7 a.m.
President Donald Trump tweeted on Wednesday afternoon that he "will be sending federal law enforcement and the National Guard to Kenosha, WI to restore LAW and ORDER!"