Wisconsin Lawmakers Push Bill to Make Attending Riot Punishable With Jail Time
Wisconsin legislators are scheduled to vote on Tuesday on a bill that would define riots and increase penalties on protesters who attend them.
The bill says a riot is any event, including an "unlawful assembly" and act or threat of violence, "committed by at least one person," the Associated Press reported. Anyone who is at a riot under the definition could be charged with a misdemeanor, with jail sentences varying from 30 days to nine months.
In addition, anyone knowingly taking part in a riot involving property damage or injury and anyone who attacks or "throws a bodily substance" at a National Guard member could face felony charges, punishable by as much as three and a half years in prison, according to AP.
Though it's not the first time a bill of this nature has been introduced, it gained steam after the 2020 Kenosha protests following the police shooting of Jacob Blake, the Wisconsin Examiner reported.
With protests following Kyle Rittenhouse's November acquittal in the shooting of three people at a Kenosha protest, lawmakers are concerned over potential future riots.
While several police organizations such as the Wisconsin Professional Police Association and the Wisconsin Sheriffs and Deputy Sheriffs Association are in favor of the bill, the City of Milwaukee, the American Civil Liberties Union of Wisconsin and other activist groups are opposed, according to the Wisconsin State Journal.
Phyllis Hasbrouck with the climate group 350 Madison told the Examiner that a completely peaceful protest could be classified as a riot if just one person who may not even be part of the protest threatens to push someone.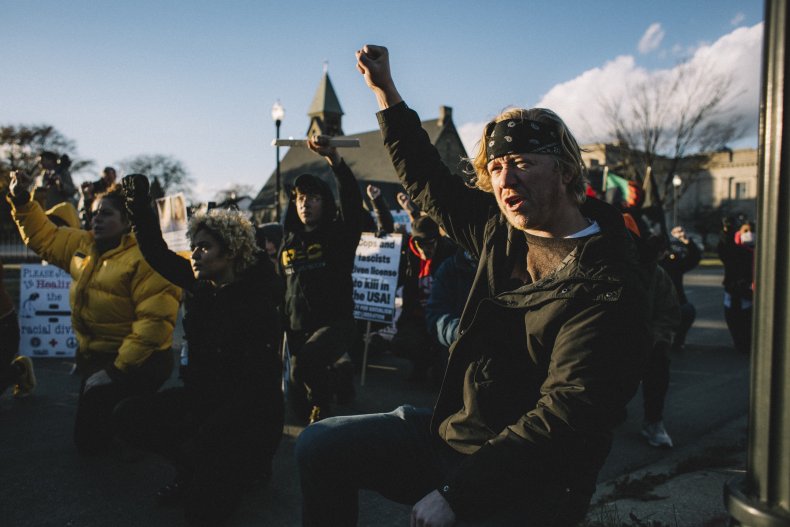 "Now they have threatened to commit an act of violence and they have the ability to do so. And then, oops, we're all in a riot now," she told the newspaper. "And nothing was actually hurt, nobody, no property, but we're in a riot. And then the police say disperse, or maybe they don't say disperse. Maybe they just start arresting."
Representative John Spiros, the bill's chief sponsor in the Wisconsin Assembly, said in a statement to Newsweek that the bill will "not affect peaceful protests like some that we witnessed during the summer of 2020, but is instead designed to discourage destructive behavior and create a path of recourse for riots that do damage to our communities."
"During the summer of 2020, riots here in Wisconsin created safety risks for those trying to peacefully protest, first responders, and even one of my own legislative colleagues, all on top of millions of dollars of damage for local business owners," he said. "We witnessed firsthand that penalties and definitions need to be put in place to provide clarity on the recourse for riots in our state."
A second bill will also be deliberated Tuesday. The State Journal said it would set a mandatory sentence of 3 1/2 years for anybody who damages or puts graffiti on anything on government property with "commemorative or historical significance."
So far, nobody has registered for or against this bill.
The Wisconsin ACLU did not immediately respond to Newsweek's request for comment.