Wisconsin Lutheran College Drops Mike Pence As Commencement Speaker, Citing Unrest in Kenosha
Wisconsin Lutheran College has dropped Vice President Mike Pence from speaking at its commencement ceremony this weekend, citing the unrest in nearby Kenosha.
The Christian college in Milwaukee announced on Thursday that "after further review with careful consideration of the escalating events in Kenosha, WLC Board of Regents and the College's Administration have jointly decided to present a different speaker instead of the Vice President of the United States, Michael R. Pence" on August 29.
Instead, the institution will host Reverend Mark Jeske of St. Marcus Lutheran Church as a substitute speaker for the event. The ceremony was originally scheduled for May but was pushed back due to the coronavirus pandemic.
A Pence spokesman told the Milwaukee Journal Sentinel that "Vice President Pence understands and supports Wisconsin Lutheran College's decision to prioritize the safety and well-being of their students, and wishes the students well as they celebrate the accomplishment of graduating from college and as they embark on their next journey."
Wisconsin Lutheran College told Newsweek the statement provided in their release on Thursday was the full extent of their comment and they had nothing to add.
More than 230 students and alumni of the private college had previously signed an open letter objecting to the vice president's visit. The group, which called themselves "Concerned Members of the WLC Community," said the decision to host Pence was "disrespectful."
"This administration has been divisive and degrading. As a governor and now as the vice president, Mike Pence has failed to promote policies that reflect Christian values," the letter read.
The school had announced the vice president's visit prior to the unrest in Kenosha and insisted that his appearance "is not in any way meant to be viewed as a political event, as it cannot be, and is not a political statement."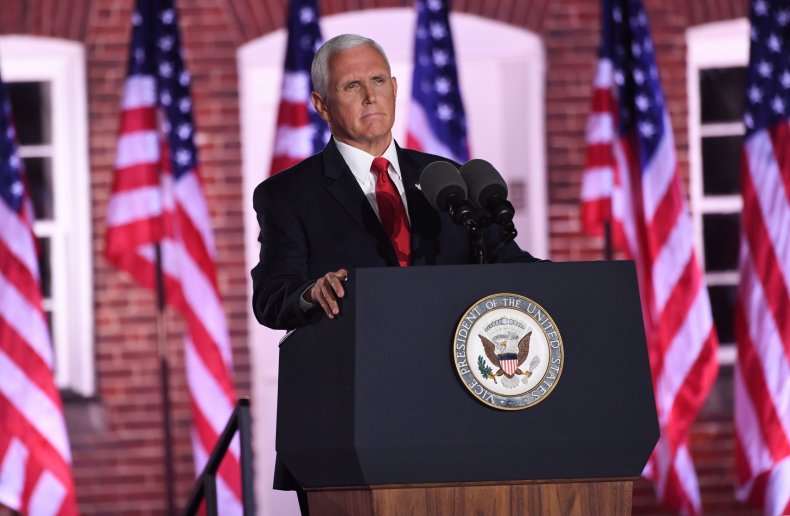 Protests have unfolded every night in Kenosha after a video emerged on Sunday showing a police officer shooting a Black man in the back as he tried to open his car door. The man, later identified as Jacob Blake, is now paralyzed from the waist down. Authorities have released little information about the Blake shooting, but say there was a knife retrieved from his car.
On Tuesday evening, two people were fatally shot amid the unrest. Police have arrested a 17-year-old in connection with the shooting and charged him with homicide. As the demonstrations turned violent, President Donald Trump and Democratic Governor Tony Evers agreed to send in members of the National Guard.
Pence talked about Wisconsin in his speech to the Republican National Convention on Wednesday night, during which he pledged to restore "law and order."
"The violence must stop, whether in Minneapolis, Portland or Kenosha," he said. "We will have law and order on the streets of this country for every American of every race and creed and color."