Wisconsin Mall Mass Shooting Leaves 8 Injured, 15-year-old Arrested
A 15-year-old boy has been arrested in connection with a mass shooting at a Wisconsin mall that left eight people injured, authorities said.
The shooting at Mayfair Mall in Wauwatosa, a suburb of Milwaukee, on Friday took place during an altercation between two groups, Wauwatosa Police Chief Barry Weber said in a statement on Sunday.
He said four "innocent bystanders" were among those wounded, but the injuries they sustained were not life-threatening.
Weber did not identify the teenage suspect or provide specific details about the shooting, but said that a firearm was recovered at the scene of the arrest.
During a news conference on Sunday, he said few details were being provided to maintain the integrity of the investigation.
The 15-year-old was arrested on Saturday after a search warrant was executed, a police spokeswoman added. Several other arrests have been made in connection with the incident, she said.
Police were notified of shots fired inside the mall near Macy's just before 3 p.m. on Friday, Weber said.
He said officers were on the scene, providing medical aid to the victims, within 30 seconds of the notification.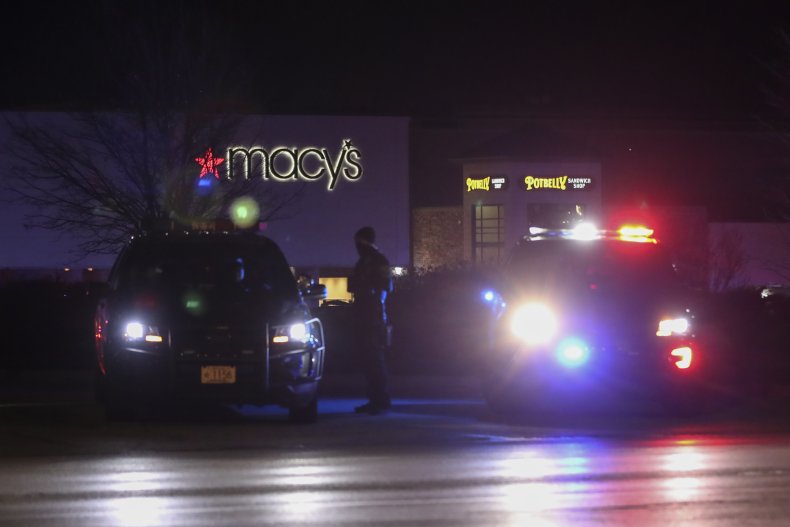 "An officer's first priority in this situation is to secure the immediate scene and begin rendering first aid," Weber said. "During this time, the shooter exited the mall as other patrons were running out."
Officers were unaware that the suspect had left the mall and established a perimeter while tactical teams formed to clear the mall of patrons and search for the suspect, he said.
While tactical teams secured the mall, investigators interviewed victims and witnesses to help identify the shooter.
He said police did not release photos of the suspect before his arrest "for fear of compromising the investigation."
An initial investigation led police to believe the shooting was not random and that there was no immediate danger to the public, he added.
"It is important to stress that these types of investigations not only require the identification of a suspect but preservation of evidence related to the crime," he said. "This presents a cautious balance of what to release to the public versus potential destruction of that evidence."
Weber added that Mayfair Mall is a "wonderful place to shop and a safe place to be."
"Unfortunately, in our society, an incident of this type can happen at any time in any place," he added.
The Mayfair Mall was also where Wauwatosa police officer Joseph Mensah shot and killed Alvin Cole, a Black 17-year-old, on February 2.
In October, Milwaukee County District Attorney John Chisholm announced Mensah, who is also Black, won't be charged over Cole's shooting because he had reasonable belief that deadly force was necessary.
The incident was Mensah's third fatal shooting in five years and an independent investigator's report recommended he be fired because the risk he would shoot a fourth person was too great.
Last week, the police department announced that Mensah had resigned, effective November 30.