Wisconsin Man Arrested After Calling 2 Black Cops N-Word, Threatening to Kill Another
Authorities arrested a Wisconsin man last week after he called two Black police officers the n-word and threatened to kill another.
Madison Police Department officers arrested the 19-year-old man, Angel E. Martell, in the downtown area August 14 after he attempted to start a fight with one of them, according to an incident report.
"The suspect confronted the officer, not the other way around," Joel DeSpain, a department spokesman, wrote in an email to Newsweek.
Martell threatened to kill the first officer, calling him a "racist" as other officers took him into custody. Martell resisted arrest, and two Black officers were among those who arrived for backup. The teenager began using racial slurs, calling them the "n-word," the report stated.
Police arrested Martell for resisting arrest and disorderly conduct around 8:15 p.m., according to the report. Dane County Sheriff's Office inmate records show Martell remains in custody at the Public Safety Building Jail, which houses medium-security prisoners and contains the sheriff's office's booking facility to process new prisoners, according to its website.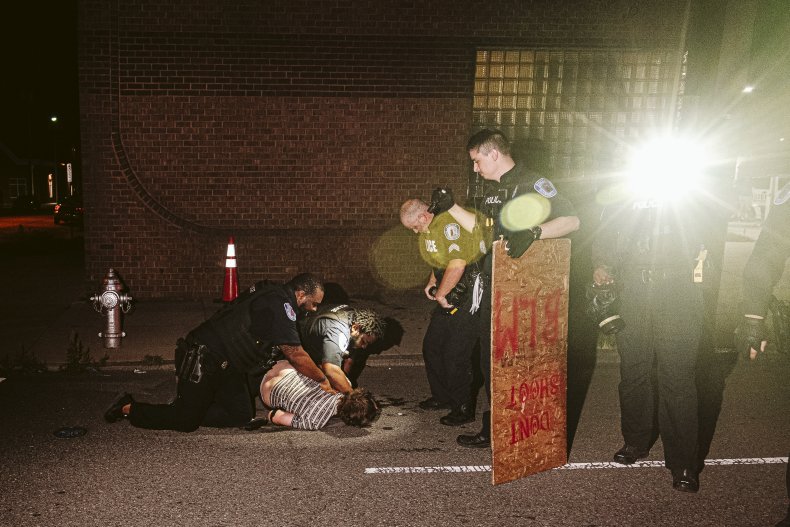 Martell's comments and subsequent arrest come amid heightened tensions between police officers and civilians as protesters speak out against police brutality and racial injustice. The defunding or even abolishing of police departments has been at the center of these protests nationally and in cities around the world.
The Black Lives Matter (BLM) movement saw a resurgence following the May 25 death of George Floyd, an unarmed Black man who died while in the custody of white Minneapolis police officers.
While Martell threatened to kill police officers last week, several cops have come under fire this summer for threatening similar violence upon protesters. BLM demonstrators on Saturday held a rally in Denver, calling for the firing of a Colorado Springs police officer who commented "kill them all" on Facebook.
According to CBS 4 News in Denver, Sgt. Keith Wrede used a fake Facebook account to respond to news coverage of the ongoing protests, commenting "KILL THEM ALL" and "KILL EM ALL."
The rally came after CSPD Chief Vince Niski announced that Wrede would be placed on a temporary suspension and was reassigned to a new position within the department.
In June, the Long Beach, California, Police Department, and the FBI announced it would investigate a Facebook group in which former LBPD officers were found to be allegedly planning to kill BLM activist Shaun King.
Screenshots posted by King on Medium suggested that "inside of a private Facebook group for California Law Enforcement Officers, members of the group were openly plotting and planning my assassination," King wrote.