How Wisconsin Stay-at-Home Order is Affected by Supreme Court Ruling
Wisconsin's Supreme Court struck down the state's stay-at-home order, limiting Gov. Tony Evers' authority. But what does the ruling mean for Wisconsin's stay-at-home order?
Gov. Evers issued a stay-at-home warning for Wisconsin in March and then he and Wisconsin Department of Health and Human Services Secretary Andrea Palm extended it in late April to last until May 26.
Now, the Wisconsin Supreme Court has decided in a 4-3 ruling that "an agency cannot confer on itself the power to dictate the lives of law-abiding individuals as comprehensively as the order does without reaching beyond the executive branch's authority."
Following the Supreme Court's decision, it was initially thought that the stay-at-home order would remain in place until May 20, to give Evers time to work with the legislature to come up with a new plan. But the Supreme Court's decision has actually ended the statewide stay-at-home order with immediate effect.
The Tavern League of Wisconsin has told its members that they can open immediately and businesses may expect to open on Thursday.
However, the end of the statewide stay-at-home order does not mean that the entire state will lift its restrictions, as jurisdictions within the state are still permitted to put their own orders in place.
For example, Wisconsin's largest city, Milwaukee, will keep its stay-at-home order in effect. Mayor of Milwaukee Tom Barrett tweeted following the Supreme Court's decision: "The City of Milwaukee Health Department issued a public health order on March 25, 2020, to protect public health and reduce the spread of Covid-19. That order remains in effect, including all provisions on public gatherings, restaurants, and bar operations."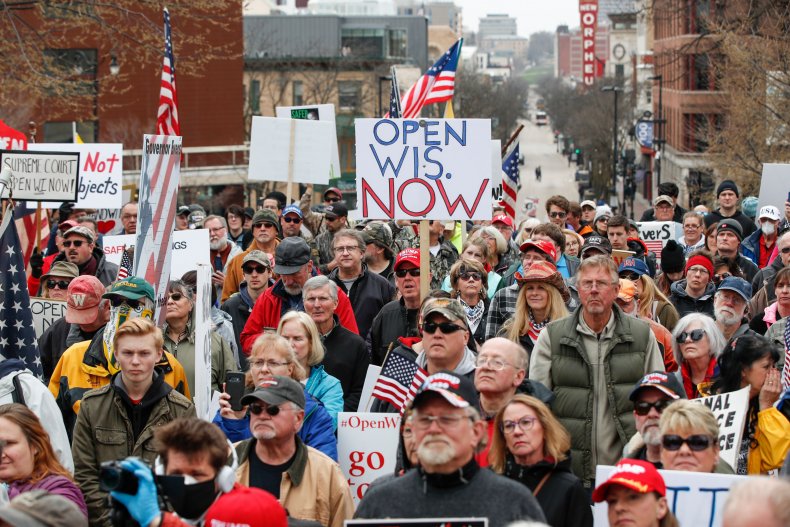 Additionally, "safer at home" measures will remain in place in Madison, the state's capital. Speaking about the Supreme Court's "reckless decision to throw Gov. Evers' 'safer at home' order out the door without any plan," Mayor of Madison Satya Rhodes-Conway reminded residents that the order will remain in place in the city and in Dane County until May 26.
Therefore, while the Supreme Court's decision lifts Wisconsin's statewide stay at home order, local authorities still have the power to keep the orders in place across counties and cities.
Wisconsin residents should follow the advice of their local authorities as the restrictions may vary by jurisdiction.
Gov. Evers expressed his disappointment with the Supreme Court's decision and tweeted: "Our ability to respond quickly has saved lives and now, despite that good work and the efforts of Wisconsinites, Republican legislators have convinced four members of the Supreme Court to throw Wisconsin into chaos, putting public health and lives at serious risk.
"And just because the Supreme Court says it's okay to open, doesn't mean that science does. We need everyone to continue doing their part to keep our families, our neighbors, and our communities safe by continuing to stay safer at home, practice social distancing and limit travel.
"I am disappointed in this decision, but our top priority has been and will remain doing what we can and what we have to do to protect the health and safety of our state. After months of unproductive posturing, I hope the folks in the Legislature are ready to do the same."
According to a poll by Marquette Law School, 69 percent of Wisconsin adults still support the stay-at-home order. The Wisconsin Department of Health Services has reported 10,902 confirmed cases and 421 deaths of the coronavirus, as of May 13.
The graph below from Statista shows the number of confirmed COVID-19 cases by U.S. state.