Wisconsin Is No Longer at Home—and No Longer Safe | Opinion
Here they go again. On Wednesday night, the conservative majority of the Wisconsin Supreme Court ruled against the people of Wisconsin, overturning Governor Tony Evers' stay-at-home order and letting businesses and retailers reopen immediately. No plans, no safety standards, just a free-for-all coordinated between the Republican state legislature and the conservative Supreme Court. The losers: Wisconsin families.
Prior to this, the governor had been leading our state toward actual progress in slowly reopening, adhering to medical standards and guidelines. He first enacted the stay-at-home order on March 25 and had extended it through May 26. He paired this with ramped up testing plans and the Badger Bounce Back Plan, which was announced last month and set clear metrics for what the state needed to reopen. The governor sought to expand testing capacity for hospitals and labs, wider access to testing for communities of color and targeted testing in nursing homes and long-term care facilities.
Wisconsin, despite the Trump administration's continued failure in getting us requested testing supplies and personal protective equipment, was setting a standard for how a state could slowly reopen, in phases, and get people back to work. This week, we had almost met all of the criteria for Phase 1 of the Badger Bounce Back Plan.
In one night, Republicans reversed all of that progress. Without any further guidance, businesses were told they could reopen. Videos of bars filled with people tightly packed, without masks surfaced online within hours. People had been listening to stay-at-home orders, and now, they were listening to the guidance of a Supreme Court and state legislature that decided human life was not worth protecting.
This is the same Republican legislature that encouraged people to join "Liberate Wisconsin" rallies despite stay-at-home orders, and the same Supreme Court that forced Wisconsinites to vote in-person in April while other states postponed their elections due to very real threats posed by this global pandemic.
The result of those two events alone? We know at least 67 people who voted in-person or worked the polls on April 7 and contracted COVID-19. Since the April 24 rally, over 70 people who noted they had "attended a large gathering" tested positive. Just two events caused over 137 cases—that we know of. Now imagine that happening every day, in every city in Wisconsin.
Unfortunately, this decision will cost human lives. That is the inevitable result of Republican leaders playing political games with the lives of their constituents. They successfully won their lawsuit, and many Wisconsin businesses immediately reopened. They will relish in this political victory at the cost of public health. Because in a few weeks, we will see cases and consequently deaths in our state go up. What then? Will Republicans finally understand the point of stay-at-home orders, or will they continue, like the president has, to simply ignore the facts?
Luckily for us, in the meantime, many Wisconsin county and city leaders refuse to put public health second. Brown, Calumet, Dane, Door, Eau Claire, Florence, Green, Marquette, Milwaukee, Outagamie, Rock and Winnebago Counties and the city of Racine chose to continue stay-a-home orders at the county and city level because they care about the health of Wisconsinites. Their collective power protects more than 2.5 million people in Wisconsin—almost 50 percent of the state's population.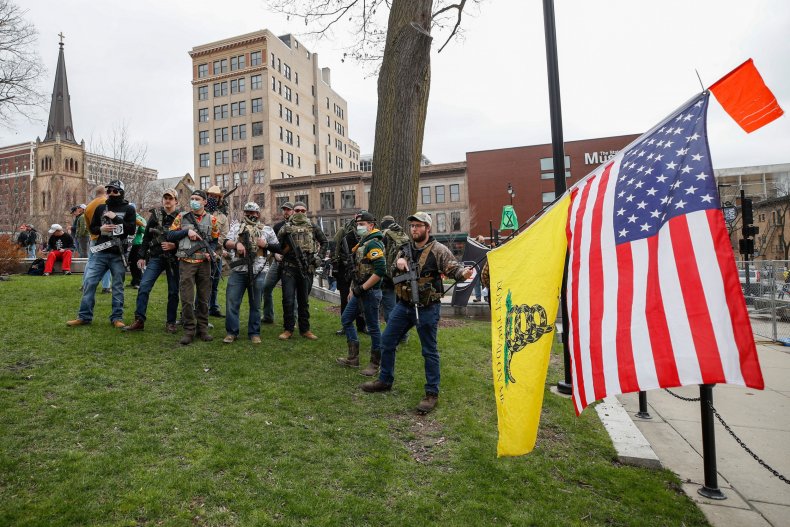 With statewide orders now being forced to go through prolonged and extended administrative processes that the Republican legislature can choose to veto easily, it is unlikely that Wisconsin returns to its previous statewide stay-at-home order. We must now depend on local leaders to do everything in their power to demand that no life is worth losing over Republican incompetence. If local businesses are going to reopen widely, we have to urge them to practice safety guidelines, and think about the long-term consequences of their actions instead of the hopes of immediate comfort that reopening may bring.
We're all living in the same state, and we should all care about the people in it. Stay-at-home orders, social distancing, wearing masks in public—these are all guidelines that serve our communities not just ourselves. So when you choose to violate them, remember that though the decision may be individual, the consequences are communal.
Wisconsin now has over 11,000 confirmed cases of COVID-19 and at least 434 deaths. We are 25th in the country for cases—right in the middle. This decision by the state legislature and Supreme Court could likely change that. It's up to us and our local leaders now to figure out which way we move.
Congressman Mark Pocan is the U.S. representative for Wisconsin's 2nd Congressional District and co-chair of the Congressional Progressive Caucus.
The views expressed in this article are the author's own.