Front-runners, Beware: Wisconsin Primary Not As Friendly This Year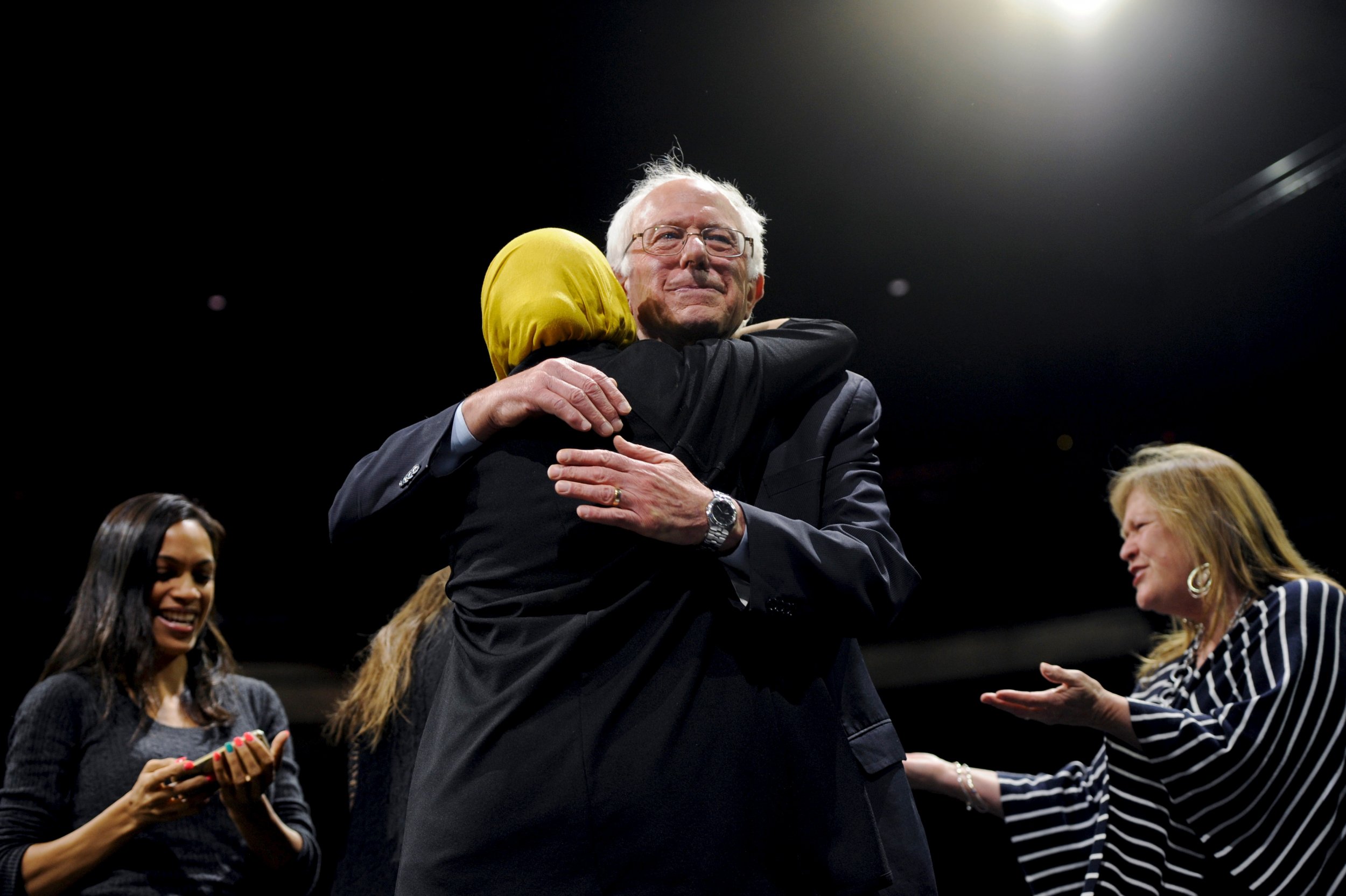 Wisconsin's election on Tuesday is a must-win for the challengers hoping to knock off party front-runners Donald Trump and Hillary Clinton, which would be a break from the state's recent past and a return to more tumultuous contests of the past century.
Tens of millions of dollars in campaign spending are flowing in, with the airwaves blanketed with ads and voters likely inundated with direct mail, phone calls and door knocks. Democrat Bernie Sanders has basically taken up residence in the state for the past week, minus a jaunt to Pennsylvania and New York on Thursday. Turnout is expected to be up, even by Wisconsin's lofty standards (the Badger State consistently ranks in the top five for voter participation).
"It's an active electorate. There are lots of different groups in this state that are looking to have a voice," says University of Wisconsin political science professor Thomas Holbrook. On the Democratic side, in particular, "there's a lot of resentment over the last several years of the [Republican Governor Scott] Walker administration" and the policies of a Republican-controlled Legislature, Holbrook says. "They're mobilized, they want to come out."
That's good news for Sanders, who's performed best when turnout is higher than normal. A Marquette University poll released this week showed the Vermont senator opening up a narrow lead over Clinton in the state. The political energy also seems to be benefiting GOP underdog Ted Cruz, who is up 9 points over Trump in the Marquette poll.
It's also good news for Wisconsinites, who have a long history of political activism. The fierce 2016 contest renews the tradition of hard-fought primaries of decades past, before the process became dominated by states voting in February and March.
Thanks to one of the reforms championed by Progressive-Era icon Robert La Follette, the state's governor, Wisconsin was one of the first states to hold primary elections instead of allowing local party bosses to endorse a candidate. Along with nine other states, Wisconsin first held a primary vote for president in 1912. Theodore Roosevelt won all but one of those contests but still lost to William Howard Taft at the Republican Convention. (La Follette himself faded quickly after delivering an incoherent speech, perhaps the result of a nervous breakdown, as part of his bid for the same GOP nomination.)
It was a cautionary tale that went unheeded in 1944, when Wendell Wilkie tried to win the GOP nomination via Wisconsin. Wisconsin Public Radio recounts in a recent piece how the Democrat-turned-Republican staked his whole campaign on the state, hoping to circumvent the party's power brokers and make his case directly to the voters. "With only a few states offering primaries in the 1940s, Wisconsin could exert a powerful influence on national politics and for Willkie, his entire political career," WPR writes.
It didn't work out anywhere near the way he had hoped. Despite being the only candidate to campaign in the state, Wilkie lost every district in the April 5 vote, and "a throat infection he'd developed on the campaign trail...produced the cardiac event that killed him in October of 1944." Thomas Dewey won the GOP nomination that year.
Wisconsin also played a seminal role in splintering the Democratic Party in 1968. It was the second state to vote in the primaries that year, after anti-war gadfly Eugene McCarthy's shockingly strong second-place finish in New Hampshire prompted Bobby Kennedy to jump into the race and pushed sitting President Lyndon Johnson to stand down. Two days after LBJ ended his campaign, McCarthy handily won Wisconsin. He followed up that victory by winning April's other two primaries, in Pennsylvania and Massachusetts, and ended up winning the Democratic popular vote, in part due to Kennedy's assassination.
That didn't stop the Democratic Party from nominating Vice President Hubert Humphrey at its convention that summer in Chicago, though Humphrey hadn't won a single one of the 15 primaries. The move didn't sit well with the anti-war protesters outside the Chicago International Amphitheatre, whose clashes with police and National Guard troops were captured in grainy footage that was beamed around the world. And it ultimately triggered the reforms that established the modern-day primary process, which gave voters a much bigger say in the party's nomination.
As part of those reforms, states around the country began holding primary elections or caucuses beginning in 1972, and those contests would start earlier and earlier each cycle. "Due to the front-loading of the primary calendar over time, Wisconsin slipped behind more and more states," University of Georgia lecturer Josh Putnam writes in an email. In recent decades, Badger State voters haven't had the opportunity to do much more than offer their stamp of approval to the eventual nominee.
"Out of 16 competitive nomination races since 1972 (not counting cycles in which an incumbent president ran unopposed), only Gary Hart in 1984 won Wisconsin without going on to win the nomination," notes Putnam, who blogs on the primary process at the site Frontloading HQ.
In 2008, for example, Hillary Clinton was considered within striking distance of then-Illinois Senator Barack Obama, recalls Holbrook. But she ended up doing "much worse in the election than in the [opinion] polls" leading up to the vote. Four years before that, eventual Democratic nominee John Kerry won Wisconsin, while Vermont Governor Howard Dean's distant third-place finish pushed him out of the race. Kerry's win was also a blow to North Carolina Senator John Edwards, who campaigned as a friend of the working class and hoped to woo Wisconsin's progressives. He dropped out two weeks later.
"The role Wisconsin has most often played in recent cycles is a kind of period point on the nominating phase, providing a last stand for the runner-up and a crowning victory for the future nominee," Milwaukee Journal-Sentinel columnist Craig Gilbert wrote last fall. On Tuesday, Sanders and Cruz are looking to flip that script.