Wisconsin Ready to Activate National Guard After Protesters Attack Senator
In response to overnight protests in Madison, Wisconsin Governor Tony Evers said he is prepared to activate the National Guard "to protect state buildings and infrastructure."
Approximately 300 protesters marched around downtown Madison on Tuesday night in response to the arrest of Devonere Johnson, a Black activist. According to Madison police, he was arrested earlier in the day for causing a disturbance in a restaurant.
In video provided by the Madison Police Department, Johnson is seen walking around a patio of the restaurant on Capitol Hill while carrying a baseball bat and bullhorn. He follows a customer into the restaurant, calling him a racist and using profanities.
A subsequent video of his arrest that has circulated on social media shows Johnson saying "They're hurting me" and asking "What am I under arrest for?" while three officers hold him down.
That evening, two statues were torn down, and state Senator Tim Carpenter was attacked after he tried to take a photo of protesters.
"What happened in Madison last night presented a stark contrast from the peaceful protests we have seen across our state in recent weeks, including significant damage to state property," Evers said in a statement released Wednesday morning.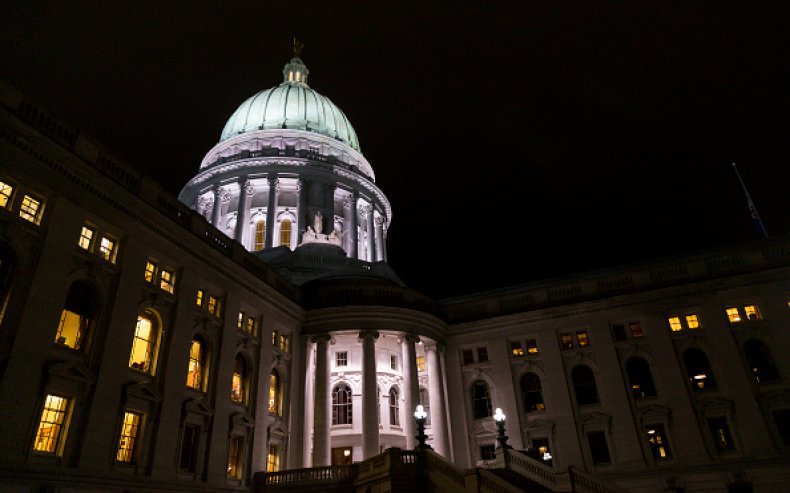 "Any single act of injustice against one person is less justice for all of us, and the people who committed these acts of violence will be held accountable," the governor added. "My thoughts are with Senator Carpenter, who was among the individuals attacked last night, and wish him a quick recovery."
Carpenter said he had been headed to the Capitol building late in the evening to do work when he stopped to take a photo of the demonstrations and was punched in the face by protesters.
WKOW said the station called the senator an ambulance after he collapsed to the ground, but Carpenter was able to get up and walk away.
Following the assault, Carpenter told the Milwaukee Journal Sentinel, "I don't know what happened.... All I did was stop and take a picture...and the next thing I'm getting five-six punches, getting kicked in the head."
Newsweek reached out to Carpenter for further comment but did not hear back before publication.
The unrest overnight comes as weeks of protests have swept the country in the wake of George Floyd's death in Minneapolis police custody in May. A nationwide call for action against systemic racism in America has resulted in the toppling of several Confederate monuments, the renaming of various buildings and army bases, and bans on the Confederate flag by organizations like the Marine Corps and NASCAR.
The two statues destroyed in Madison were unrelated to Confederacy. During their demonstration, protesters wrapped chains around the "Forward" statue outside the Capitol. A bronze statue of a woman, it was installed in 1895 as "an allegory of devotion and progress, the embodiment of her home state," according to the Wisconsin State Journal.
The demonstrators also tore down a statue of Colonel Hans Christian Heg and dragged it to Lake Monona. According to the Wisconsin Historical Society, Heg was a Norwegian immigrant who fought for the Union in the Civil War.
"We also cannot allow ourselves to forget the reason why these protests began: because of the murder of George Floyd, of Breonna Taylor, of the many Black lives taken before them, and because racism and structural inequality still pervade this country," Evers said.
"Our cause and our purpose must continue to be the pursuit of the promise of an equitable, just and fair state and country, and we cannot delay delivering on these promises any longer," the governor continued.
Evers said that both statues have since been recovered and that the Capitol Police were able to prevent protesters' attempts to breach the Capitol building.
The governor said he will continue "to work with local law enforcement to understand their response to last night's events and their plan to respond to similar events in the future."
Newsweek reached out to Evers for further comment but did not hear back before publication.