Wisconsin SC Ends Trump's Legal Challenges in State Court as Biden Secures Electoral Votes
President Donald Trump's attempts to legally overturn the election results in Wisconsin were denied Monday by a decision by the Wisconsin Supreme Court.
According to the Associated Press, the Wisconsin Supreme Court decision effectively "ends Trump's legal challenges in state court." Trump's Wisconsin lawsuit attempted to invalidate approximately 221,000 ballots in Milwaukee and Dane counties. He sought to overturn all ballots cast by individuals who claimed to be indefinitely confined. The lawsuit also alleged that some absentee ballots were obtained without proper paperwork being filled out.
Election officials were also accused of adding witness information to the certification of absentee ballots. Another aspect of the lawsuit alleged that ballots collected during a public event at a park in Madison, Wisconsin were cast illegally. In a 4-3 ruling, the Wisconsin Supreme Court said the lawsuit had been filed too late.
"The Campaign's delay in raising these issues was unreasonable in the extreme, and the resulting prejudice to the election officials, other candidates, voters of the affected counties, and to voters statewide, is obvious and immense," wrote Justice Brian Hagedorn in the ruling.
"The Campaign is not entitled to relief," the ruling concluded, "and therefore does not succeed in its effort to strike votes and alter the certified winner of the 2020 presidential election."
Trump has claimed baselessly that fraud on a nationwide scale caused his loss to President-elect Joe Biden. Attorneys for Trump have brought over 50 lawsuits to bear in battleground states in an effort to overturn the election results. Almost all of those suits have been dismissed by judges.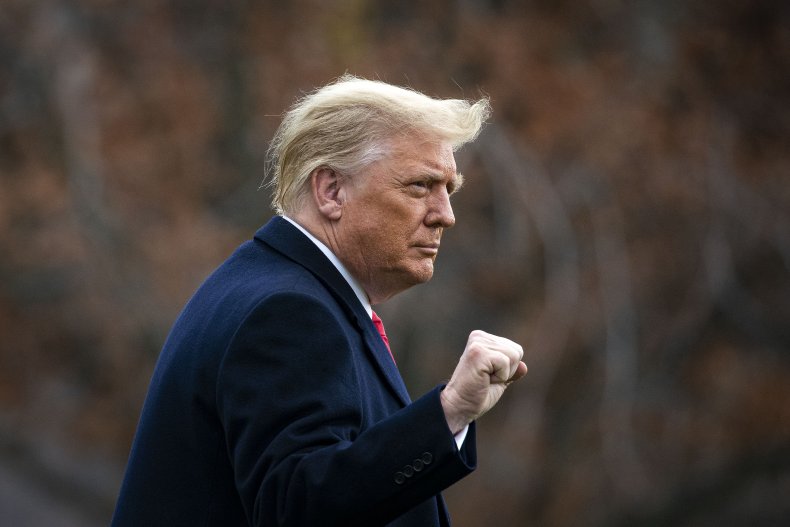 The Wisconsin Supreme Court decision came as state electors cast their electoral votes for president. According to the Associated Press, Biden was the winner in Wisconsin. The Democrat received 49.6 percent of the popular vote while Trump obtained 48.9 percent of the popular vote. Wisconsin cast its 10 electoral votes for Biden on Monday.
"Now more than ever, our country deserves leaders who will put people first and return kindness, empathy, and compassion back to the White House," said Wisconsin Governor Tony Evers in a statement sent to Newsweek after the state's electoral vote. "That's why today we were proud [to] vote unanimously to assign Wisconsin's 10 electoral college votes to President-elect Joe Biden and Vice President-elect Kamala Harris."
A candidate must receive 270 votes in the electoral college to be considered the winner of the election. In January, the electoral votes are expected to be counted in Congress where an official declaration of the election winner will be made.
Trump has yet to officially concede the election to Biden, but he indicated in November that he would exit the White House if Biden won the Electoral College vote. "But I think that there will be a lot of things happening between now and the 20th of January," the president told reporters, referencing the date Biden is expected to be sworn in as president. "A lot of things. Massive fraud has been found. We're like a third world country."
Newsweek reached out to the Trump re-election campaign for comment.