Wisconsin SC Sides WIth Republicans, Rules Governor's Administration Overstepped Authority With Stay-at-Home Extension
In a 4-3 ruling, the Wisconsin Supreme Court said Wednesday that members of Democratic Governor Tony Evers administration overstepped its authority by extending the state's stay-at-home order in March.
Originally set to expire in April, Evers and Wisconsin Department of Health and Human Services Secretary Andrea Palm pushed the expiration date of the order out until May 26. Republican lawmakers filed suit against Palm and other members of the Wisconsin Health Department alleging since Palm was an Evers appointee as opposed to an elected official, the extension was an administrative rule that required the approval of Wisconsin's legislation.
According to the ruling, "Palm's order confining all people to their homes, forbidding travel and closing businesses" exceeded Palm's the power given under Wisconsin statutes. Her extension of the order was declared "unlawful, invalid and unenforceable."
Republicans asked the Court to grant a temporary injunction of Palm's emergency order, but also requested a stay of that injunction for six days. In the ruling, the Court called this "a very unusual request," but said in the ruling there was "no time for a transitional safety net that a stay could provide."
Since the ruling makes no provisions for the injunction, the blocking of the order can take place immediately.
"Up until now, Wisconsin was in a pretty good place in our battle against COVID-19," Evers said in a statement sent to Newsweek Wednesday. "Despite that good work, Republican legislators have convinced 4 justices to throw our state into chaos." Evers encouraged residents to maintain social distancing protocols because "deadly viruses don't wait around for politicians and bureaucrats to settle their differences or promulgate rules."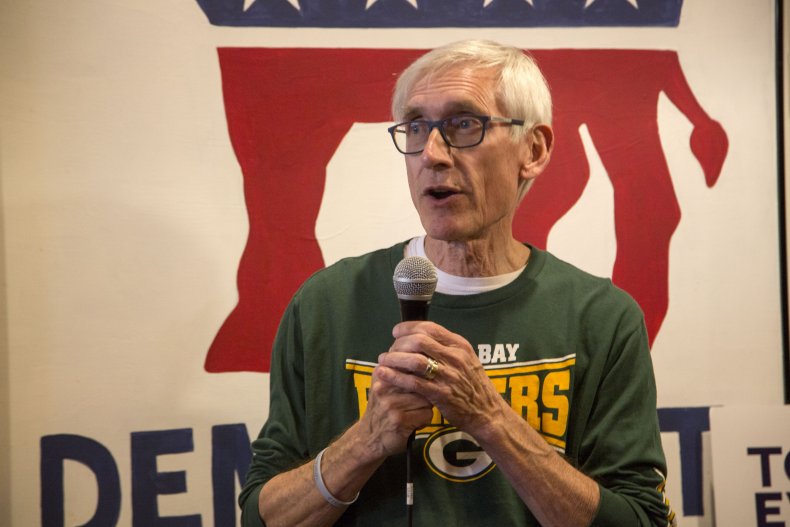 With the Supreme Court's ruling against the extension, local governments will be able to dictate the opening of businesses without a state mandate.
Business closures in the state made Republicans decide to oppose the extension, citing damage to the state's economy.
"People are really desperate," Wisconsin Senator Alberta Darling said in April. "We're losing jobs. There's so many people who file for unemployment. We have to get Wisconsin back to work."
Evers said he was following the best advice of health experts on how quickly to reopen the state for business. "Folks are scared and they need to know who to trust," Evers said in an April statement. "They should trust science."
Executive Director of the ACLU of Wisconsin Chris Ott disagreed with the Supreme Court's decision and urged employers not to ask their employees to return to work right away.
"While some will still have the option to work from home and do what's necessary to stay safe," Ott said in a Wednesday statement, "a significant portion of people across the state, particularly people of color and those with low incomes, have now had that protection removed, even as COVID-19 continues to spread."
Republican Senator Duey Stroebel said it was time to reopen Wisconsin by "relying upon the judgment and discretion of our citizens" to continue mitigation procedures.
Updated 11:39 p.m. EST 05/13/2020: This story has been updated with a statement by Governor Evers.