Wisconsin Sees Highest Single-Day Rise in Coronavirus Cases Days After Supreme Court Struck Down Lockdown Extension
One week after the Wisconsin Supreme Court struck down Democratic Governor Tony Evers' stay-at-home order, the state on Wednesday reported 528 new confirmed coronavirus infections, marking its single-highest rise in cases since the beginning of the pandemic.
With the latest figures included, Wisconsin now has a total of 13,413 COVID-19 cases, according to the Department of Health Services (DHS). The 528 additional coronavirus cases today more than triples the state's new cases reported on Monday, and doubles the 198 new cases added on Tuesday.
Increased lab coronavirus test processing could partially explain the significant rise. The DHS on Wednesday reported 6,591 processed test results, a record-high for Wisconsin. Of those, 8 percent turned out positive.
Coronavirus hospitalizations also increased by 51 from yesterday to a total of 2,161, while the death toll rose by 14 to 481 across the state. Health officials said more than 350 individuals infected with the new disease were currently under hospital care as of Thursday morning, with around 127 in intensive care.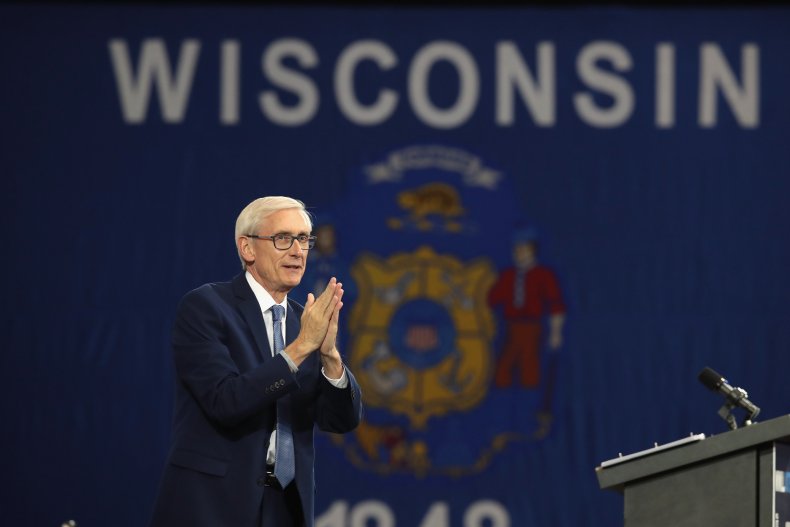 The sharp increase in cases comes one week after the Wisconsin Supreme Court ruled that Evers' stay-at-home order is "unenforceable" and "unlawful," overturning the state's lockdown measure extension and allowing businesses to reopen.
The 4-3 decision was a high-profile win for the Republican-led legislature, who opposed the governor's extension of lockdown measures to May 26. It came after GOP state leaders filed a lawsuit in April arguing that the extension passed by Evers' administration will cost jobs, hurt businesses and leave the state in "shambles."
Evers said the ruling "puts our state into chaos" and leaves Wisconsin with "no plan and no protections" amid the ongoing pandemic. "When you have more people in a small space—I don't care if it's bars, restaurants or your home—you're going to be able to spread the virus," the governor told CNN's Don Lemon. "It's the wild west."
Just hours after the ruling, photos began emerging online showing people crammed into bars, ignoring the CDC's guidelines on social distancing. Other nonessential businesses in many parts of the state also began reopening.
With no state protection in place, at least 17 local governments immediately passed their own regional stay-at-home orders to continue mitigating the coronavirus outbreak. But at least eight rescinded their orders days later after an attorney general said they only had the power to enforce the orders if no criminal penalties are attached.
Newsweek reached out to Evers' office for further comment. This article will be updated with any response.