Wisconsin High School Staff Member Placed On Leave After Students Find Hidden Cameras In Hotel Rooms During Field Trip
A staff member at a Wisconsin high school has been placed on leave after students found hidden cameras in their hotel rooms during a school field trip.
Students from Madison East High School stayed at the Hyatt Regency in downtown Minneapolis during the three-day trip earlier this month, the Wisconsin State Journal reported.
According to Isthmus, the students found "several" hidden cameras in their rooms during the trip to attend a conference, prompting an investigation by Minneapolis police.
Madison Metropolitan School District spokesperson Timothy LeMonds confirmed to Newsweek that a staff member who accompanied students on the trip was placed on leave after the incident was reported to the district on December 8.
LeMonds said the move was a "precautionary measure" that is standard protocol in the event of a police investigation.
LeMonds added that he could not comment on specific details related to the case as the police investigation is active. "I can confirm that while on a school trip students from the Madison Metropolitan School District found hidden cameras in their hotel rooms," he said.
"Per protocol a school staff member who was accompanying the students has been put on administrative leave as a precautionary measure. The Madison Metropolitan School District continues to work closely with the Minneapolis police department to assist in the investigation."
LeMonds added to Isthmus that he wasn't sure if the staff member on leave was the only school district employee accompanying students on the trip.
Minneapolis police spokesman John Elder told the State Journal that officers recovered "electronic devices" from more than one room at the Hyatt Regency Minneapolis. He told the Star Tribune that it didn't appear that anyone associated with the hotel was involved. Elder has been contacted for additional comment.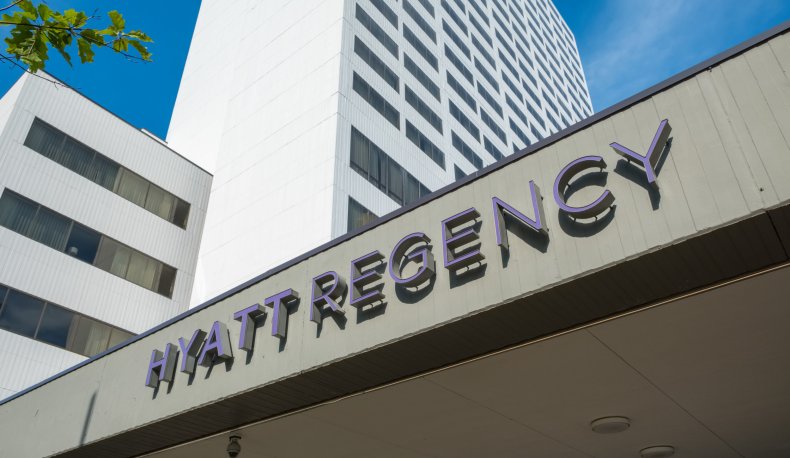 Cottage Grove Police Chief Daniel Layber said his department helped Minneapolis Police execute a search warrant at a house in Cottage Grove, Wisconsin, on Thursday, the State Journal reported. Layber confirmed to Newsweek that no arrests have been made and the investigation remains active.
A Hyatt spokesperson told Newsweek that the hotel alerted authorities and conducted a "thorough" search, but did not find any devices besides the ones located in the high school students' rooms.
"The safety and security of guests and colleagues is a top priority at Hyatt Regency Minneapolis," the Hyatt spokesperson said. "As soon as the hotel learned about the situation, they contacted local authorities immediately and conducted a thorough property-wide search for unauthorized recording devices; no additional devices have been found."
The spokesperson added: "At this time, as confirmed by Minneapolis Police Department, and based upon the hotel's investigation, no hotel personnel were involved. The hotel continues to fully cooperate with Minneapolis Police on their investigation, and further questions may be directed to MPD."
Madison East High School's interim principal Brendan Kearney said in a letter to parents on Thursday evening that staff was working hard to support the students and families affected by the incident, according to the State Journal.
"I want you to know that we will continue to do everything we can to protect our students and to see that anyone responsible for harming them is held accountable," Kearney said.
This article has been updated with additional information from police and the school district.
Wisconsin High School Staff Member Placed On Leave After Students Find Hidden Cameras In Hotel Rooms During Field Trip | U.S.