For Wisconsin Voters, the Biggest Election Today isn't for President
Updated | Polarizing Wisconsin governor (and erstwhile presidential candidate) Scott Walker is not on the ballot in Wisconsin Tuesday. But his legacy most certainly is.
In one recent campaign ad, Walker's name comes up almost as many times as the candidate the ad is targeting. "Scott Walker appointed Rebecca Bradley to three judgeships, three times in three years," a female narrator tells viewers. "She may be right for Scott Walker, but she's too extreme for our Supreme Court."
The ad is paid for by state Court of Appeals Judge JoAnne Kloppenburg, who is challenging Bradley for her seat on the Wisconsin Supreme Court, a post Walker appointed her to in 2015 (after installing her on the Milwaukee County Circuit Court and then the state's 1st District Court of Appeals). Kloppenburg and her allies are "trying to tie Walker around [Bradley's] neck like a millstone," says Professor Thomas Holbrook of the University of Wisconsin-Milwaukee.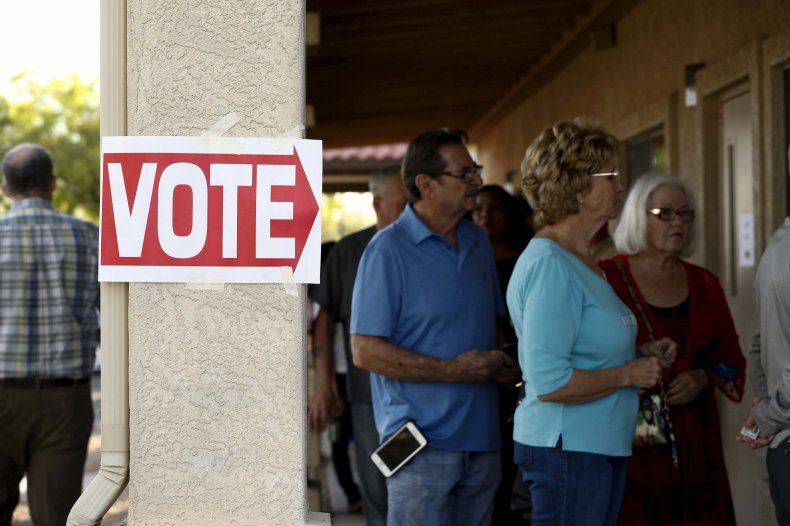 That's certainly helped drive public interest, if not given Kloppenburg an edge in the polls. A Marquette Law School poll released March 30 had Bradley up 41 percent to 36 percent for Kloppenburg. "This is seen as a very important race by both conservatives and liberals," Holbrook says of the judicial contest, which he expects to drive voter turnout even more than the contested presidential primaries.
The amount of money pouring into the race confirms just how engaged groups on both sides are. According to a tally compiled by New York University's Brennan Center for Justice, nearly $2 million had been spent on the race as of March 31, the vast majority by outside groups. That's a big sum for a statewide race, particularly in a place like Wisconsin, where media markets are relatively inexpensive.
Even presidential candidates like Hillary Clinton and Bernie Sanders are weighing in as they woo Wisconsin voters. Speaking at the Wisconsin Democrats' Founders' Day Dinner on Saturday, Clinton, the Democratic frontrunner, critiqued Bradley by name for past statements likening contraception use to murder and calling gay people "degenerates." (Bradley has apologized for that description of gay people, which she wrote in a student newspaper in 1992.). "No to discrimination, no to hate speech and no to Bradley!" Clinton exclaimed.
The voter interest, the money, the outside group involvement—it all points to how much the politicization of the judiciary is the new normal in Wisconsin and, for that matter, the rest of the country. Thirty-eight states currently hold some form of election to pick their judges (federal judges are part of a separate system). In the 2014 election cycle, state judicial races attracted roughly $35 million in campaign spending, according to the Brennan Center, which advocates for campaign finance reform.
That sort of sum has become the norm for state judicial elections in the past 15 to 20 years, fueled largely by increased interest group spending. A number of those groups, including the conservative Judicial Crisis Network, are the same ones now waging war on President Barack Obama's Supreme Court nominee, Merrick Garland. National groups associated with the business community and plaintiffs' attorneys also regularly duel in state judicial contests.
The increased attention on state judicial races is largely due to "a growing recognition that state supreme courts have a profound impact on a state's legal landscape," says Alicia Bannon, senior counsel for the Democracy Program at the Brennan Center. "In the same way that it can make sense for interest groups to put money into electing legislatures…there's been this growing effort to shape who gets on the courts.
Wisconsin has been Exhibit A for this trend, with battles over the makeup of the state Supreme Court echoing policy fights in the state government. The mother of all judicial races was in 2011, when Kloppenburg took on another Walker-aligned judge for a state Supreme Court seat (and lost). All told, the candidates and outside groups spent nearly $5 million in that race, a state record.
That was the same year the Wisconsin Supreme Court upheld Walker's law rolling back public sector collective bargaining, as well as a new voter ID law. In 2015, the court quashed an investigation into alleged coordination between Walker's campaign and a number of outside groups in the 2012 recall election against him. The move was particularly controversial because the judges who voted to terminate the investigation had received money from the groups seeking to block it.
That hits on the biggest issue critics of judicial election spending worry about: that the money from donors and outside groups will influence the judges who benefit from it. A 2012 report from the liberal Center for American Progress presented evidence that soaring donations from business interests "led to state supreme court decisions that favor corporate litigants over individuals seeking to hold them accountable."
There's a similar concern vis-à-vis criminal justice. While there's a growing left-right consensus on the issue at the national level, in state judicial elections it's still used as a political wedge. The Brennan Center found that more than half the ads run in the 2014 judicial contests focused on crime. In the 2016 Wisconsin race, the conservative group Wisconsin Alliance for Reform ran a series of ads last month hitting Kloppenburg for rulings they portrayed as too lenient on criminals.
"What I find most troubling is there's a growing body of research…that this kind of spending is impacting judges' decisions on the bench," says Bannon. She points to a 2014 study conducted by two Emory University Law School professors, which found that "the more TV ads aired during state supreme court judicial elections in a state, the less likely justices are to vote in favor of criminal defendants."
"Judges should be deciding cases based on the law, not based on fear of the next attack ad," Bannon laments.
In Wisconsin, that certainly has to be on the Supreme Court justices' minds, given how nasty and expensive their elections have become. Scott Walker's departure from state government may lower the temperature somewhat. But it won't be easy for the judges he's appointed to shake their association with him—nor for judges on either side of the Walker divide to separate themselves from the groups that helped elect them to the bench. Whichever woman wins the Wisconsin Supreme Court seat today will have a lot of donors to thank for it.
Correction: This story originally stated incorrectly that the 38 states that have elections for judges held those contests in 2014. Not all of those states held such elections in 2014.