A teacher in Wisconsin spoke out this week against the Trump administration's push to reopen schools for in-person instruction in time for the fall semester.
Ned Dorff, a teacher at a K-8 school in Green Bay, said during an interview with local television station WFRV that he was concerned about the repercussions of schools reopening, as the coronavirus pandemic continues to threaten much of the country, including Wisconsin.
"They don't care that children, parents and teachers will inevitably get sick, they carry lifelong illness from exposure to the illness and that some will most certainly die," Dorff said of the president's administration.
Dorff's criticisms of the federal reopening push for schools came shortly before Vice President Mike Pence was scheduled to visit the state and deliver a speech at a nearby college in Ripon. Pence has led the White House's coronavirus task force since late February, before any state shut down its businesses or instructed school districts to close. In the months since, the administration's response to the pandemic has fluctuated, with its latest focus aimed at reopening the national economy further and establishing a new normal as the country continues its battle with the virus.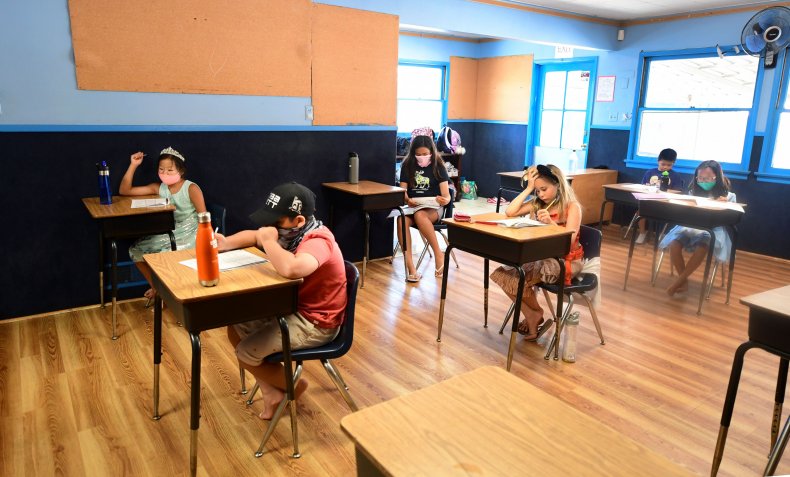 By Friday, July 17, health officials in the U.S. reported a total of more than 3.6 million cases and nearly 140,000 deaths since the pandemic began, according to data compiled by researchers at Johns Hopkins University. In Wisconsin, health officials reported a total of 39,627 cases and 831 virus deaths by Thursday, July 16.
The debate over how and when schools should reopen intensified in recent days as the start to the fall semester inched closer. The vice president, Department of Education Secretary Betsy DeVos, and Centers for Disease Control and Prevention (CDC) Director Robert Redfield encouraged schools to reopen for in-person instruction during a joint news conference last week. DeVos and President Donald Trump both implored schools further, saying the administration was considering withholding federal funding from schools that postponed reopening.
The American Academy of Pediatrics said it supports reopening for in-person instruction, but added it was important that plans remain flexible to respond to existing high case numbers or new surges that may occur. According to the CDC, only 2 percent of COVID-19 cases in the U.S. have been reported among children ages 18 and younger.
Despite the arguments that schools provide students with vital education, social and nutrition benefits and that the pandemic doesn't pose significant threats to children, many teachers remain hesitant about exposing themselves and other adults to the virus by reopening classrooms, as well as to the students who could become sick.
Facing much uncertainty, many leaders at the local levels have made the decision to stick with remote learning until their counties are better able to bring the pandemic under control.
In Madison, Wisconsin, the Madison Metropolitan School District joined countless others on Friday in announcing its schools will remain virtual, at least through the end of October. In a letter to parents, the district's interim superintendent, Jane Belmore, wrote: "Our preference will always be to have students and teachers together in school buildings learning face-to-face every weekday. We hope that it will be safe to do so very soon."