Wisconsin Transit System Honors Rosa Parks by Reserving One Seat on Every Bus
Over the weekend, those who boarded a bus in Wisconsin found that one seat was left available with a rose to honor Rosa Parks.
The Milwaukee County Transit System announced that it would keep an open seat with a rose on every bus from Friday through Sunday this past weekend to honor the life of the civil rights activist.
"Because it fell on a Saturday, we wanted more people to see it," Brendan Conway, MCTS spokesperson, told WITI. "This year, we're doing it Friday, Saturday and Sunday."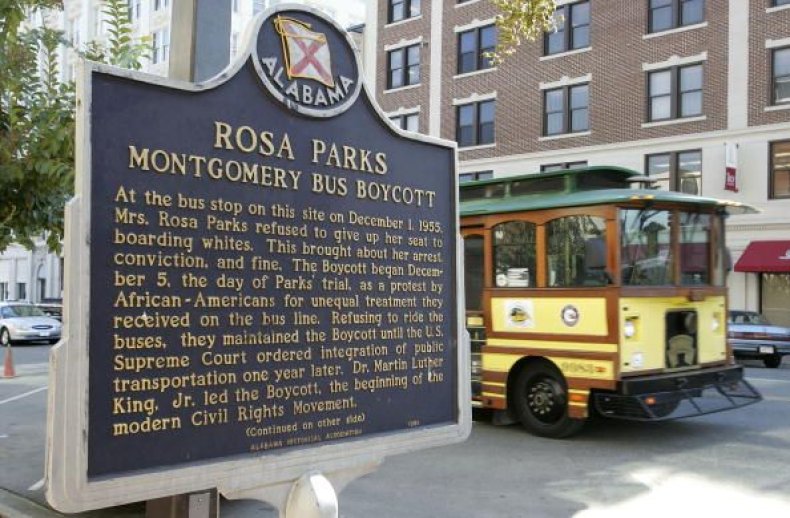 Through the weekend, each bus in the MCTS reserved a seat for Parks with a red rose, a picture of the iconic civil rights activist, and a sign with one of her famous quotes: "My only concern was to get home after a hard day's work."
"Now, more than ever, Rosa Parks's courage and beliefs should inspire us every day. This country was changed for the better on that December day when she refused to give into racism and oppression," said Milwaukee County Executive Chris Abele in an announcement on Thursday. "While we can never truly thank her for her brave actions, we mark the occasion to remember and honor her bravery and convictions."
This is the fourth year MCTS is reserving a seat to honor Parks, WITI reported. Conway told the news station that he and MCTS are "proud of her legacy and everything that it stands for."
"We're proud to once again honor #RosaParks by keeping a seat open and placing a red rose on every bus from Friday, November 30 through Sunday, December 2," MCTS tweeted on Thursday.
Parks was arrested on December 1, 1955, in Montgomery, Alabama, for refusing to give up her seat to a white man on the bus. Parks's resistance on the bus led to the yearlong protest of the Montgomery Bus Boycott. Parks's small act of civil disobedience led to a Supreme Court ruling that outlawed segregation on public transportation. The first day of December is now known as Rosa Parks Day.
Some people believed that Parks did not want to give up her seat because of a long workday as a seamstress, but Parks denied that claim.
"People always say that I didn't give up my seat because I was tired, but that isn't true. I was not tired physically, or no more tired than I usually was at the end of a working day," Parks had said, according to the National Women's History Museum. "I was not old, although some people have an image of me as being old then. I was 42. No, the only tired I was, was tired of giving in."