Wisconsin Trump Supporter Replaces Neighbor's Stolen Biden Campaign Sign
A Donald Trump supporter reportedly replaced his neighbor's pro-Joe Biden yard sign after it was stolen from a predominantly Republican neighborhood in Wisconsin.
Tim Place, who is supporting Biden in the 2020 presidential election, had his yard sign stolen from outside his home in Washington County, as reported by Fox 6.
But it was replaced by neighbor Josh Schoemann, displays his own yard sign in support of Trump just a few doors away.
Place said he did not know who took his sign, but noted that his area mostly consists of Trump supporters, telling Fox 6: "You look around the neighborhood, I think there's one other Biden sign."
Despite holding differing political views, Schoemann disagreed with Place's sign being stolen and wanted to replace it, telling the local media outlet: "Although we are Trump supporters, we love our neighbors and want them to be able to exercise their freedom of speech just like everybody else."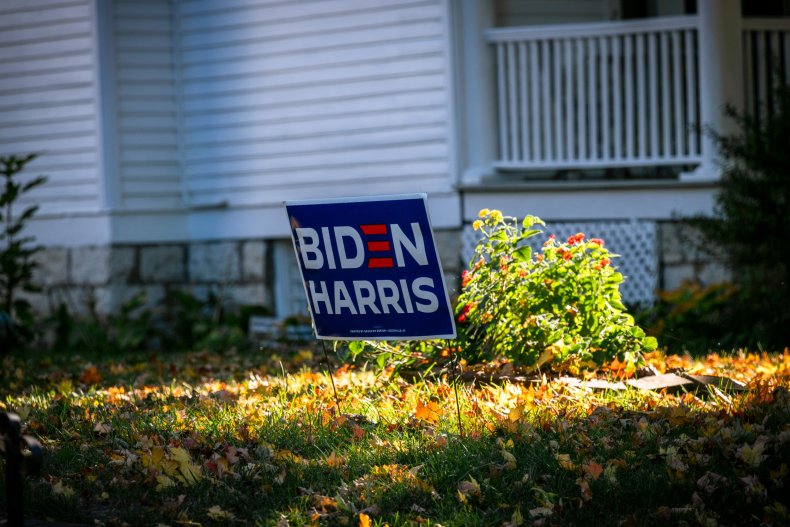 In response to Schoemann replacing his Biden sign, Place said: "I was very appreciative and said thank you, and said it's amazing, in these times, you could do something like that," while Schoemann said: "It was just heartwarming that neighbors even in the midst of a very contentious campaign can still treat each other with love and respect."
Yard signs have been a source of tension for neighbors in the run-up to the presidential election, with supporters across the political spectrum suffering damage to their signs.
In October, a man in California caught someone throwing dog feces at his front door, believing he was targeted due to his Black Lives Matter yard signs. A similar incident occurred earlier in the month in Colorado, when a woman was caught throwing dog feces into a yard that displayed Trump and "All Lives Matter" signs.
In September, a woman in Maine was suspected of posting dog feces through the letterboxes of Trump supporters, allegedly targeting those with Trump signs in their yards.
Despite these incidents taking place during particularly tumultuous weeks before the election, the report of the Trump supporter replacing his neighbor's Biden sign is far from the first time political opponents have shown solidarity with one another.
In October a photo was shared widely on social media that depicted men shaking hands—one holding a Trump flag and the other holding a Biden flag. Though the photo received mixed reactions, multiple Twitter users expressed their appreciation for the display of kindness, with some hoping they could see more of this behavior in the U.S.