Voters Face Long Lines at Wisconsin's Polls After Primary Elections Confusion, Fears of Coronavirus Infection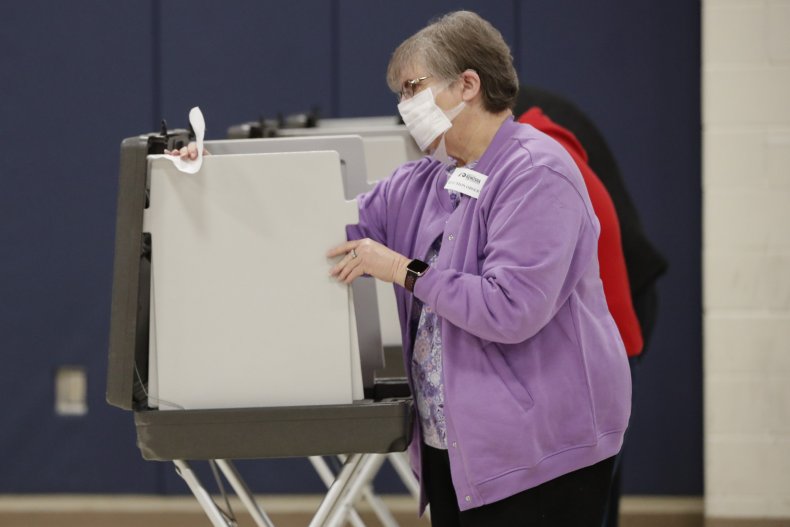 Wisconsin voters faced long voting lines at some precincts Tuesday, adding further discomfort to a process already troubled by confusion over whether the primary would be held as scheduled and over fears of infection from the novel coronavirus.
Reports showed long lines at some precincts, including those in Milkwaukee, where only five polling stations were open. Those closures helped snarl turnout on Election Day, and images circulating on social media showed voters standing in relatively close proximity, donning masks.
Many Wisconsin residents had already voted by mail, but as of Sunday, the Wisconsin Elections Commission still had more than 12,000 absentee ballots in its possession that needed to be sent to registered voters. Residents who don't receive an absentee ballot must cast their vote in person. The lines indicated that many voters came out Tuesday despite the on-again-off-again scheduling of the primary during the past few days. On Monday, a last-minute intervention from the U.S. Supreme Court greenlighted in-person elections after Governor Tony Evers ordered the election postponed until June.
The state is currently subject to Evers' "safer at home" order which, among other things, limited public gatherings, closed school systems and prohibited non-essential travel.
The commission, charged with administering the state's election laws, said Tuesday morning that it hasn't received reports of polling places unable to open, however municipalities across the state have shuttered polling sites well in advance of election day. In Milwaukee, for example, the city will only be operating five in-person voting locations, despite having nearly 290,000 registered voters.
Fewer than half of the voters in Milwaukee County, which encompasses the City of Milwaukee, requested an absentee ballot, which is available unconditionally to registered voters in the state.
Jay Heck, executive director of the government watchdog group Common Cause Wisconsin, said in a statement that the "chaos" of Tuesday's elections was "no doubt disenfranchising voters."
Other critics and voting-rights advocates also denounced Tuesday's proceedings, arguing that forcing voters to choose between safety and casting a ballot will lead to large-scale disenfranchisement.
"We cannot allow this pandemic to erode our democratic principles and the right to vote safely. Yet, what we see happening in Wisconsin is exactly that," a spokesperson for Color of Change PAC, a group that advocates for black representation in government, said in a statement. "And we know the pain will not be equally felt. Black voters are most at risk of being disenfranchised in today's primary elections in Wisconsin."
"Wisconsin is the only state in the nation that has failed to step up and respond responsibly and safely to the current national health pandemic emergency," Heck said. "We have seven months until the general election and there is time to fix these issues before November to ensure we are protecting public health and the right to vote."
The state's Democratic Party is running a voter assistance hotline to address reports of polling-site issues should they arise. Ben Winkler, the party's chairman, called the Supreme Court's decision late Monday an order that will "consign an unknown number of Wisconsinites to their deaths."
Results for Tuesday's election—which includes a selection for the Wisconsin Supreme Court and a Democratic presidential primary—will not be reported the same evening. The U.S. Supreme Court reversal of a lower-court ruling, which resulted in Tuesday's hastened elections, did not invalidate the requirement that results be withheld until April 13.