Republican Scott Walker Loses Election and Then Weakens Powers for Democrat Who Beat Him: 'This Will Be His Legacy'
In an highly contested move, Wisconsin Governor Scott Walker signed a Republican-backed legislative package into law Friday that works to weaken the political power of the Democrat, Tony Evers, who beat him in November's midterm elections. Critics argue these new laws undermine the sanctity of American democracy.
The new legislation would lessen the power of Wisconsin's new Democratic governor and attorney general by shielding Republican policies put into place under Walker.
The package would limit early in-person voting to two weeks before an election (the current standard is seven weeks in some large, blue-voting cities) and shield the state's job-creation agency from Evers's control until September. The laws would also block Evers's ability to withdraw from a current lawsuit against the Affordable Care Act, and would make it impossible for Evers to end a restrictive work requirement for BadgerCare health insurance recipients.
The rules shutter the Department of Justice's Solicitor General's office, which means that incoming Democratic DA Josh Kaul would be unable to reverse any laws written by Republican Attorney General Brad Schimel.
The legislation, announced and passed by state Republicans shortly after Evers was voted into office, was signed Friday by Walker, just 24 days before he leaves office.
Evers and former Republican Governor Scott McCallum both urged Walker to reject the legislation, and advocacy groups are expected to file multiple lawsuits against it.
"Today, Governor Walker chose to ignore and override the will of the people of Wisconsin. This will no doubt be his legacy," wrote Evers in a statement. "The people demanded a change on November 6th, and they asked us to solve problems, not pick petty, political fights."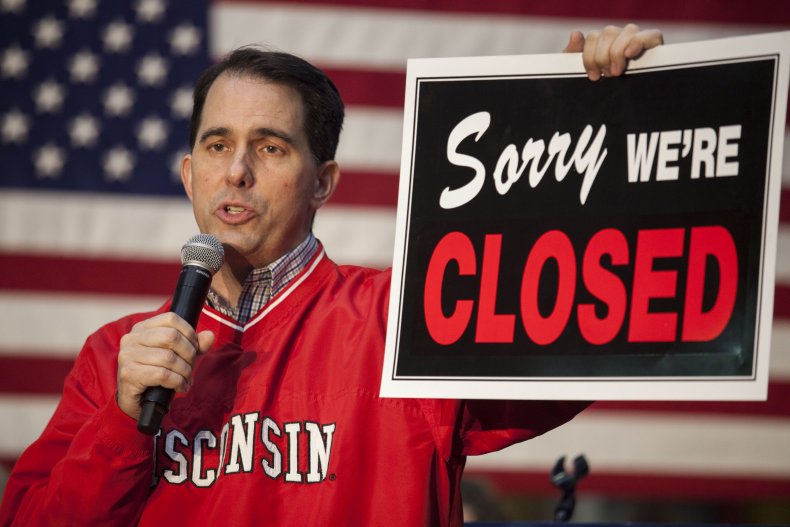 Wisconsin Republicans have argued that this is a long-overdue check on executive power, but their own words contradict that sentiment.
"I mean, most of these items are things (that) we never really had to kind of address because guess what—we trusted Scott Walker and the administration to be able to manage the back and forth with the Legislature," said Wisconsin Senate GOP Leader Scott Fitzgerald, to the Milwaukee Journal Sentinel. "We don't trust Tony Evers right now in a lot of these areas."
Governor Walker defended his actions to the press Friday, telling them he was still in power and would legislate until the end of his term. "The will of the voters four years ago was to elect me to a term that ends January 7th," he said. "So I don't stop, even though the media treats an election as though that's the end of a term. It's not."
This is not the first time Wisconsin has been accused of political or voter suppression. This year, a case around conservative efforts to gerrymander the state reached the Supreme Court. Republicans this election cycle won 64 percent of state assembly seats but received only 45 percent of the vote.
"This is nothing less than a power grab by Republicans," said Catherine Vaughan, CEO of Flippable, a political organization dedicated to flipping state governments from red to blue. "It flies in the face of what voters decided in November and obstructs the democratic process by circling the wagons around systemic conservative efforts to gerrymander Wisconsin and restrict voter access."
A similar Republican legislative package was passed in North Carolina and is being considered in Michigan.