Wisconsin Woman Who Took Hydroxychloroquine for Nearly 2 Decades Contracts Coronavirus: 'How Can I Be Sick?'
A Wisconsin woman was reportedly surprised to learn of her COVID-19 diagnosis after taking hydroxychloroquine for nearly two decades, the same drug President Donald Trump recently said he is taking to ward off the virus.
Kim, who asked to be identified by her first name only, has been taking hydroxychloroquine as a lupus treatment for 19 years, according ABC affiliate WISN. The drug has long been approved by the Food and Drug Administration (FDA) to treat lupus, rheumatoid arthritis and malaria. It has not been approved to treat or prevent COVID-19.
"When they gave the diagnosis, I felt like it was a death sentence. I was like, 'I'm going to die,'" Kim told the outlet. "I'm like, 'How can I be sick? How? I'm on the hydroxychloroquine.' They were like, 'Well, nobody ever said that was the cure or that was going to keep you safe' and it definitely did not."
Kim said she had believed she would not contract the virus because Trump touted the drug as effective, even though most medical experts urged caution. Despite only leaving her house to go to the grocery store, she started to experience troubling symptoms in mid-April.
"Weak all over. Coughing, fever. The fever was very high," she said. "It just went downhill from there. I couldn't breathe no more."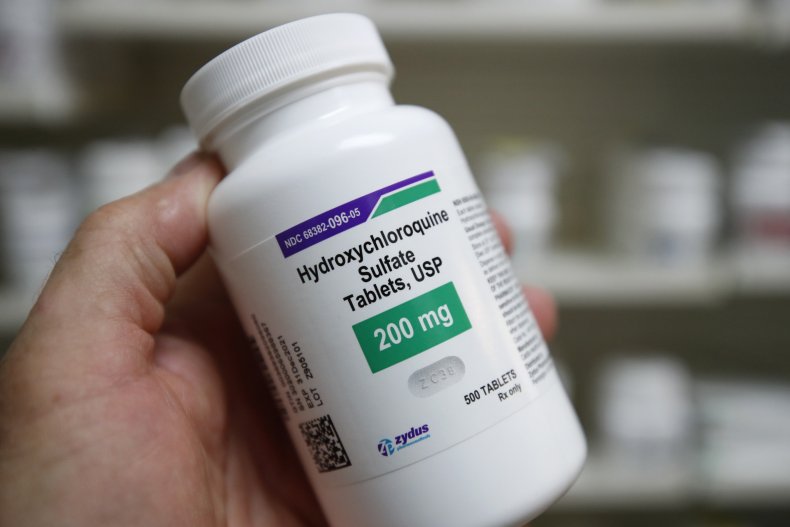 After a course of antibiotics prescribed by her primary care doctor failed to provide any relief, Kim said she went to an urgent care clinic where it was discovered that her oxygen saturation level was at a dangerously low 78 percent.
Kim tested positive for the virus at a hospital before being admitted and given oxygen and plasma. She was discharged a week later and says she has mostly recovered, while still requiring supplemental oxygen at home. The experience left her angry with those who promote the drug as a way to prevent the virus.
"You're not safe taking that medication at all. [Hydroxychloroquine] is not going to prevent anything. You can still get coronavirus," Kim said. "It kind of makes me mad that [Trump] thinks it's going to do that and is telling the whole world it's going to do that."
Trump said Wednesday that he would be finished with a course of hydroxychloroquine "in a day or two," after revealing on Monday that he had been taking the drug in an attempt to ward off the virus.
Medical experts have said that evidence does not support the conclusion that the drug is safe or effective to treat or prevent COVID-19. In April, the FDA warned against using hydroxychloroquine for the virus outside of a clinical trial or a hospital setting due to it potentially causing heart rhythm issues.
Studies of the drug as a treatment for the virus have been mixed, with some early results showing promise. Multiple subsequent studies have suggested that the drug has no statistically significant effect but could cause serious side effects for some.
A study conducted by the Department of Veterans Affairs that found the drug may increase mortality for COVID-19 patients was denounced as a "Trump enemy statement" by the president on Tuesday.
Several additional studies and trials are currently underway, including at least one that is testing the drug as a prophylaxis against contracting the virus.
Newsweek reached out to the FDA for comment. This article will be updated with any response.