The Wit and Wisdom of Vladimir Putin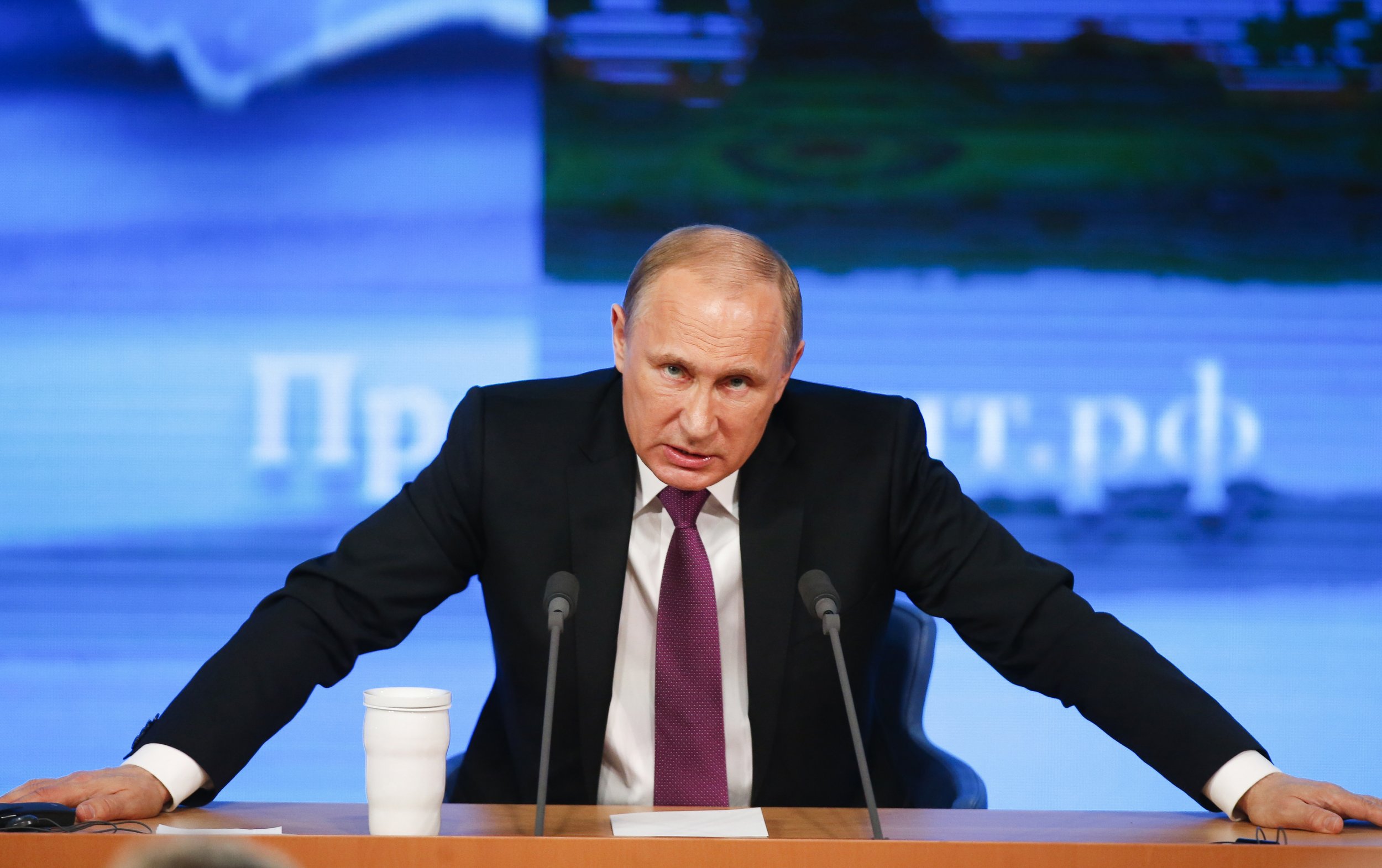 Over more than three hours the Russian head of state did his best, battling a chesty cough which peculiarly intensified when he was asked questions about starting a new Cold War, as he answered questions from 38 journalists on all areas of Russian life such as parking in Moscow, the Ukraine crisis, the fall of the rouble, Russian mortgages and even his thoughts on love.
Undoubtedly many were keen to find out how Putin would address the plummet of the Russian rouble, which has devalued faster than the Ukrainian hryvna, as well as any other national currency in 2014. He simply told press the "unfortunate economic conditions" of the present will soon improve, offering few solutions. The rouble aside, however, Putin had some other interesting thoughts on how 2014 has gone for him.
On Ukraine - "In February there was an agreement between France Russia, Poland and Ukraine. We urged Ukraine not to use force. [Then-Ukrainian President Yanakouvich] did not. Then armed radicals seized the presidential palace and if Western Europe had said, 'If you continue to act this way you will never be part of the Europe', I am confident that we would not have a civil war in Ukraine right now, there would not be numerous victims. This is not what Europe did. I believe we were right and they were wrong."
On Ukraine's plans to build a wall on its border with Russia - "We hope our partners will stop building this wall. It is incorrect. We must create a shared humanitarian space in Ukraine."
On his social life, and being named Russia's most eligible bachelor - "Pass on my greetings to your colleagues for saying so. All is in order. Thank you for your attention. Do not worry. I have plenty of time. I have a friend in Europe, a great leader, he asked me after the events in this past year 'Do you have love in your life?', I asked 'What do you mean?', he said 'Is there anyone you love,' I said 'Yes', he then asked 'And she loves you?' I said 'Yes', he put his glasses back on and said 'Thank God!' All is fine."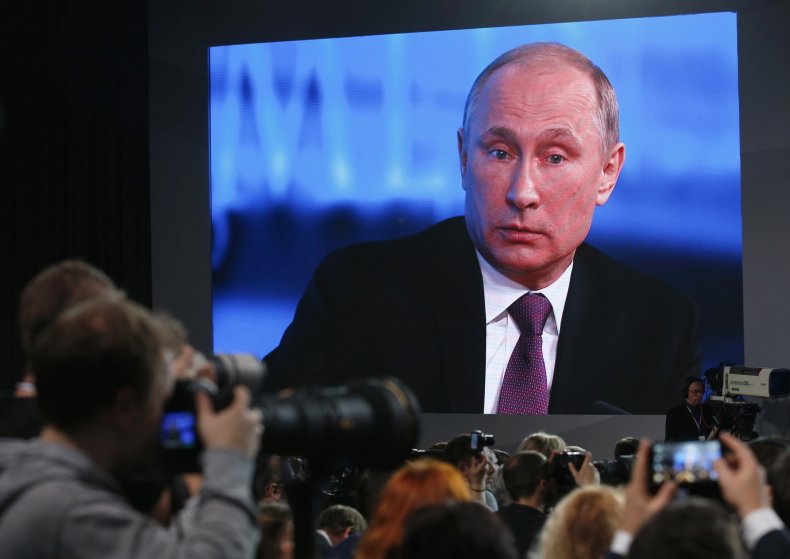 On Turkey - "We have a very good relationship with Turkey. We agree our own bilateral relationship. We have very many common regional interests. There is a tragic history between our nations and there is fonder shared history during Attaturk's reign. The best example of leaders bridging the gap to form a successful partnership is that between Germany and France. They fought each other in WWI and WWII but today their prime ministers work in a very strong and effective partnership. This is what we must look to with Turkey."
On Russia's economic crash and Crimea - "This is not payback for Crimea. It is a consequence of us wanting to retain our independence. our desire to preserve ourselves as a nation, a civilization, as a state. After the fall of the Soviet Union we opened ourselves to our Western partners and we witnessed their backing of terrorists in Northern Caucasus. This is a fact."
On Coca-Cola - "I don't want to disparage Coca-Cola, but specialists have agreed it is quite harmful, particularly for children. It is very important that in Russia we have our own non-alcoholic beverage Kvas. We are going to try and fight back to give Russian manufactures their rightful place on the Russian market. If there is anything we can do to help we will."
On Iran - "What we are seeing today in the fall of prices of oil affects us and countries linked to the global energy market like Iran. We are going to increase our trade in size and in frequency with Iran."
On Georgia - "We have very little contact with Georgia. Practically none. Representatives of Georgia are more than welcome in Moscow."
On Russia's Oligarchs - "There is no such thing as a Russian elite. We have elite tourist retreats but the people you call the Russian elite, these are workers, these are Christians, these are people who stick by their country and have done so for ages. There are rich and poor and healthy and ill but they are all equal in front of the law. There are rich people here who are patriotically minded."
On Russian soldiers in Ukraine - "Any question about Russian servicemen is to be answered by the the military's head of command and it so happens that he and the president are the same person, however when you talk about Russian soldiers in south-eastern Ukraine, these men are there voluntarily, as mercenaries and they do not receive any salary for being there. Kiev took their armed forces, their artillery and their air force to the south east. After a government coup, part of the country was not happy with this. We would happily act as a mediator once there is dialogue between the two sides."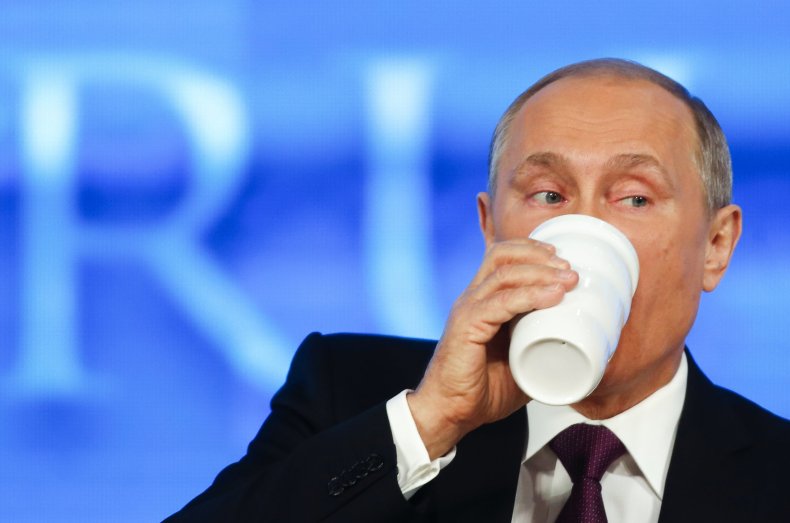 On presidential rival Mikhail Khodorkovsky, pardoned by Putin last year - "Which country is he going to be president of? (laughter) When I pardoned him him I did not instruct him whether or not he could or could not be involved in politics. That is his choice. I freed him on humanitarian grounds because he said he would not be able to see his ill mother. I say this without irony, mothers are a sacred gift. I do not regret my choice."
On the difference between a political opponent and a traitor - "All of our efforts so far have been to bring our society together and not pull it apart. The question is difficult to answer. It is complex to give a scientific answer. I must admit the distinction between the two is indeed very thin. The difference is internal. An oppositionary wants to do what is best for Russia until the end. Those who serve the political interests foreign for us, given to them by another state are members of the fifth column [traitors]."
On starting a new Cold War - "Russia is only defending its national interest. We do not attack. The displeasure of our Western partners is mainly the U.S. Did you know Russian strategic patrol flights stopped in the 90s, the U.S. continued? Who were they defending against? Who were they patrolling? We didn't fly year-in and year-out until last year. Who is provoking whom? We only have 2 bases outside our borders. In Kyrgyzstan and Tajikistan, over terrorist regions near Afghanistan. The U.S. has bases in Europe. Who are they fighting there? The pentagon budget is 10 times ours. They create threats to us.They have bases in Europe, in Poland, directly to threaten us."