Witches Hosting Hex on Brett Kavanaugh, Rapists, Patriarchy at New York Ritual
To send a message about Judge Brett Kavanaugh's confirmation to the Supreme Court, a bookstore in Brooklyn, New York, is hosting a ritual to hex the newest justice.
Dakota Bracciale, the co-owner of Catland Books, a "metaphysical boutique and occult bookshop," told Newsweek that the store had already hosted three hexes on President Donald Trump. When the idea to host one for Kavanaugh was proposed, Bracciale was all in.
"It's an act of solidarity, of letting people know that you're not alone with the monsters," Bracciale said. "Just because you don't follow generally accepted mainstream faiths doesn't mean you can't have comradery."
Catland Books posted details of the event on Facebook and invited people to a public hex not only on Kavanaugh but on "all rapists and the patriarchy which emboldens, rewards and protects them."
Bracciale explained that since its origins, witchcraft has been a tool of "resistance and resilience" and that, for some people, it's the only way they feel they can get justice. The public hex is also a way of telling the people who support Kavanaugh, that his confirmation wasn't a final victory.
"No, you don't win. He may have been confirmed, but that's something we already knew was going to happen," Bracciale said. "We know the system is broken, and the people in charge need to be taken down by any means necessary, magical or otherwise."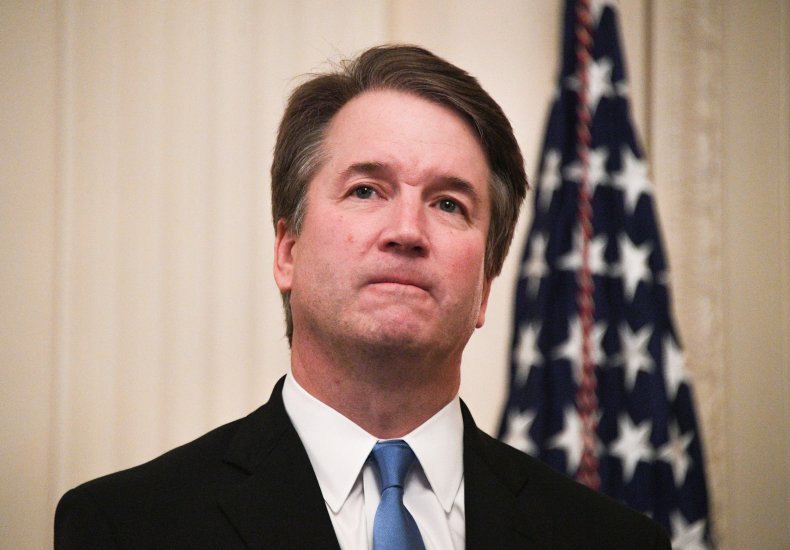 The event, scheduled for October 20, sold out quickly, and according to the store's Facebook analytics, it's been viewed about 750,000 times. In comparison with the hexes on Trump, the hex scheduled for Kavanaugh has received about twice the response. Although many of the responses were positive, Bracciale added that the increased attention on the event also brought twice the amount of negative attention.
"The Trumpster fire is out in full effect," Bracciale told Newsweek. "They've been calling us, emailing us, trying to dox us. Sending us certain messages, threatening to show up and harm us."
Given that the store is a "mom-and-pop shop" that's been able to stay in business "by the grace of the Gods," Bracciale explained that preparing for the potential threat of danger has been a lot to take on. However, Bracciale added that it's worth it.
"The reality is, if you are a spiritual person, if you believe in religion or spirituality, that's another dimension to your existence," the co-owner explained. "If you're going through hardship, you want to make sure you're being taken care of physically, mentally and emotionally, as well as, spiritually."
While Bracciale estimated about 50 percent of attendees actually believe the hex will work, the organizer explained the success of the spell isn't the event's sole purpose. The event is also a fundraiser with 50 percent of proceeds being split between Planned Parenthood and the Ali Forney Center, which helps LGBTQ youths who are homeless.
Ultimately, Bracciale said the ritual is meant to bring people together in an act of solidarity and send a powerful message to the country.
"This is basically Antifa witches," Bracciale said. "We're coming for these people's throats, and we will never stop, we will never be silenced.... There are a lot of angry people who are righteously filled with rage that are going to take back our country."
Bracciale explained that the hexes performed on Trump were deemed successful because, since the spring of 2017, he's been "exposed," "humiliated," and "invalidated."
"Basically, it's all about causing suffering," Bracciale said. "And we intend to make Kavanaugh suffer."
After the hex on Kavanaugh is performed, a second ritual, called the Rites of the Scorned One, is conducted that is uplifting and affirming. The concept of this ritual is to help people turn their rage into a sustainable source of energy. Based on the concept of "righteous rage," people are encouraged not only to feel rage but to use that rage to protect yourself, defend yourself and seek justice.
Criticism over the event hasn't just come from supporters of Trump and Kavanaugh, though. Some people have lambasted the ritual for wasting time that could be spent being an activist. However, Bracciale countered that the event is a fundraiser for organizations that make a difference in people's lives, and also emboldens attendees to become activists.
"Today, I could be performing this hex on Kavanaugh and tomorrow I could be marching on Washington, [D.C.]," Bracciale said. "One doesn't preclude the other."