A new economic analysis projects that the U.S. could see millions of more job losses, touching every state, if the federal government does not approve additional aid to state and local governments.
The Economic Policy Institute (EPI) on Wednesday published the conclusions of a bipartisan panel of economists, warning that some 5.3 million more jobs would be lost by the end of 2021 if the federal government does not provide a significant amount of federal aid to state and local governments facing major budget shortfalls because of the coronavirus pandemic. The analysis said that the level of aid should total more than $1 trillion to avoid significant job losses.
"While empirical estimates of the shortfall should guide policymakers' thinking, they can (and actually should) avoid putting a firm sticker price on state and local aid by tying this aid to economic conditions," EPI analysts Josh Bivens and David Cooper wrote. "If the economy recovers faster than the forecasts driving the $1 trillion estimated shortfall indicate will happen, then less aid would be needed. If instead recovery lagged, more would be needed."
State and local budgets are facing major shortfalls due to a significant decrease in tax revenues spurred by stringent lockdown measures to curb the virus's spread. As unemployment has risen dramatically, consumer spending habits have changed as well. While there are signs that the economy has begun to recover, it remains unclear how quickly it can return to pre-pandemic levels.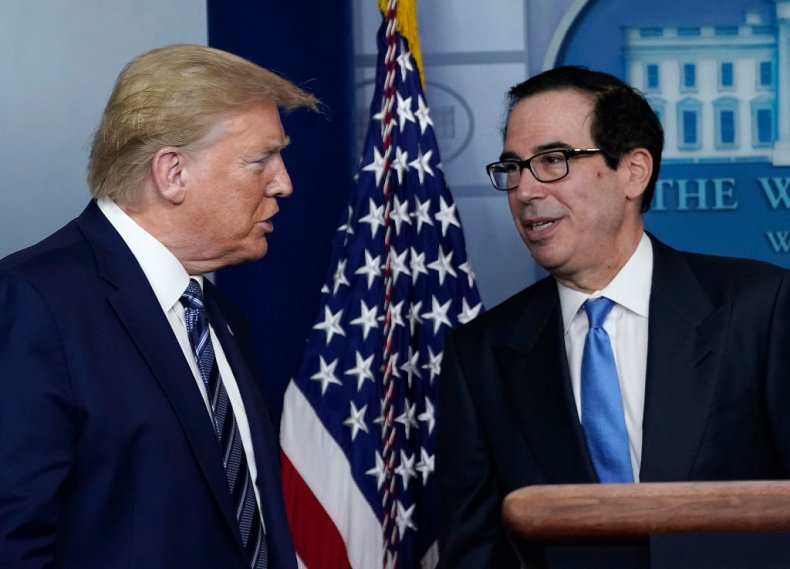 The EPI analysis explained that reductions in state and local spending will "significantly slow recovery from the current economic crisis." It pointed out that the projection is based on the historical precedent seen during the Great Recession. Lower spending at the local level "delayed a recovery in unemployment to pre-crisis levels by four full years," the analysis said.
Congress has already approved trillions in economic relief, which has included some funding earmarked for state and local governments. However, many governors and local leaders have warned that they will need significantly more in order to make up for budget shortfalls. Democrats in Congress have pushed for additional funding to address the problem, but Republicans and the Trump administration have expressed concerns.
Senate Majority Leader Mitch McConnell, a Republican from Kentucky, said in late April that he would not back funding that would bail out states with budgetary shortfalls predating the pandemic. He argued that any additional aid should be more targeted.
"I'm open to additional assistance. It's not just going to be a check, though—you get my point?" McConnell told Politico on April 27. "We're not writing a check to send down to states to allow them to, in effect, finance mistakes they've made unrelated to the coronavirus."
Treasury Secretary Steven Mnuchin made a similar argument in early May.
"There is not going to be bipartisan support that bails out states from previous problems," Mnuchin said on May 11 in an interview with CNBC's Squawk Box. He further suggested that states should take advantage of exceptionally low interest rates and borrow to cover any shortfalls.
But while testifying before the Senate's Small Business and Entrepreneurship Committee on Wednesday, Mnuchin backed pumping more money into the economy to aid recovery. "I definitely think we are going to need another bipartisan legislation to put more money into the economy," he said, although he stressed the needs of businesses particularly hard hit by the pandemic.
Newsweek reached out to representatives for McConnell and the Treasury Department for comment but did not hear back before publication.
On Wednesday, the Federal Reserve projected that the unemployment rate would still be at 9.3 percent by the end of 2020, even as millions begin returning to work as lockdown restrictions ease across the country.
The projections also suggested that unemployment would remain higher than pre-pandemic levels for some time, remaining at 5.5 percent into 2022. It stood at a historic low of 3.5 percent in February.