Without Hamas, Palestinians Can't Make a Peace Deal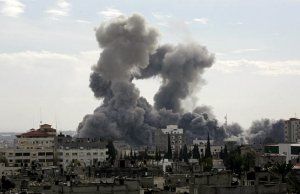 With Israeli and Palestinian leaders convening in Sharm al-Sheikh for more talks today, the corrosive matter of settlement expansion in the West Bank looms as the most immediate threat to the success of their process. But it's worth keeping in mind, even as Palestinians threaten to walk out over the issue, that in many ways the Islamic Hamas group's stiff opposition to the negotiations poses a more complicated and vexing problem for both sides.
Here's why: when it wants to, the Israeli government can control settlement growth. With enough political will, Prime Minister Benjamin Netanyahu can find a formula that will keep the Palestinians talking after the moratorium on housing construction expires this month but will also keep his right-wing coalition intact. Hamas, by contrast, is outside of President Mahmoud Abbas's control—outside of the process altogether. Both Israeli and American security officials have said publicly that Abbas is genuinely trying to crack down on Hamas. And yet the group remains both able and determined to carry out attacks on Israelis.
In the short run, that means Hamas is constantly in a position to sabotage the process. In the 1990s, Hamas killed scores of Israelis in suicide bombings aimed at derailing peace talks. Somehow, the negotiations sputtered on. These days, Israelis are less enthusiastic about peacemaking altogether and more skeptical it will lead to an agreement. It's hard to imagine them abiding a process that includes regular rocket attacks on Israeli towns.
In the longer term, Hamas's control over Gaza raises serious questions about Abbas's ability to negotiate an agreement on behalf of all Palestinians. Gazans account for nearly 40 percent of the population in the Palestinian territories. Though Abbas is the elected president, his term ran out 20 months ago and no new elections have been scheduled. To counter questions about his mandate, Abbas has vowed to submit whatever deal he strikes with Israel to a referendum—or make it the principal issue around which a general election is fought. That strategy has several problems. Depending on how much Palestinians end up ceding in the negotiations, Hamas could well win such a vote, just as it won parliamentary elections in 2006. More likely, though, the group would boycott the referendum altogether and hunker down in Gaza, where it now has thousands of men under arms. Neither scenario would bode well for the implementation of a peace treaty.
How to solve the Hamas conundrum? There are no easy answers. Some prominent figures, including former Mossad chief Ephraim Halevy, have called for Israeli talks with Hamas. In a narrow sense, Israel has already had extensive contacts with the group in its effort to win the release of captive soldier Gilead Shalit. But as long as Hamas rejects the idea of two states sharing historic Palestine, it's difficult to see what other issues the sides would discuss.
Instead, Israel and the United States should be encouraging a rapprochement between Abbas and Hamas aimed at reestablishing the delicate power-sharing arrangement that existed before Hamas seized control of Gaza in 2007. The renewed partnership would no doubt stiffen Abbas's positions in the talks with Israel. But it would bring all Palestinians under the canopy of the peace process. Eventually, who gets to govern would be determined by a general election. But to avoid the mistakes of the 2006 poll—and this is the hard part—voting must be preceded by the dismantling of armed groups, chiefly Hamas's military wing. Political groups cannot be allowed to engage in the democratic process while retaining the means to subvert it. That has been the lesson of recent year in the Palestinian territories, in Lebanon, and elsewhere.