Witness Says He Heard Marcus Smart Tell His Coach He Was Called a Slur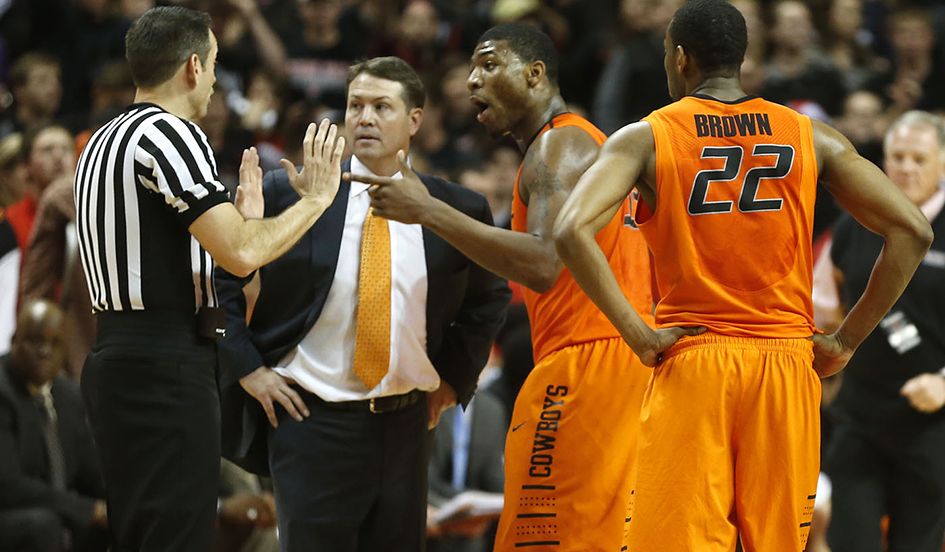 "Coach, he called me a nigger!"
John Holcomb heard Oklahoma State guard Marcus Smart say those words last Saturday night. Holcomb heard Smart say that just moments after his now infamous contretemps with Texas Tech fan Jeff Orr. Holcomb, the radio analyst for Oklahoma State men's basketball team, was not reading Smart's lips. He saw Smart say it. He heard Smart say it.
Holcomb stands by that observation. Emphatically. "As I told my play-by-play partner, Dave Hunziker, 'Dave, it was so plain,'" says Holcomb, who doubles as the sports director at Tulsa's CBS affiliate, KOTV. "That was a can't-miss thing for me."
To re-set the scene, the Cowboys, who had lost four of five after being ranked No. 9 in the nation just three weeks earlier, trailed Texas Tech in Lubbock, 63-61, in the waning seconds Saturday night. Oklahoma State's Le'Bryan Nash lost the ball in the paint. The Red Raiders pushed the ball upcourt on the turnover and Smart, who had been standing on the baseline at the time of the turnover, outhustled his four teammates downcourt in an attempt to block Jaye Crockett's layup with :06 remaining.
The shot missed but Smart, who soared into a cameraman and then landed at the foot of the front row of seats, was whistled for a foul. As two bystanders attempted to help up Smart, who was facing the court, something caused his head to whip around 180 degrees. In the next moment Smart was confronting a white, middle-aged fan, 1983 Texas Tech alumnus Jeff Orr. As Orr -- forgive my amatuer lip-reading -- appears to be saying, "Sorry about that," Smart gives him a quick, firm shove.
"Our broadcast position is right next to the Oklahoma State bench," says Holcomb, who is in his sixth season as the team's color analyst on the Cowboy Sports Network, "and during a game I'll jot down significant plays. So when they turned the ball over I had my head down, writing that had happened. Then I heard the crowd noise swell."
When Holcomb looked up, he spotted one of the officials, Doug Sirmons, approach the scorer's table to indicate a technical foul on Smart. Holcomb heard Smart tell Oklahoma State coach Travis Ford, "I had no choice, he pushed the guy." Having not witnessed the encounter between Smart and Orr, Holcomb at first assumed Sermons was referring to a Texas Tech player.
Holcomb, 49, was wearing his headset when an obviously upset Smart retreated to the Oklahoma State bench. Still, he is certain that he both saw and heard Smart say, "Coach, he called me a nigger!"
Anyone listening to the broadcast would have heard Holcomb tell Hunziker, '"Dave, Marcus said, 'He just called me the N-word.'"
Within 24 hours Orr, whom Texas Tech had previously touted as its "Superfan," publicly apologized. "I would like to take this opportunity to offer my sincere apologies to Marcus Smart," Orr began. Later: "I regret calling Marcus Smart a 'piece of crap' but I want to make it known that I did not use a racial slur of any kind."
Did Smart, who has not commented publicly on what Orr said to him, misunderstand what Orr said? "I believe that Marcus believes he was called that," says Holcomb. "I kind of have a hard time believing, judging by Marcus' reaction, that there wasn't something more than 'a piece of crap' said."
On Monday, the Big 12 Conference announced a three-game suspension for Smart, a sophomore who was a preseason All-American and who some experts predicted prior to this this season would be the No. 1 overall selection in the 2014 NBA draft. On Tuesday night the Cowboys, playing without Smart at No. 19 Texas, lost 87-68. For the Cowboys, who were 15-2 on January 15, it was their fifth straight loss, dropping them to 16-8.
A berth in the NCAA tournament next month is suddenly a tenuous proposition. The Cowboys' coach, Ford, has bigger problems.
Last year comedian Louis C.K. introduced what has become a popular riff called "Of course… but maybe." The premise is that of course there are certain standards or truths to which we all adhere, but maybe, sometimes, extenuating circumstances bear a review of those policies. In Smart's situation, of course a player should never lay hands on a fan. Of course.
Ford appeared on ESPN with Andy Katz on Monday, who asked him what Smart had told him Orr said. "Well, I'm not going to get into all that," said Ford. "If Marcus comes out at some point, uh, as I told him, we need to learn a lesson first. It doesn't matter what was said. The lesson is it does not matter what was said. The lesson is do not react to whatever is said. That is the lesson. Do not react."
Of course. Of course…
...But maybe the greater lesson is that being a 50-something man with court-side seats does not allow you to use the N-word. Particularly if the target of your assault is a college sophomore.
But maybe the world never discovers that Orr said anything abusive -- no matter if it is his version or Smart's version -- unless Smart shoves him. Had Smart restrained himself, Orr would still be displaying the boorish behavior that he has displayed for years (you can spot him flipping the bird to a Texas A&M player who scored on an alley-oop just before halftime -- before halftime -- of a game in 2010).
Big 12 commissioner Bob Bowlsby, in announcing Smart's three-game suspension, said, "Mr. Smart's actions were a clear violation of the Big 12 Conference's sportsmanship and ethical conduct policy. Such behavior has no place in athletics and will not be tolerated."
The Big 12 did not bar Orr from attending any games, although Orr has volunteered to attend no more this season.
Marcus Smart apologized on Sunday without taking questions. Pointedly, he mentioned Orr by his full name. And more pointedly, Smart never repeated what Orr apparently said to him, neither challenging Orr's version nor confirming it. To publicly dispute Orr's version would add oxygen to the conflagration. To endorse it? Well...
"I really don't think you're ever going to hear Marcus say (that he was called a piece of crap)," says Holcomb.