Witness Who Saw Gabby Petito and Brian Laundrie Fight Says 'Something Didn't Seem Right'
A witness who reportedly saw Gabby Petito and her fiancé Brian Laundrie fight said, "Something definitely didn't seem right," according to a witness report filed with police in Moab, Utah.
The witness statement said that on August 12 the unnamed witness saw "some sort of dispute" between the couple.
"They were talking aggressively at each other and something seemed off," the witness wrote. "At one point they were sort of fighting over a phone—I think the male took the female's phone. It appears that he didn't want her in the white van. He got into the driver's seat and she followed him."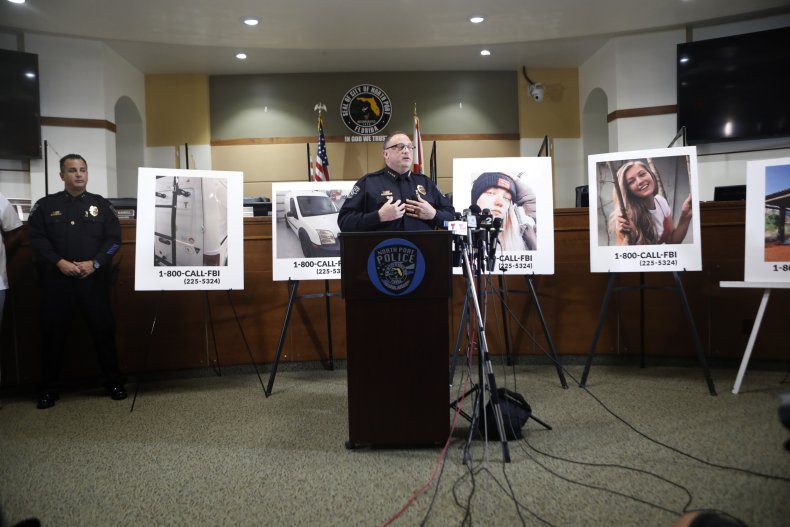 "At one point, she was punching him in the arm and/or face and trying to get into the [van]," the statement continued. "She eventually climbed in/over hm and over to the passenger seat. I heard her say 'Why do you have to be so mean'".
The witness said that they weren't sure how serious the dispute was because it seemed that the couple could have been play-fighting.
Nevertheless, "Something definitely didn't seem right," the witness wrote. "It was as if the guy was trying to leave and, and maybe take her phone? Not sure but wanted to help out."
Petito, a 22-year-old YouTube vlogger, went missing in late August. She and Laundrie, 23, began a cross-country journey together in July. Two days after her body was found, an autopsy called her death a homicide.
The witness' report echoes an earlier report from a park ranger who responded on August 12 to a radio call of a possible domestic assault between the couple.
Melissa Hulls, the visitor and resource protection supervisor at Arches National Park in eastern Utah, said she saw the couple after a Moab police officer pulled the couple over within the park. Hulls spoke with Petito while Petito sat crying in the back of a police car.
"I was probably more candid with her than I should've been," Hulls told Deseret News. Hulls warned Petito that her relationship sounded potentially "toxic."
"I was imploring with her to re-evaluate the relationship, asking her if she was happy in the relationship with him, and basically saying this was an opportunity for her to find another path, to make a change in her life," she said.
"She had a lot of anxiety about being away from him," Hulls added. "I honestly thought if anything was going to change it would be after they got home to Florida."
Some female social media users have said that they have felt drawn to Pepito's story because it highlights domestic abuse in women's lives.
A major search is underway for Laundrie. He hasn't been seen since September 14. He went hiking in the 24,500-acre Carlton wildlife reserve near his parents' Sarasota County home, his parents said. Laundrie hasn't been charged with any crimes.
Newsweek contacted the Moab City Police Department for comment.