Hospital Dresses Babies Up like 'Wizard of Oz' Characters to Celebrate Movie's 80th Anniversary
Staffers at a hospital in Pittsburgh dressed four newborns up like characters from the Wizard of Oz, to celebrate the iconic film's upcoming 80th anniversary
West Penn Hospital in Pittsburgh posted a picture on Facebook of the unnamed babies in the nursery, dolled up like Dorothy Gale, the Scarecrow, the Tin Man and the Cowardly Lion. Each was laying on golden sheets, symbolizing the Yellow Brick Road.
"Our munchkins celebrated the 80th anniversary of the Wizard of Oz," the caption read. "The movie may turn 80 on Sunday, but it remains a classic, and for our newborns and their families, there's no place like home! Tell us, which Wizard of Oz character is your favorite?"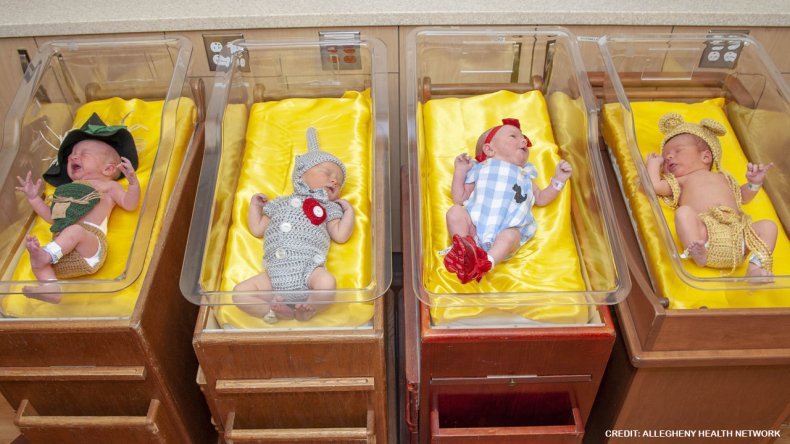 Released in theaters on August 25, 1939, The Wizard of Oz remains one of the most popular films of all time. But it nearly was a very different movie from the one audiences have come to adore: A poll at the time revealed moviegoers wanted to see Shirley Temple in the role of Dorothy Gale—many believed that, at 15, Judy Garland was too old for the part.
And MGM was considering another actress, 12-year-old Janice Chambers, a talented singer and dancer who was on contract. "The studio was grooming her... and she actually did some tests in costume with the other actors from The Wizard of Oz, Jay Scarfone and William Stillman, authors of The Road to Oz, told Fox News in 2018. "This was a time when MGM was very controlling... They had other B-lists actors that vaguely resembled their A-list actors and they would use them as a subtle way of threatening [their stars] if anyone's head got too big."
One cast member who was swapped out was the Tin Man: Buddy Ebsen, who later gained fame on TV's The Beverly Hillbillies, was originally tapped to play the squeaky woodsman but had a near-fatal reaction to the makeup used to give him his silver sheen. He was ultimately replaced by actor Jack Haley.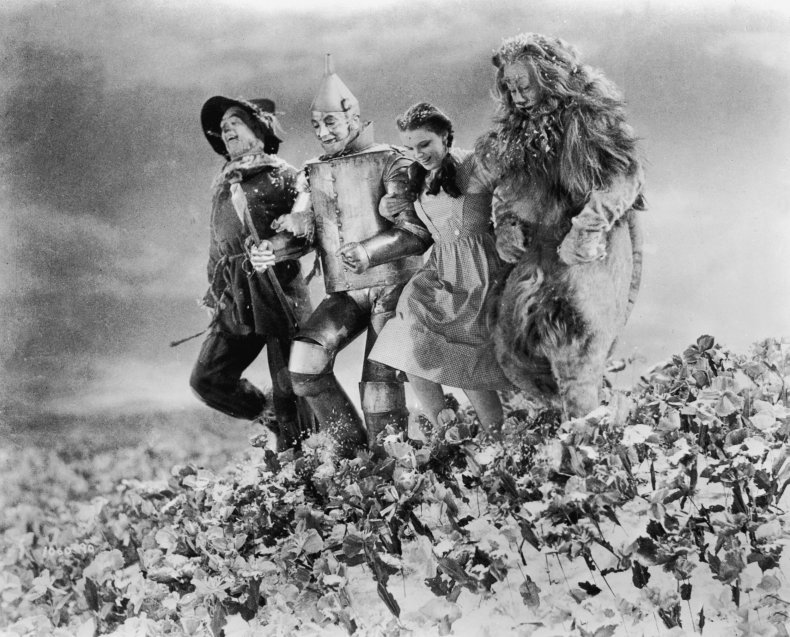 And while Margaret Hamilton's Wicked Witch of the West is one of the most famous villains in Hollywood history, the character was initially intended to be a glamour queen. Gale Sondergaard was originally given the part, but passed when she learned producers wanted to make the Wicked Witch a green-faced, warty hag.
"You can hear in the film some of the witch's dialogue that was actually not written for Margaret Hamilton, but for Gale," said Scarfone. "Like when the witch is melting and says, 'Who would have thought a good little girl like you could destroy my beautiful wickedness?' Margaret made it work, but that line and so many others weren't written for her."
Ironically, The Wizard of Oz wasn't a box-office success when it was first released: It earned $3,017,000 worldwide, but after subtracting the high production, distribution and marketing costs, MGM initially recorded a loss of $1,145,000. It reportedly didn't turn a profit until it was re-released in 1949 and made an additional $1.5 million.
Hospital Dresses Babies Up like 'Wizard of Oz' Characters to Celebrate Movie's 80th Anniversary | Culture