'Woe is me': GOP Senator Rand Paul Impersonates Fauci, Urges People Who Had COVID to Throw Out Their Masks and Party
Republican Senator Rand Paul of Kentucky on Thursday mocked Dr. Anthony Fauci and urged Americans who have had COVID-19 to "celebrate" and "throw away their masks."
Speaking on Fox News, Paul said that the "11 million people" who have recovered from the coronavirus should "celebrate, throw away their masks, go to restaurants, and live again." The senator insisted that those who have recovered from COVID are now immune, despite recent research showing that immunity is likely to last at least five to seven months.
Paul claimed that Dr. Anthony Fauci, the nation's top infectious disease expert, "doesn't want to admit" that immunity exists. The Republican then briefly mocked Fauci by impersonating him.
"Dr. Fauci is like, 'No, woe is me' until the election occurs and now, maybe he'll be changing his attitude," he said. "He believes that submission and lockdowns are fine. He's not too worried about individual liberties, but he also tends to gloss over science."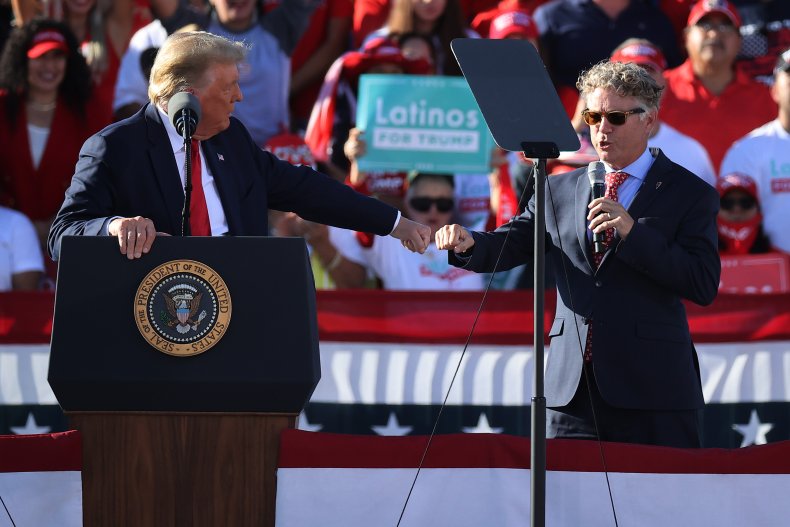 As of November 12, more than 10,870,000 people in the U.S. had tested positive for COVID-19, with nearly 250,000 deaths caused by the virus.
Paul has repeatedly criticized Fauci's advice since the pandemic started earlier this year. On September 23, Paul and Fauci engaged in a heated argument over the role of preexisting cross-reactive immunity in stopping the pandemic.
Citing Asian countries, Paul suggested that there could be coronavirus strains in widespread common colds and covid immunity could happen due to that.
"You are not listening to what the director of the CDC said," Fauci said, rejecting Paul's hypothesis. "If you believe 22 percent is herd immunity, I believe you're alone in that."
"I'd like to talk to you about that also because there was a study that recently came out that preexisting immunity to coronaviruses that are common cold do not cross-react with the COVID-19."
Throughout the pandemic, Fauci has testified before Congress and provided coronavirus advice on numerous media interviews, during which he set the record straight on falsehoods perpetuated by President Donald Trump without outright condemning the administration.
In an interview with Chatham House, a U.K. policy institute on Thursday, Fauci said, "Let the science and let the evidence guide you. Always stick with the science, stay away from politics. Public health and global health is what I've devoted my entire professional career to, with a very strong science base because I'm a scientist."
Newsweek reached out Senator Rand Paul's representatives for further comment.