Wolf Pack Spotted in Colorado After 80-Year Absence as State Prepares to Vote on Reintroduction of Species
Colorado's governor has embraced the return of wolves to the area after more than eight decades.
The announcement came after wildlife officers found evidence of at least six wolves in the northwest of the state last week, The Denver Post reported.
"This is very likely the first pack to call our state home since the 1930s. I am honored to welcome our canine friends back to Colorado after their long absence," Governor Jared Polis said in a statement on Wednesday.
"While the animals have naturally migrated to our state and their presence draws public interest, it is important that people give them space," Polis said.
The discovery comes as the state prepares to vote on whether to reintroduce endangered gray wolves to some public lands in Colorado by the end of 2023. Current polling suggests that the measure will pass, although there is significant opposition to it from ranching and hunting groups.
Evidence of the wolves' appearance emerged on Sunday when two state wildlife officers in Moffat County came across a cow carcass. Suspecting that wolves might be in the area, they made howling sounds to which the animals responded.
They then looked through binoculars and were able to identify at least six wolves located around two miles away from the cow carcass.
"After watching them for about 20 minutes, the officers rode in to get a closer look," JT Romatzke from Colorado Parks and Wildlife told the Post. "The wolves were gone but they found plenty of large tracks in the area."
This sighting came shortly after officials uncovered further evidence of wolves in the same area earlier this month. While wolf packs have been absent from the state for a long period of time, lone wolves have sometimes made an appearance within Colorado borders.
The measure to reintroduce wolves to the state was spearheaded by campaigner Rob Edward, president of the Rocky Mountain Wolf Action Fund. He said that the recent sightings only serve to highlight the urgency with which officials need to reintroduce the animals.
"We need to move ahead with re-introduction to make sure Colorado is in the driver seat for management and recovery and that we actually get to the point of having a healthy population," Edward told the Post. "We welcome any wolves that wander into the state and we want to make sure that future wolves who wander here will have somebody to greet them and to reproduce with."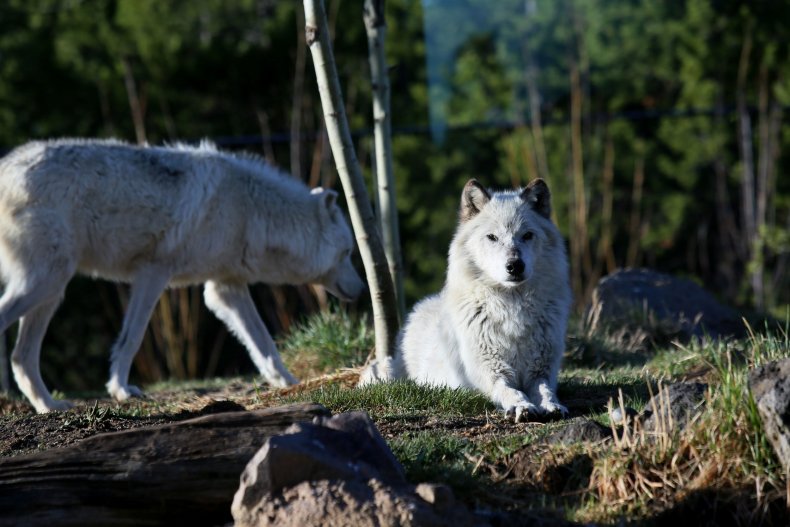 Gray wolves once thrived in North America with their population reaching tens of thousands at its peak, The Guardian reported. However, a series of government-backed extermination programs in the 19th and early 20th centuries—set up in response to attacks on cattle—led to a dramatic decline in their numbers.
By 1940, wolves had almost been driven to extinction in the United States, however, they were included in the 1973 Endangered Species Act and reintroduced to Yellowstone Park in 1995, helping to boost their numbers back up to more than 5,000 in the lower 48 states.
Conservationists such as Edward argue that removing wolves from the Rocky Mountain ecosystem had negative knock-on effects which can be addressed by reintroducing them.
"Gray wolves are the ecological engines of the northern hemisphere," Edward told The Guardian.
He notes the success of reintroducing the wolves to Yellowstone Park: "The Aspen groves, which hadn't regenerated in 50 years, were totally coming back. And with that regeneration came more beavers, which led to more beaver dams, which was good for the rivers, which led to more trout, and on and on with a cascading effect."
However, the reintroduction is opposed by hunters and farmers who argue that wolves will have a negative impact on their business and activities.