Wolfgang Petersen, Director of 'Air Force One,' Dies After Cancer Battle
Film director Wolfgang Petersen died Friday at age 81 from pancreatic cancer, a representative confirmed to Newsweek.
The German-born Petersen first found acclaim with his 1981 film Das Boot (The Boat), which received six Academy Award nominations. He parlayed the success of that movie into a long Hollywood career that began with the children's fantasy feature The NeverEnding Story, which he also co-wrote.
Petersen's diverse career continued with sci-fi films like Enemy Mine (co-starring Dennis Quaid and Louis Gossett Jr.) and the political action thriller In the Line of Fire (1993), starring Clint Eastwood and John Malkovich.
One of his most well-known films, Air Force One, was released in 1997. The plot centered on the rescue attempt of the U.S. president's aircraft after a group of terrorists hijacked it. The box office hit starred Harrison Ford, Gary Oldman, Glenn Close, Dean Stockwell and William H. Macy.
Petersen continued to direct popular films into the 2000s with The Perfect Storm (2000), a disaster flick set on the high seas that starred George Clooney, Mark Wahlberg and Diane Lane. In 2004, his period piece Troy with Brad Pitt, Eric Bana and Orlando Bloom became one of the year's biggest hits. Poseidon in 2006 featured a well-known cast with Kurt Russell and Richard Dreyfuss but didn't reach the blockbuster heights as some of Petersen's other releases.
The final film Petersen directed before his death was 2016's crime comedy Vier gegen die Bank (Four Against the Bank). The film was a remake of a movie he made for German television in 1976.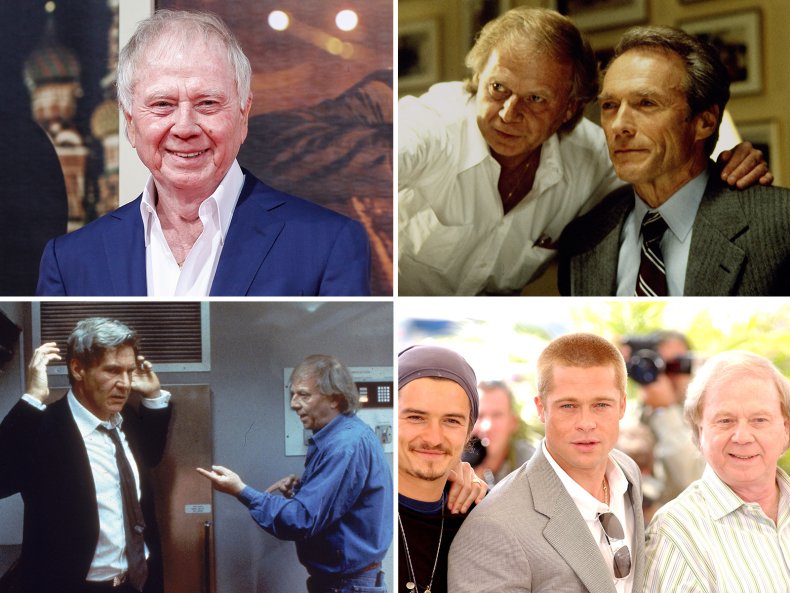 Petersen's first feature film was 1974's Einer von uns beiden, which he followed up with Die Konsequenz in 1977. The latter dealt with homosexual themes and was met with controversy upon its release.
News of his passing was announced Tuesday, and fans soon began posting tributes of Petersen on social media.
"Wolfgang Petersen made some terrific thrillers, including In the Line of Fire and Das Boot, but I'll always associate him most with The NeverEnding Story. No children's film ever hit harder. Rest in power," film and theater critic Alan Zilberman wrote on Twitter.
Another film critic, Courtney Howard, wrote that Petersen "innately knew how to craft tension, thrills, character, creativity and imagination in his films."
"RIP Wolfgang Petersen. SO many Brilliant Movies, but I will always remember him most for giving us The NeverEnding Story ... A true work of art ... & No Children's film will ever hit as hard as that one did, ever again," author Mikey Walsh tweeted.
Petersen is survived by his wife Maria-Antoinette Borgel, who was by his side when he peacefully passed away, Petersen's representative told Newsweek, as well as a son, Daniel Petersen, and two grandchildren.