Woman, 92, Shoots Dead Son Who Tried to Put Her in Arizona Nursing Home
An elderly mother shot her son dead because he was thinking about putting her in a nursing home, according to police.
Anna Mae Blessing, 92, shot and killed her 72-year-old son, whose name was not released by police, at around 10 a.m. on Monday.
The incident, which police described as "a bizarre turn of events," took place at the home she shared with her son and his girlfriend in Fountain Hills, Arizona.
Maricopa County Sheriff's Office said in a release that Blessing told detectives she had been thinking for several days about her son's intentions to put her in an assisted living facility.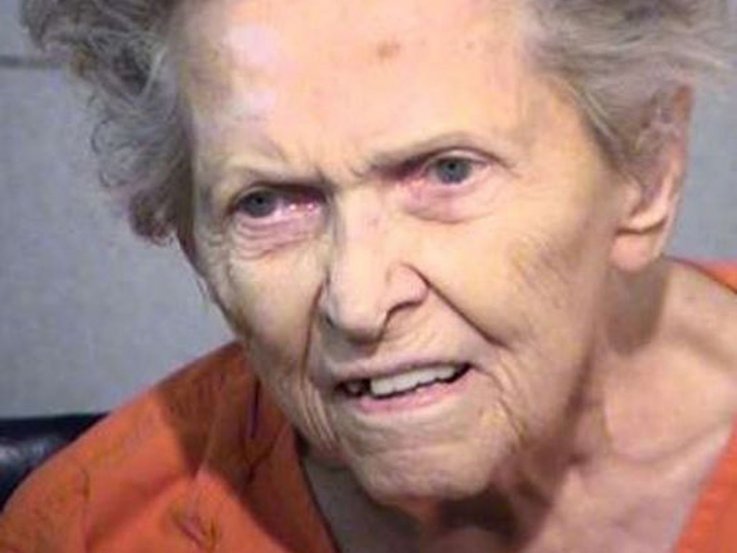 She armed herself with two pistols which she concealed in the pockets of her robe before confronting her son in his bedroom.
During that confrontation, she took out a handgun and fired multiple rounds at her own son, killing him. Blessing then turned the gun on his girlfriend who disarmed the aged woman after a struggle.
When Blessing pulled out the second gun in her possession, her son's girlfriend knocked it out of her hand before calling deputies.
"It is always concerning when domestic issues escalate to violence or tragic outcomes," Sheriff Paul Penzone said in a statement. "They are often isolated and neither predictable nor preventable."
Blessing, who was born in 1925 and is only five feet tall, is charged with one count of first degree murder, one count of kidnap, and one count of aggravated assault with a deadly weapon.
She is being held in jail on a $500,000 cash-only bond and is scheduled to appear in court on Tuesday. A first degree murder conviction in Arizona can carry the death penalty or life in prison without parole.
Despite her age, Blessing is some way off becoming the oldest murderer in American history.
That grim accolade may well belong to Michael Juskin who aged 100 in 2015 killed his 88-year-old wife Rosalia at their New Jersey home.
Bergen County Prosecutor John Molinelli said Juskin first attacked his wife with an axe as she slept before taking his own life with a knife in the bathroom.
Separately, a centenarian woman narrowly missed facing trial for strangling a roommate at the Massachusetts care home in which she lived.
Laura Lundquist was 98 in 2009 when she was charged with murdering 100-year-old Elizabeth Barrow, who was found dead in her bed with a plastic bag over her head.
But Lundquist's dementia was so severe that she was eventually deemed unfit for trial aged 102 in 2014.
Woman, 92, Shoots Dead Son Who Tried to Put Her in Arizona Nursing Home | U.S.